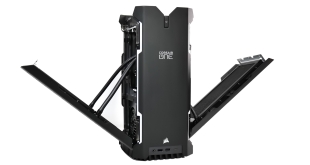 The Corsair One has seen various updates and iterations since it was first introduced in 2017. Today, we review the latest i300 model that was announced back at CES 2022. Packing a ton of high-end hardware, including Intel's i9-12900K, RTX 3080 Ti, 64GB DDR5 memory and a 2TB NVMe, does the Corsair One hold up in 2022? We put it through its paces today. 
Specification:
Weight: 7.18 KG
Form Factor" Mini-ITX
CPU: Intel Core i9-12900K
GPU: NVIDIA GeForce RTX 3080 Ti
DRAM: 2x32GB DDR5-4800
Liquid Cooling: Liquid CPU/GPU
Main Storage: 2TB NVMe SSD
Secondary Storage: None
Motherboard: Z690
Operating System: Windows 11 Pro
Networking: 2.5G Ethernet, Wi-Fi 6E, Bluetooth 5.0
Power Supply: 750W SFX 80 PLUS Platinum
External Connections FRONT:

2x USB 3.1 Gen 1
1x USB 3.2 Gen 2 Type-C
Combo Headphone/Mic

External Connections REAR:

2x Thunderbolt 4
2x USB 3.2 Gen 2 (Type-A)
4x USB 3.2 Gen 1
7.1 Audio,
2.5G Ethernet
3x DisplayPort, 1x HDMI
The Corsair One may have been around for a few years now, but it remains a stylish and visually unique small form-factor gaming PC. It's very well built, with aluminium side panels with a lovely black finish, as well as two RGB LED strips running down the front of the unit, which you can see in action in the video above. It even passed the wife test, as my Mrs said she would be happy for it to stay in the living room hooked up to the TV, and that's no small achievement!
Both side panels feature triangular cut-outs to allow for some ventilation (more on that later), but it's also good to see a very healthy selection of ports. The front panel has two USB 3.1 Gen1 ports, as well as a USB 3.2 Gen2 Type-C and an audio jack, all easily accessible. Round the back of the unit, there's a ton of options too, including six full-size USB Type-A ports, two Thunderbolt 4 ports, as well as 7.1 audio jacks, 2.5Gb Ethernet and WiFi 6E antennae. The graphics card provides three DisplayPort 1.4 and one HDMI 2.1 video outputs.
The top of the unit features a grille section, and we can just about make out a case fan directly below. This is the only system fan in the Corsair One, as the PC uses what Corsair calls a 'convection-assisted liquid cooling system'. If you've seen other Corsair One models, it hasn't really changed, but the system uses two closed-loop liquid coolers, one on the CPU and one on the GPU, with the single fan in the roof drawing air through the internals and exhausting it out of the top of the chassis. We've seen this work to great effect in the past, but of course today we will be doing a thorough look at the thermals later in the review.
To access the internals of the PC, a small button is pushed on the back of the machine, and that releases the top fan. This is a Corsair ML140 unit, though Corsair told us they have tweaked the rpm range to make it more suitable for use in the Corsair one, and it is possible to swap this out for any other 140mm that you might want.
Once that is out of the way, four small screws can be removed from the chassis, and they release the side panels which can be hinged open to access the internals. As viewed from the front, the left-hand side houses the motherboard and PSU, while the graphics is on the right side of the unit, connected via a riser card.
Speaking of the motherboard, Corsair is vague in its spec-sheet, claiming only a 'Z690' board is used, but we found it to be an MSI MEG Z690i Unify – a suitably high-end mini-ITX motherboard, so Corsair is clearly not cutting corners there and it is a great pairing with the i9-12900K. Our model has 64GB of DDR5 memory too, two 32GB sticks. I was a little disappointed to see bare green PCBs for this models, with no Vengeance LPX heatspreaders for instance, but you can't see the internals when the system is closed so it hardly matters.
Just below the CPU block, a heatsink covers the 2TB NVMe SSD. I assumed this would be a Corsair MP600 unit, but closer investigation reveals it is in fact a Samsung PM9A1. We test the speeds later in this review (and, spoiler alert, it is absolutely fine), but I found it strange that Corsair weren't using one of their own SSDs in the Corsair One. I asked about this and Corsair told us the exact SSD used 'entirely depends on stock levels at the time of manufacture, however we [Corsair] of course prefer them to be MP series wherever possible.'
Below the motherboard area, we can note the PSU, a Corsair SF750 80+ Platinum unit. This is a very high quality power supply and gave us no problems at all during our testing, and it's good to see Corsair put in effort to keep the cables as tucked away as possible, leaving the internals as accessible as we could hope for from a 10-litre chassis.
Over on the right hand side of the machine, we find the graphics card, with Corsair using a PCIe 4.0 riser cable to allow it to be mounted opposite to the CPU, and it is clearly vertically mounted too. Corsair is using a very custom cooling setup for the RTX 3080 Ti. The GPU itself is liquid cooled, but we can note the use of a few copper heatpipes, and two heatsinks – one on the VRM and one on the memory, which are actively cooled with 80mm fans. It's also worth noting the card is left at reference clocks (1665MHz boost) and the power limit has not been raised from the default 350W.
On the topic of cooling, it's worth just touching on the two radiators used to cool the CPU and GPU. Both measure 20.4mm thick and 148mm wide, but the CPU radiator is shorter, with a length of 200mm, compared to 272mm in length for the RTX 3080 Ti. The GPU is the higher-power of the two so this makes sense, plus the CPU side does need to be shorter to allow fresh air for the power supply.
From a technical perspective, it is highly impressive what Corsair has managed to achieve in such a compact chassis and the One is certainly one of a kind (if you excuse the terrible pun). The only real fault I can find with the build is that upgrading the system looks tricky at best, and potentially impossible at worst. The CPU side of things is definitely less complicated, though an i9-12900K should last years, especially if you're gaming at 4K.
The GPU side, however, is the real problem. It is technically possible to swap out the graphics card as it is using a standard PCIe x16 slot. However you have to factor in the bespoke cooling hardware, which is highly unlikely to be a direct fit on a next-generation graphics card. Even if you tore all of that out and just put in an air-cooled card, not only would you be highly space-constrained, but almost certainly power and thermally constrained too, as next-gen GPUs are not shaping up to be particularly frugal with the power draw.
Confirming the core spec with CPU-Z and GPU-Z, the CPU of choice in the i300 is Intel's i9-12900K, offering eight P cores and eight E cores. Intel's spec lists a maximum Turbo power of 241W for this SKU, however do be aware that Corsair has limited this to 165W in the BIOS, but more on that on the next page.
The graphics then is the reference-clocked RTX 3080 Ti. Interestingly, GPU-Z lists Palit as the subvendor, though we would assume the card itself is just using the reference design for maximum cooling compatibility.
Corsair's iCUE software is also on hand to control things like the RGB lighting and also the fan profile, where there is a choice between the Default or Extreme modes. You can also check for firmware updates and set alerts when either CPU or GPU temperatures exceed a specified threshold.
Be sure to check out our sponsors store EKWB here