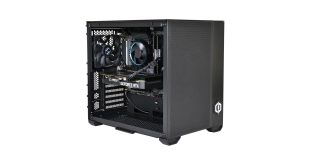 With PC component prices hitting historic highs over the last two years, building performant but also good value systems has been almost impossible until very recently. The Cyberpower Infinity X123 Pro is one such prebuilt, priced at £899. But does the choice of an Intel i3 processor, paired with Nvidia's RTX 3060, make sense for gaming – or will the system be CPU bottlenecked? Let's put it to the test.
Specification
Case: Lian Li O11 Air Mini High Airflow Black Gaming Case (Black Colour)
CPU (Processor): Intel® Corei3-12100F
Graphics Card (GPU): MSI GeForce® RTX 3060 12GB
CPU Cooling: INTEL 12th Gen Standard CPU Cooler
Motherboard: MSI B660M-A WIFI DDR4: mATX w/ WiFi, USB 3.2, 1x M.2
Memory (RAM): 16GB (2x8GB) DDR4/3200MHz Dual Channel Memory
PSU (Power Supply): InWin A65 650W 80+ Certified Gaming Power Supply
M.2 SSD Drive: 500GB (1x500GB) MSI Spatium M390 M.2 PCIe NVMe SSD
Operating System: Windows 11 Home
Warranty Service: DESKTOP STANDARD WARRANTY: 5 Years' Labour, 2 Years' Parts, 6 Months' Collect and Return plus Life-Time Technical Support
We'll kick off with a tour of the system, looking at the components and the overall build. This starts with the case, where Cyberpower has opted for the Lian Li O11 Mini. I really like this case – it's still an ATX chassis but it's very compact, build quality is solid and you get excellent airflow from the perforated front panel, with two 140mm intake fans at the front, and one 120mm exhaust at rear.
But, and hear me out, I actually think this case is too good for the Infinity Pro system. That's because the O11 Air Mini retails for about £100, so it's quite pricey considering the whole system is £899. Personally, and feel free to disagree with me here, but I don't think the core spec of this system needs a case as good as this. I would rather save about £50 and go for something like the DeepCool Macube 110, and put that money towards a bigger SSD.
We also have to bring in the motherboard to the discussion – MSI's Pro B660M-A WiFi. This is a very solid board B660, it didn't give me any problems during my testing and is more than a match for the i3-12100F. It is, however, a microATX motherboard, while the O11 Air Mini can support full-size ATX boards. That means there is quite a lot of empty space at the bottom of the case, which would otherwise be occupied by an ATX motherboard, while there's a fair bit of empty space at the front of the chassis too.
I don't want to be too critical as the components do all work very well, and, objectively, the O11 Air Mini is a quality case. I'm just not sure it's money well spent in a system designed to offer maximum value, especially when paired with a microATX motherboard.
Moving on though, I can't complain about the choice of memory – two 8GB sticks of Corsair Vengeance DDR4, clocked at 3200MHz. It offers 16-20-20-36 timings, so they're not super tight, but for a system of this spec it is absolutely fine.
As for storage, we can't actually see the SSD in the photos above as it is hidden under a heatsink just below the CPU cooler, but this is an MSI Spatium M390. It's only a PCIe Gen3 drive, rated at 3300MB/s reads and 2300MB/s writes, so it is not particularly fast by modern standards, but for a gaming PC like this it is more than fast enough.
It is however, only 500GB in size, and there's no other storage drives in the system – so you can see why I feel saving a bit of cash on the case, but getting a larger SSD, might have been a good idea, especially with the size of modern games. There is a second M.2 slot underneath the graphics card so you could easily add in another drive down the line, but 500GB is going to fill up almost instantly.
And then we come to the CPU. This is Intel's i3-12100F, a quad-core Alder Lake CPU with HyperThreading, offering an all-core turbo speed of 4.1GHz. Quad-cores are slowly but surely becoming a thing of the past, so it will be fascinating to see how this manages with the RTX 3060. Before moving onto the GPU though, it is worth mentioning that Cyberpower has stuck with the Intel stock cooler here – it looks pretty basic but the i3 only has a TDP of 58W, so it should be fine, but we will look at thermals later in this review.
As for the RTX 3060, this is the MSI Ventus 2X variant, with an 1807MHz boost clock. It's a pretty compact dual-fan model, but it looks fine and this system definitely doesn't need to spend any extra cash on a top of the range factory overclocked model, so it should do the job nicely.
Powering the system is a 650W A65 PSU from InWin. This is only 80+ rated, so not even 80+ Bronze, and I wouldn't exactly say that InWin is known for its PSUs. It is obviously a budget minded choice, but I would have liked to see have seen at least an 80+ Bronze unit here. The good news is Cyberpower offers a 2 year warranty on parts and 5 years for labour, so you will be covered for any issues in that time frame.
We do also have to mention that Cyberpower is currently bundling in a free set of MSI peripherals with the Infinity X123 Pro. This includes the GD20 mousemat, the DS502 headset, and the Vigor GK30 keyboard/mouse combo. It's not super high-end stuff, but it will get you gaming and no can complain when the price is free.
Be sure to check out our sponsors store EKWB here