It's been a while since I last reviewed a pre-built system, but it's been fascinating to see what Cyberpower has done with its latest machine, the Ultra 9 RTX Super, and as always there is a lot to discuss.
The first thing to mention is that I really feel this isn't a pure gaming machine. It's equipped with a 2080 Super which is currently the second fastest consumer GPU on the market – so it can certainly play games and play them well – but with a 12-core Ryzen 9 3900 processor and 32GB of RAM, I think Cyberpower is positioning this towards the kind of user who wants to get some hefty work done, and then switch over to gaming at the end of the day. If gaming is your top and only priority, faster systems exist which will maximise your frame rates, but you'll lose the multi-threaded prowess of the Ryzen 9 CPU.
This system will still run the most taxing games, however, and output very smooth frame rates at 1080p or 1440p. At the latter resolution, less demanding titles like Doom Eternal were pushing almost 150FPS, while tougher games such Red Dead Redemption 2 still held above 60FPS at all times. For me, 4K gaming is a step too far as we saw 1% lows dip down into the 30FPS region, so 4K/60 isn't possible without sacrificing some image quality. Pair this machine with a 1440p 120Hz+ monitor, however, and you'll be set.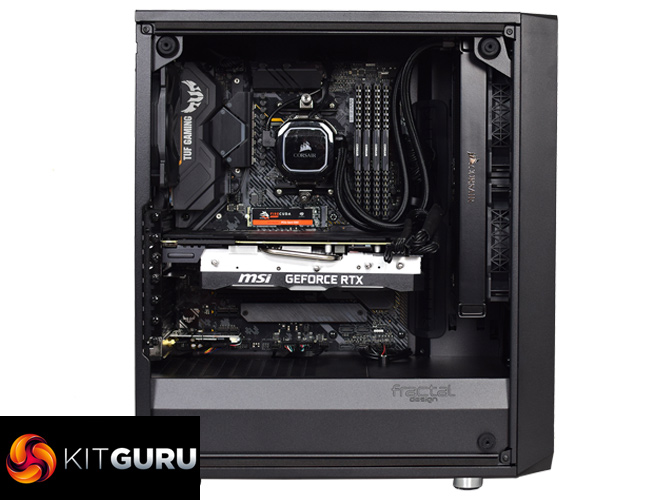 In terms of the build itself, Cyberpower did a good job to keep this nice and tidy, with a clean and understated aesthetic – almost the entire build is black, with little RGB lighting on show another indication that this is geared towards more professional users. However, there are a couple of issues which are cause for concern.
Primarily, the front mounted liquid cooler. Aesthetically it looks very good and ensures the whole of the case is filled. However, based on our testing, GPU temperatures as well as noise levels are significantly worse with the radiator mounted at the front, as GPU temperature went from a peak of 88C down to 74C by making that change and adding two intake fans at the front of the chassis.
That has a knock-on affect for noise levels, as we also saw around a 4dB drop in total noise output once we'd tweaked the internal layout, simply because the GPU was able to spin its fans much slower – down from over 3100rpm, to around 2200rpm under load – while also maintaining lower temperatures.
Additionally, it was disappointing to see the system shipped with an old BIOS from September 2019. At the time of receiving the system, there were 3 newer BIOS revisions available on ASUS' website. Nothing was wrong or broken with the system as I received it, but I would have thought the BIOS would be the latest at the time of shipping – particularly as the installed BIOS was using an older AGESA revision, so we were missing out on potential performance improvements and bug fixes.
For me, those issues do hold the system back – it's certainly a stronger performer with a lot of potential, but I do believe that when you're paying for a £2100 PC, an extra couple of fans at the front shouldn't even be a consideration if the GPU is going to run 14C cooler, so it is disappointing to see the cooling setup as we received it. The good news is it's an easy fix for Cyberpower to make for any future iterations, with very little added cost.
You can buy the Ultra 9 RTX Super from Cyberpower for £2099 HERE.
Discuss on our Facebook page HERE.
Pros
Ryzen 9 3900 offers 12 cores in a 65W package.
2080 Super is fast.
PCIe Gen4 storage.
32GB of RAM is good for future proofing, as well as any memory-intensive applications.
High wattage PSU should last years and provides plenty of headroom for upgrades.
Cons
Front mounted radiator significantly affects thermals and noise.
System shipped with out-dated BIOS, lacking the latest AGESA revision.
Rear cable management could be improved.
KitGuru says: The cooling configuration and outdated BIOS mean we can't fully recommend this despite despite its impressive spec, though the Ultra 9 RTX Super has the potential to be a very compelling system with a few easy tweaks.