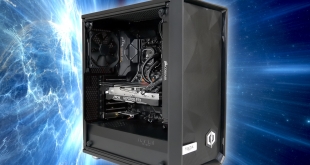 There's never been a better time to get into PC gaming. Perhaps you're looking at taking that first step, but don't quite know where to start. This is where prebuilt systems come in, as an ideal entry point to PC gaming for those who lack the confidence or knowledge to go the DIY route. Today we review the Cyberpower Ultra 9 RTX Super, equipped with a 12-core Ryzen 9 3900 and RTX 2080 Super graphics card.
Watch video via Vimeo (below) or over on YouTube at 2160p HERE
Specification:
Case = Fractal Design Meshify C ATX Gaming Mid-Tower w/ Tempered Glass Side Panel
CPU = AMD Ryzen 9 3900 – 12-Core 3.10GHz,
Cooler = Corsair Hydro Series H100i RGB Pro XT
Motherboard = ASUS TUF X570-Plus Gaming
M2 = 500GB (1x500GB) Seagate Firecuda 520 M.2 PCIe 4.0 NVMe SSD
HDD = 2TB Seagate BarraCuda SATA-III 6.0Gb/s 7200RPM Hard Drive 1 Drive
RAM = 32GB (4x8GB) DDR4/3200mhz Dual Channel Memory Corsair Vengeance LPX w/Heat Spreader
GPU = MSI GeForce® RTX 2080 Super 8GB – Ray Tracing Technology, DX12®, VR Ready, HDMI, DP – 4 Monitor Support Single Card
PSU = Corsair RM750x 750W 80+ Gold Modular Gaming Power Supply
Wifi = Intel® Wireless 3168 Wi-Fi 802.11ac Dual Band (2.4 GHz & 5GHz) up to 433Mbps w/ PCI-E Adapter & Dual Antennas
In terms of the overall look of the build, Cyberpower has done a good job to keep the Ultra 9 RTX Super looking clean and tidy. This starts with the Meshify C case which has been around since 2017, but still holds up very well and its front panel design should ensure a good supply of airflow through the chassis. The case is also entirely black, with a slightly tinted tempered glass side panel.
There's not a whole lot of colour on the inside, either, giving the system a stealthy overall look. The Corsair H100i RGB Pro XT has an RGB logo and LED ring around the pump, while there's also a tiny LED strip integrated into the TUF X570-Plus motherboard, but not nearly enough lighting to illuminate the inside of the system once it is powered on. Personally I think the understated aesthetic works really well, but if you want vibrant system lighting you could spot from a mile away, this may disappoint.
Back to that Corsair cooler, we can see Cyberpower has mounted this to the front panel of the Meshify C, with its two 120mm fans drawing air through the mesh panel, through the radiator, and then into the rest of the case. This can mean the rest of the components are being cooled by air that has already been warmed by the radiator, so it will be interesting to see how the system gets on under our thermal testing later on.
The braided tubing of the cooler has been neatly tucked above the graphics card, and although the tubes do rest on the card's backplate, they don't put much pressure on the card at all and there's very little 'GPU sag' visible, so I wouldn't count this as a problem. The rest of the cable management is also well done, with the two GPU connectors snaking over the top of the card and out of the way, while the front panel connectors are barely visible towards the bottom of the motherboard.
In terms of storage, we can see Cyberpower has opted for the 500GB Seagate FireCuda 520 PCIe Gen4 SSD. We have reviewed the 1TB version of this drive, though the 500GB has slower write speeds, rated at up to 2500MB/s. This drive is positioned in the top M.2 slot, above the graphics card. There is also a secondary slow below the graphics card, which also uses the motherboard's integrated SSD heatsink. However, the top M.2 slot is directly connected to the CPU while the bottom slot is connected to the chipset, so this would be the optimal position for a Gen4 SSD with this motherboard.
Round the back of the case, there's a 2-bay drive cage which is occupied by a 2TB Seagate Barracuda hard drive. This offers a good amount of storage for a games or media library, while the OS and some choice games can be installed to the primary SSD.
As for the primary components, the CPU is a Ryzen 9 3900. Not the 3900X, the non-X version of this 12-core CPU is only available to OEMs, such as Cyberpower, and is a 65W part instead of 105W as per the 3900X. We recently reviewed the PCSpecialist Ignite X1 which uses the same processor, so it will be interesting to see how the two systems compare.
In terms of memory, the Ultra 9 RTX Super comes equipped with 32GB DDR4 3200MHz, in the form of a 4x8GB Corsair Vengeance LPX kit, with 18-18-18-36 timings. That capacity of memory, alongside the 12-core CPU, certainly suggests that this PC isn't aimed entirely at gamers, but rather someone who wants a capable gaming machine which can also crunch through some intensive tasks like video editing or rendering.
Lastly we come to the graphics card. This is a RTX 2080 Super, specifically the MSI Ventus OC with an 1830MHz boost clock and 15.5Gbps GDDR6 memory. I've not reviewed this model, but it's a dual-fan open-air card so we would hope it will perform.
One final point to mention relates to the ASUS TUF X570-Plus motherboard. When this system first arrived for testing, I was having a look in the BIOS just to see if Cyberpower had done anything out of the ordinary in regards to CPU or memory behaviour (they hadn't) but I did noticed the BIOS version was listed at 1201. A quick check on ASUS' website was enough to see that this BIOS version dates to last September, and that three subsequent BIOS revisions had been released since.
I reached out to Cyberpower about this, and they responded by saying they typically only update the BIOS if they have encountered issues 'when testing or setting up the PC'. However, I feel this is somewhat disappointing as many users would never update the BIOS themselves, so it would be much better for an experienced OEM to ship its systems with the latest BIOS. Furthermore, since the 1201 BIOS, a new AGESA revision was released which was otherwise missing from the system as I tested it.
To be clear, I didn't encounter system stability issues or anything of kind, but for me it is disappointing that Cyberpower hadn't shipped the latest version, especially when a new AGESA revision was available.
Be sure to check out our sponsors store EKWB here