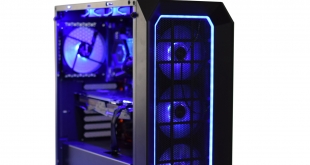 Mesh has recently introduced a new line of enthusiast gaming rigs, and today we are looking at the E-Pro7 – a mid-range system with a focus on both performance and aesthetics. The core spec consists of an i5-8600K, GTX 1070 and 16GB of DDR4 memory, so in that regard it seems entirely conventional. A very odd fan configuration, however, is well worth a closer look.
While the core spec looks fine on paper, Mesh has clearly tried to make sure the system itself looks good in the flesh as well. To achieve this, the E-Pro7 uses the striking Aerocool P7-C0 case – with two tempered glass panels – as well as the P7-L240 RGB liquid cooler, also from Aerocool. Add in several RGB fans, Corsair's RGB memory and an LED strip, the overall appearance of the system is quite striking.
Watch below via Vimeo, or over on YouTube at 2160p HERE.
Note: if the above images are not displaying properly, you may need to disable Ad Block as it is known to interfere with our gallery code.
| | |
| --- | --- |
| Case | Aerocool Project 7 P7C0 Pro Window Black |
| CPU Cooler | Aerocool Project 7 L240 RGB 240mm Liquid Cooling Kit |
| Graphics Card | 8GB ASUS ROG Strix GTX 1070 OC Gaming |
| Hard Disk Drive | 1TB SATA 7200rpm |
| Memory | 16GB 3466MHz DDR4 Corsair Vengeance RGB |
| Motherboard | ASUS Prime Z370-P Coffee Lake |
| Power Supply Unit | 850W Aerocool Project 7 RGB 80+ Platinum |
| Processor | Intel® Core™ i5-8600K |
| Anti-Virus | BullGuard™ Internet Security – 1 Year License |
| Microsoft OS | Microsoft Windows 10 Home |
| Sound Card | Integrated 7.1 High Definition 8-Channel Audio |
| Solid State Drive | 250GB M.2 3D SATA |
| Wireless LAN | Integrated High Speed Cable/DSL/Network Connection |
| Warranty | Lifetime Warranty – (Lifetime Labour,1 Year Parts,1 Month Collect & Return) |
| LED Strips | Game Max Blue Magnetic |
While the E-Pro7 is certainly a good-looking and tidy system, there are just a couple of minor niggles to point out. For one, Corsair's RGB memory has not been configured to match the rest of the components – the RGB fans and liquid cooler, for instance, have been set to blue while there is also a blue-only LED strip in the roof of the case. Instead, the RGB memory goes through a colour cycle effect which looks a bit out of place in this very blue rig.
More significantly, the fan configuration is also worth touching upon, despite this being something we don't often point out. We present four different thermal charts below, but Mesh's configuration with three front fans set to intake, the rear fan also set to intake, with the two fans in the roof set to exhaust, is certainly 'unusual' to say the least and goes against conventional wisdom which says 'front fans = intakes, roof and rear fans = exhausts.'
Another thing worth pointing out is the use of the WD Blue M.2 SSD. There's nothing wrong with it, but it is 'only' SATA III, rather than PCIe NVMe which is now becoming standard. On Mesh's own website you can upgrade to a WD Black PCIe M.2 SSD for just £12 more, but we reckon this should be included by default in a £1449 rig.
Cable management is excellent, though, with everything neatly tied together and tucked out of sight. The only slight quirk is that the liquid cooler's tubes have been tied to the 24-pin motherboard power cable which does look a little bit ungainly, but around the back of the case Mesh's work is perfect.
Testing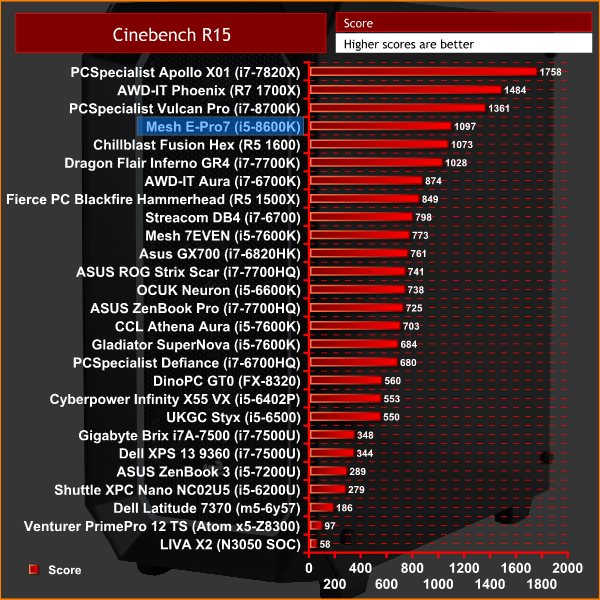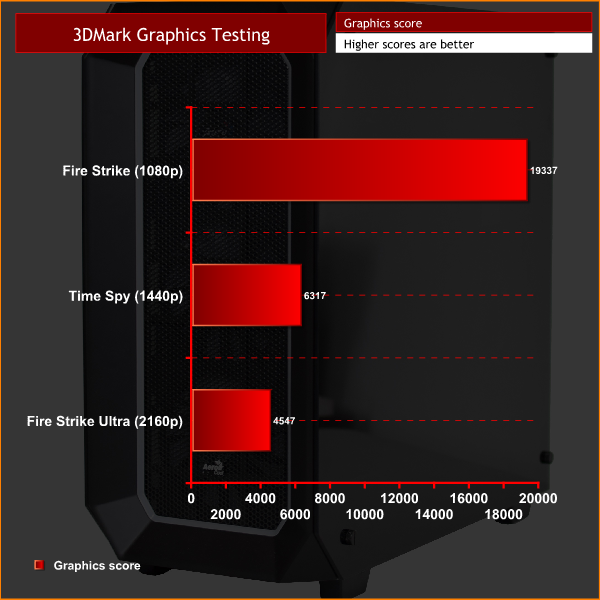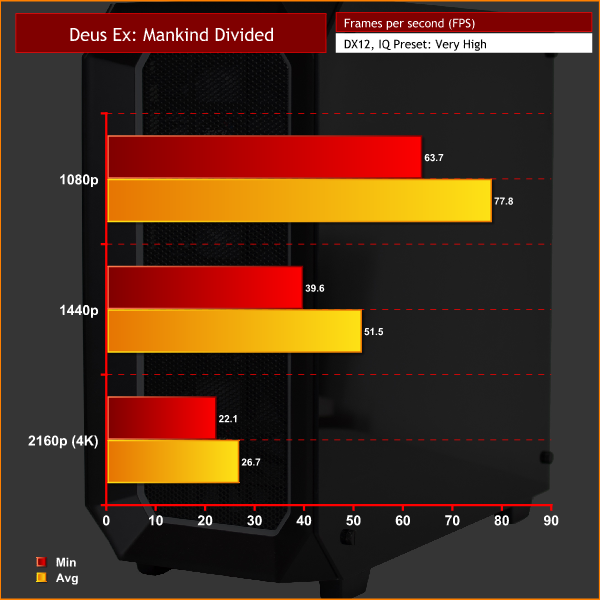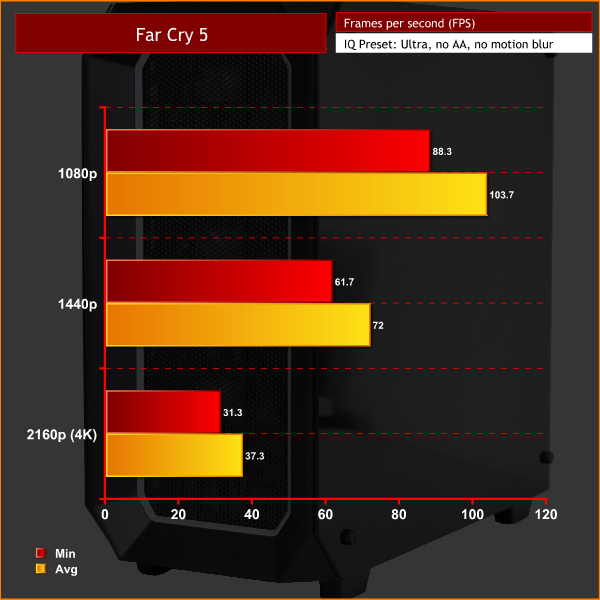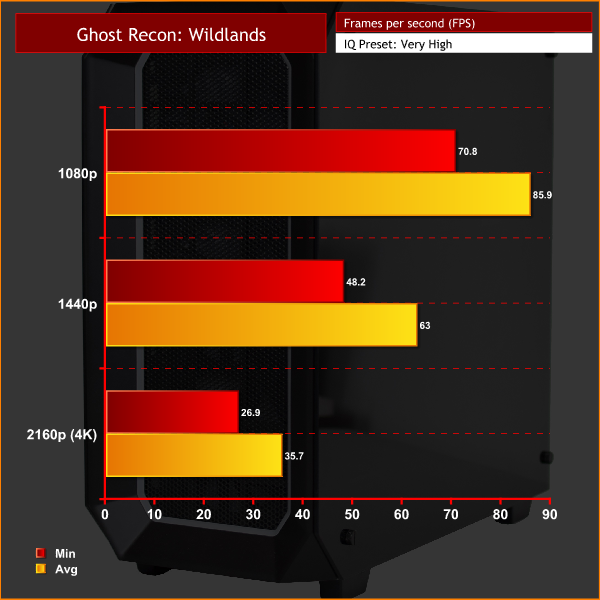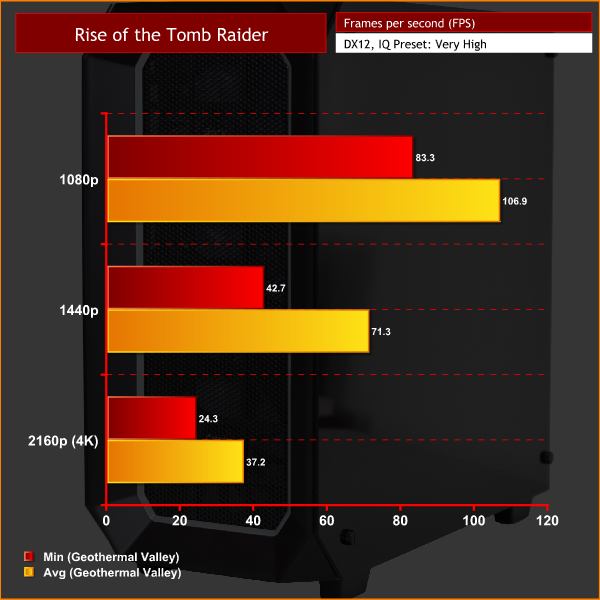 As we would expect from an i5-8600K paired with a GTX 1070, the E-Pro7 proves very capable for 1080p and 1440p gaming. An average of 72FPS in Far Cry 5 – at 1440p Ultra, no less – is particularly impressive.
Incidentally, the i5 processor has also been overclocked – slightly – to 4.5GHz on all cores. That is a 400MHz boost over the stock all-core turbo, and while more could certainly have been eked out of the processor, it is better than nothing.
Now, onto thermals. We had a lot of back and forth with Mesh about the fan configuration of the E-Pro7.
At first, the system arrived with both the front and rear fans set to exhaust, with the roof fans acting as the intakes.
We were then asked to change it so the front and roof fans were acting as intakes, with just the rear fan set to exhaust.
Lastly, we were again told something different, with the final configuration consisting of the three front fans set to intake, with the rear fan also set to intake, with two fans in the roof set to exhaust.
We tested all three configurations, as well as a fourth – the configuration we thought would work best, with the front fans intaking and the roof and rear fans exhausting. As you can see from the results, it was that fourth layout – the layout Mesh didn't provide us with – that gave the best results.
This is very disappointing, and we'd expect a lot better from a PC builder like Mesh, who has been around since 1987. It's obviously an easy fix for any experienced PC builder, but there's no excuse for selling the system with a sub-optimal fan configuration. We will push them to sell the E-Pro7 with the proper fan layout.
Noise levels are nothing to worry about, though, despite the fan configuration. The system is essentially silent while idling, and under load the fans do become audible but it's a relatively low-pitch whirr which doesn't get very annoying.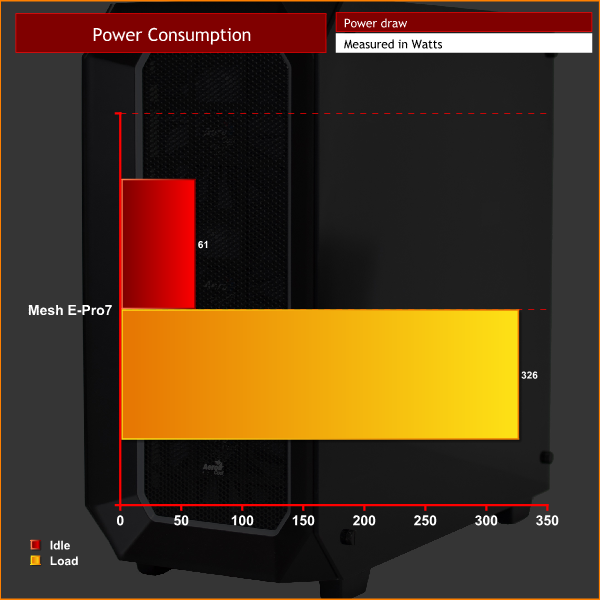 Elsewhere, power consumption is also nothing to worry about, though it does make me question the use of the 850W Aerocool PSU. Typically we would say you want the total system power draw to be between 40-70% of a PSU's rated capacity, and with the E-Pro7, the figure is 38.4% – so not far off. However, if Mesh had used the 650W model – still 80+ Platinum – the system power consumption would still only be 50.1% of the PSU's rated capacity, so still in the optimal 'zone', but you'd save £30 in the process according to street pricing.
Incidentally, £30 is – using Mesh's own configurator – exactly enough to bump up the SSD to a PCIe WD Black and upgrade the GPU to a GTX 1070 Ti, which would bring tangible performance benefits.
Closing Thoughts
The Mesh E-Pro7 has the potential to be a capable, all-rounder type of PC – its GTX 1070 and i5-8600K see to that – but it is badly let down by a sub-optimal fan configuration.
For a well-established PC builder like Mesh to make such a basic mistake does make us lose some confidence in the system as a whole. If they couldn't get it right for us – we actually had to swap the fans around to match how they were meant  to be – we can't say with any confidence that the system will be right for the everyday consumer.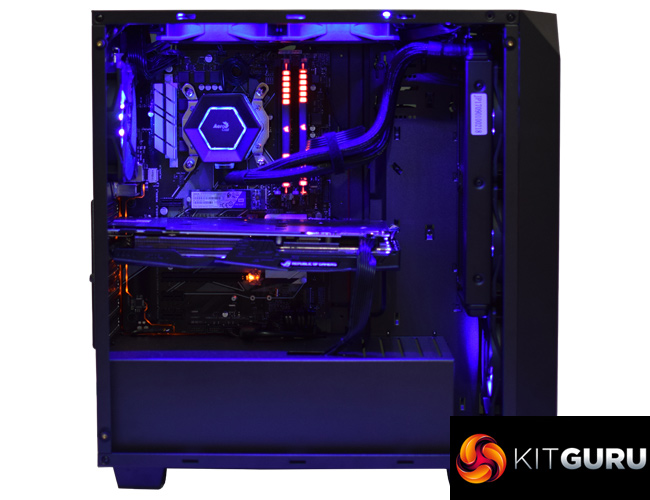 There is potential for the system to be worth buying, though, as it is competitively priced. By our calculations, buying all the components separately would cost £70 more than the E-Pro7's £1449 asking price, so that is in its favour. As it is, though, we don't have enough confidence in Mesh to be able to give this system our recommendation.
You can buy the E-Pro7 for £1449 from Mesh HERE.
Pros
Looks good.
Great for 1080p and 1440p gaming.
6-core CPU also has enough grunt for some work-related tasks.
Cons
Fan configuration suggests lack of knowledge.
Using a lower wattage PSU would allow for upgrades to the SSD and graphics card.
RGB memory doesn't match the rest of the rig.
KitGuru says: Despite posting good benchmark results, the E-Pro7 is let down by its fan configuration. An established PC builder has really got to do better.
Be sure to check out our sponsors store EKWB here