Optane Testing
The Aegis 3 also comes with a 16GB Intel Optane module, which is used to accelerate the 2TB hard drive. Here, we look at the synthetic benefits of Optane, as well as its real-world application when loading games from that accelerated hard drive.
Using CrystalDiskMark 6.0.1, we can see Optane makes a big difference when it comes to synthetic drive speeds – the sequential read speed goes up from 206MB/s to 928.7MB/S, for instance.
We see the same story when running ATTO Disk Benchmark. Read speeds are significantly higher across the board, although write speeds seem to get worse with Optane enabled – around 50MB/s slower when you compare the two sets of results.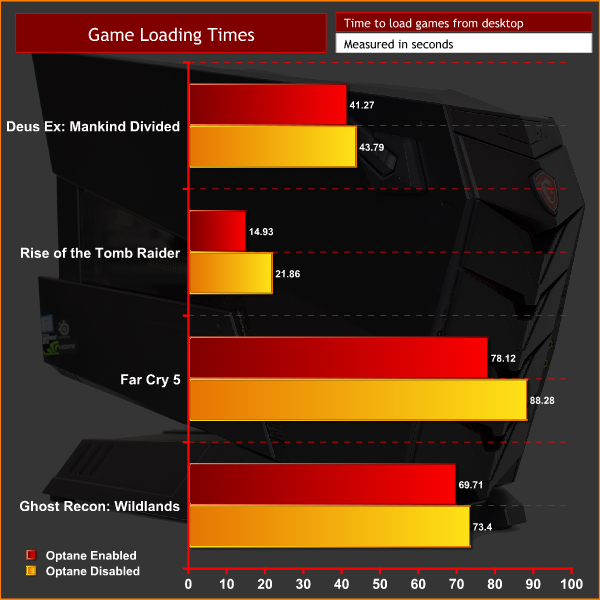 We then measured the loading times of the four games we benchmarked with the Aegis 3 – with Optane enabled, and then disabled.
Here, it seems to vary per game as to how much difference Optane makes. In some titles, you can see a noticeable decrease in loading times – Far Cry 5 loaded 10 seconds faster, for instance, while Rise of the Tomb Raider loaded almost 7 seconds faster. The other two titles, however, showed less difference, with Deus Ex: Mankind Divided loading barely two seconds quicker.
Still, given it's barely £30 for a 16GB module of Intel Optane, it is hard to begrudge its inclusion with the Aegis 3 – it's certainly better than using the 2TB hard drive on its own, and even if the real-world benefits aren't huge, they are still present.