The MSI Aegis 3 8th is a very distinctive system with some potential – however, it is not without its fair share of niggling issues.
We'll start with the design, though, and as I mentioned it is clearly going to be something you love or hate – it is bold, angular and aggressive. Personally, I prefer a more minimalistic look – something like the NZXT S340 Elite is more my cup of tea – but I don't doubt that some out there will find the Aegis 3 very appealing.
In terms of internal hardware, it's a decent spec but nothing crazy. We have an i7-8700 (non-K), GTX 1070 Ti and 16GB of DDR4, albeit in the SODIMM form-factor. This gives us solid gaming performance at 1080p and 1440p, and I would be happy to use the Aegis 3 with a high refresh monitor at those two resolutions. Do bear in mind, however, that UK customers can only buy the Aegis with GTX 1060 or 1070 graphics, as we seem to have been sent a higher specified prototype model.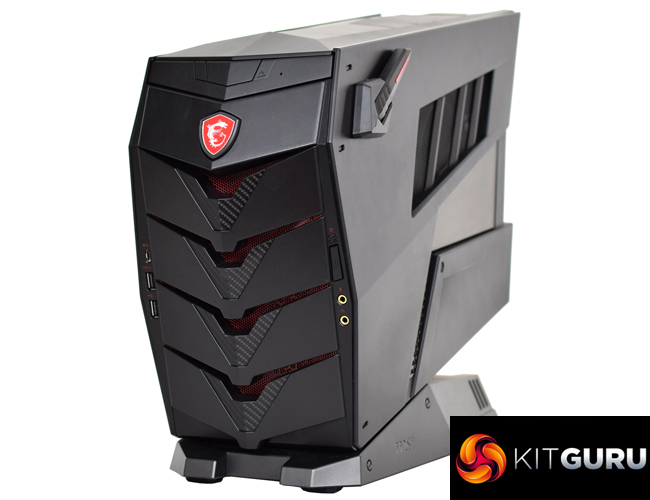 There are a few issues that get in the way, though. First of all, it is disappointing to see that the i7-8700 can't reach its all-core turbo speed of 4.3GHz – instead, it sits at 3.7GHz across all cores while under load. This doesn't affect gaming performance, but if you want to perform CPU-intensive tasks – like video editing or rendering – you will notice the slowdown.
Secondly, fan noise is a bit of a pain. This is simply because the 40mm PSU fan is so small, it sounds whiny. After having it on my desk all week, it got quite irritating.
On top of that, it is a crying shame that MSI has opted for an 80+ Bronze power supply for the Aegis 3. It is 2018, and when you consider the rest of the spec isn't exactly budget, we would certainly expect an 80+ Gold unit – at least! – in this machine.
Overall, the MSI Aegis 3 8th is a competent system, but it doesn't wow. Its USP is undoubtedly the aggressive design of the case, but other than that it doesn't stand out in any department.
Pricing is also not particularly competitive, as the models on sale start from £1699 for the GTX 1060 SKU, while the GTX 1070 model will set you back £1799. The latter machine is actually £50 more expensive than what you'd pay for the PCSpecialist Vulcan Pro with an i7-8700K and GTX 1080 Ti.
If you really want a PC that looks a bold as the Aegis does, then it will give you a decent gaming experience. For the rest of us, more bang-for-buck can be found elsewhere.
You can buy the Aegis 3 8th from PC World HERE.
Pros
Decent gaming performance at 1080p and 1440p.
Unique design will appeal to some.
Compact and portable.
Cons
Only available with GTX 1060 and GTX 1070 – not with a GTX 1070 Ti as reviewed.
Pricing is steep for what you get.
40mm PSU fan is a bit whiny.
Only 80+ Bronze PSU.
KitGuru says: The Aegis 3 8th performs well and doesn't make any catastrophic mistakes. You can, however, find more powerful systems available for less money if you don't mind going with a more conventional design.