Crystal Disk Mark:
CrystalDiskMark tests the raw speed of a storage device. It uses a test file to write data to or read data from the drive. We test using the default 1GB file size.
The Samsung 970 EVO drive gives great read and write speeds and is exactly what you would want in a high end gaming PC. The 500GB capacity gives enough space for installing quite a few frequently used games and programs also. However, as you are paying for an X570 board it seems a shame not use a PCIe Gen 4, crazy fast drive from the likes of Corsair or Gigabyte. Corsair's MP600, for instance, is available for £140 in the 500GB capacity.
As expected the Seagate Barracuda HDD is much slower but does provide some extra space for more games. It would be nice to have a larger drive than the 1TB HDD here but the system can be customised on the Box website to allow for this if needed, albeit at an increased cost.
Cinebench R15:
Cinebench R15 is a cross-platform testing suite that measures CPU performance. I compared the Cube Dragon Army One against results KitGuru have collected from testing other pre-built PCs.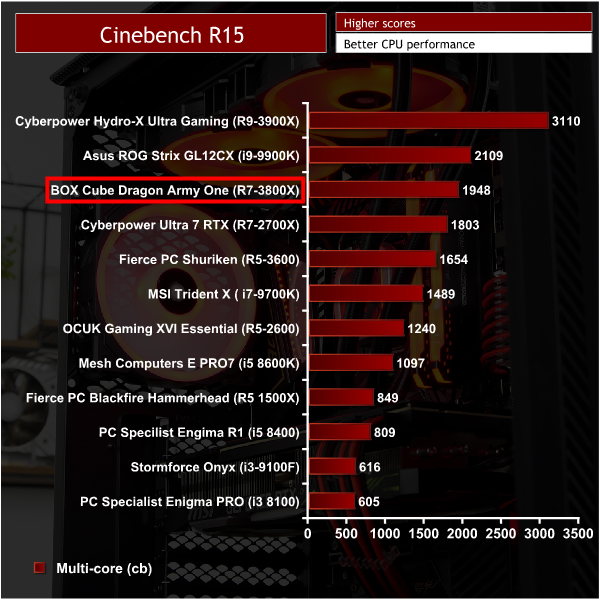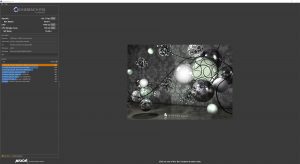 Cinebench R20:
Improvements to Cinebench Release 20 reflect the overall advancements to CPU and rendering technology in recent years, providing a more accurate measurement of Cinema 4D's ability to take advantage of multiple CPU cores and modern processor features available to the average user.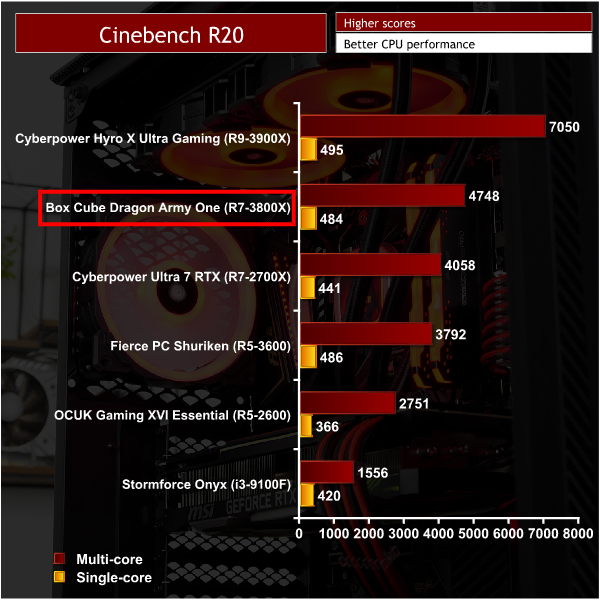 Cinebench results:
The advancements AMD have made with their processors are clear to see when it comes to the latest Ryzen 3 CPUs. The R7-3800X provides great bang for buck and scores very highly in Cinebench thanks to its 8 cores and decent speeds. I can certainly understand why Box have chosen to use this CPU and if you're doing other tasks alongside gaming on the Dragon Army One, you will definitely reap the benefits.