3DMark testing: 
For this test, I ran the Cube Dragon Army One through Time Spy Extreme, Time Spy, Fire Strike, Fire Strike Extreme and Fire Strike Ultra.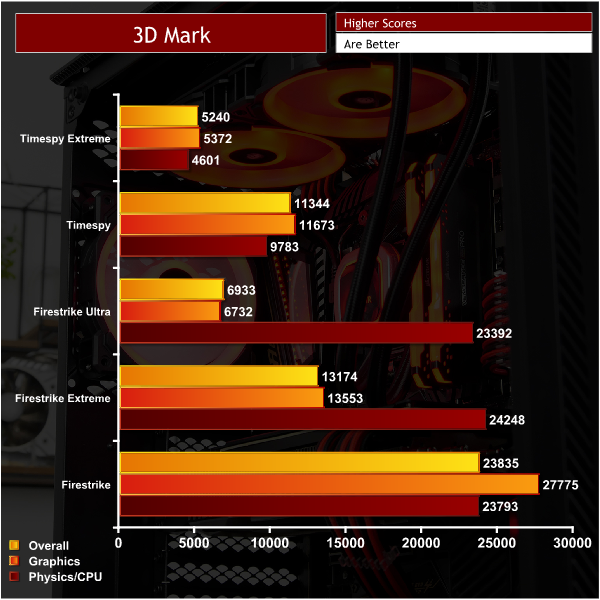 The results for the 3DMark tests are impressive and show the Dragon Army One to be a very capable PC at all resolutions. Being such a high end PC this is pretty much as expected but it also allows us to see that the CPU and GPU appear to be a well matched pair perfect for gaming.
Gaming Performance: 
To see how well this PC performs I used the Dragon Army One to play different popular games to see just how powerful this PC is when it comes to gaming. I tested the games at different resolutions with Ultra image quality settings.
F1 2019: This is the most recent release in my line up of tester games and gives the Dragon Army One a chance to show what it can do on a newer title.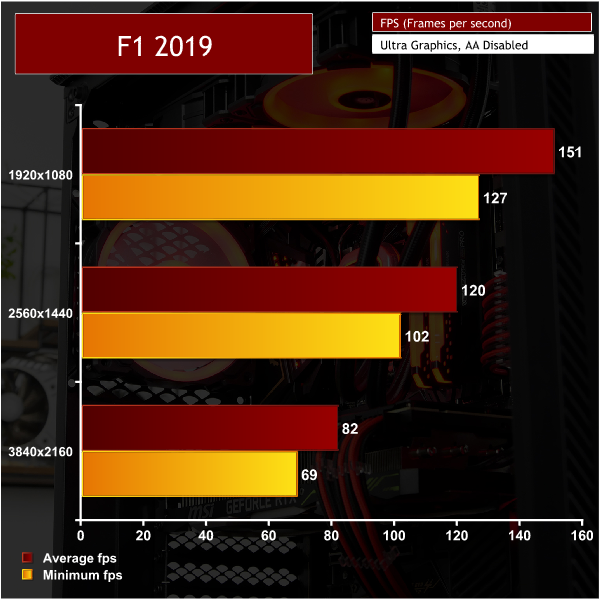 Far Cry 5: was released on March 27, 2018. The gigantic open world of Hope County has plenty of beautiful scenery to test how well this PC performs with a newer game. I tested on the Ultra preset with AA disabled.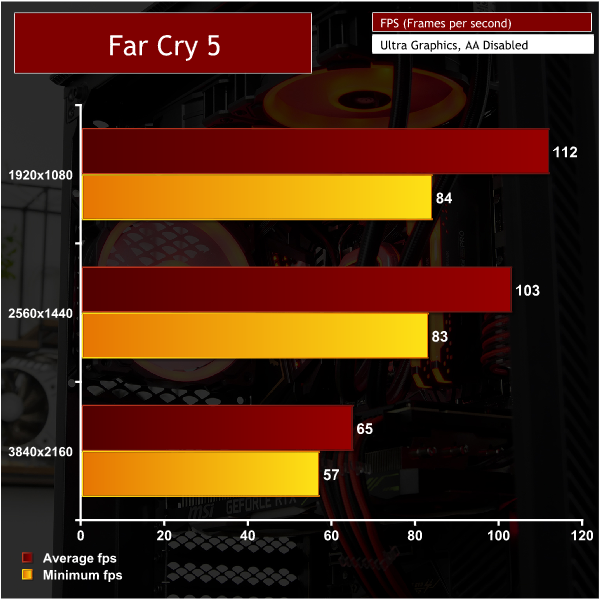 Shadow of the Tomb Raider: is a relatively recent release that supports Nvidia's RTX technology. I tested the game at Ultra settings with DLSS, DX12 & Ray tracing turned on at various resolutions.
Gaming Performance Conclusion: 
Because the Dragon Army One is such a high end PC I didn't want to mess around with lower graphical settings and instead opted to switch up the resolutions to provide results for different gaming monitor preferences. This PC can easily run all of the tester games on Ultra settings without skipping a beat, which is great for jaw dropping visuals, but thankfully I didn't see too much of a hit to framerates either.
When it comes to resolutions such as 1080p and 1440p this PC is perfect for higher refresh rate monitors with at least a 100fps average on all of the demanding games we tested. This seems to be the real sweet spot for gamers and I think this PC is specced really well to do the job. Unfortunately we're still a way off getting 100+fps gameplay at 4K but you will still get a very solid 60fps average.
Less demanding games and lower graphical settings will get even better results and all in all this is a great PC for gaming on.