The Box Cube Dragon Army One certainly sticks to the MSI theme and overall is a decent build to look at, with the red dragon on the front of the case making it really stand out.
The Corsair LL120 fans look great, but aren't really used to their full effect when left on the matching static red and I can't help feeling money could have been better spent on some plain red LED fans that have more of an emphasis on performance. I do, however, really like the red braided cables and I think box have made a decent attempt at cable management.
We saw in our recent KitGuru reader awards that AMD is the people's processor manufacturer of choice and the Ryzen 7 3800X is a great match for the RTX 2080 Super in this system. The Dragon Army One could achieve over 60fps at 4K in all our games, even on the highest settings. Gamers who want a smoother 144Hz experience won't have a problem at lower resolutions or on less demanding games either.

This PC would also be powerful enough for other tasks such as video editing and 3D rendering. However, I do feel like it is slightly lacking in the RAM department and would like to see 32GB or a faster 3600MHz DIMMs to really hit the sweet spot for the AMD processor. However if your main aim is to game you won't have any issues.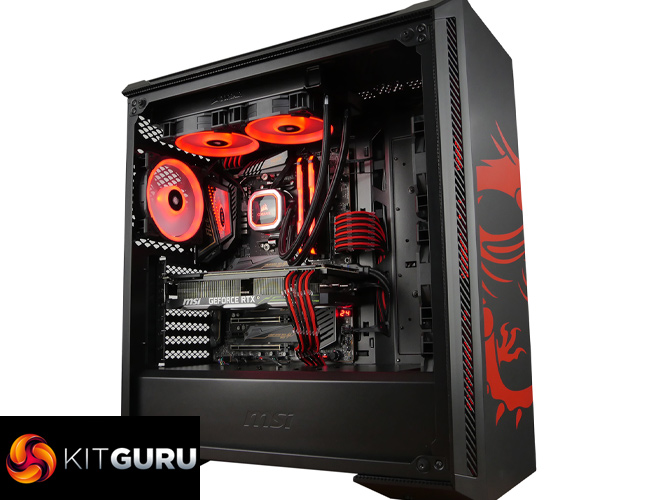 The other components in this system are high end and help to make this a well rounded system. The Samsung 970 Evo drive is a nice addition that makes this PC very quick, however you might find yourself running out of space on the 1TB HDD if you have a large games library. It's also disappointing to see no options for the new Gen 4 storage which is one of the main features of X570.
The 3 Year collect and return warranty is a good bonus that will give you peace of mind should any issues arrive, but bear in mind you are paying a premium of about £200 for this system when compared to sourcing the parts yourself. A prebuilt is never going to be the most affordable way to do things however, and a 10% premium for assembly, delivery and warranty is what I would consider to be fair. This PC might not be to everyone's taste but if you love MSI and also enjoy all the RGB Corsair has to offer then this is certainly the PC for you.
The Cube Dragon Army One PC can be found on the Box website for £2289.99 HERE.
Discuss on our Facebook page HERE.
Pros:
Custom braided cables with cable combs make this a neat build.
Customisable RGB Corsair lighting.
Great gaming performance.
Components can be customised.
3 year collect and return warranty.
Cons:
Not much storage space.
No PCIe 4 gen Storage
RAM could be faster to further improve CPU performance.
Graphics card has green accents which doesn't fit with the red theme.
KitGuru says: The Box Cube Dragon Army One is a good option for those of you who really love MSI but don't want to build your own PC. The 3 year collect and return warranty also gives great peace of mind.