Thermals:
To test the cooling performance of the Box Dragon Army One I ran AIDA64 and Unigine Heaven for 10 minutes. I tested the CPU & GPU at the same time to ensure that the cooling is sufficient to keep the thermals of both under load simultaneously.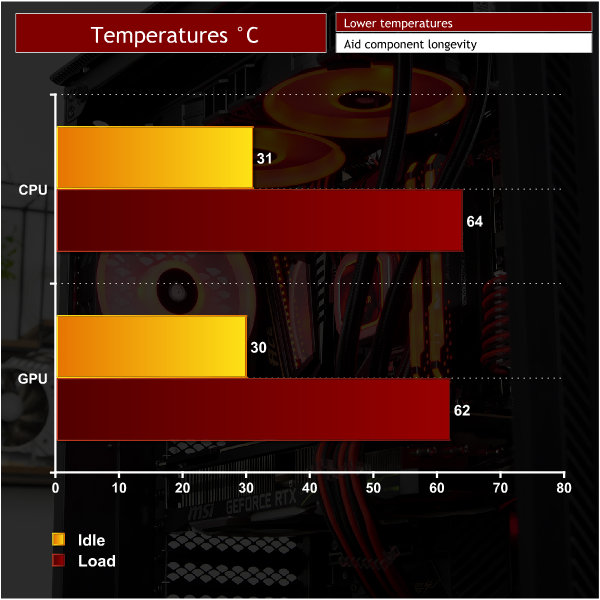 The idle temperatures I saw from this PC are very good and not much higher than ambient – exactly as you would expect. Temperatures under load are also no problem at all, which did surprise me slightly as the case design appears to be quite restrictive in terms of airflow, and the LL120s aren't the best on the market for performance. However, the benefit of the AIO cooler meant that the R7-3800X stayed nice and cool and the aftermarket cooler on the MSI GPU also proved its worth.
Noise levels:
I measured fan noise levels using a sound meter while the PC was idle with no programs open, and then during stress testing to get a reading with the system under load.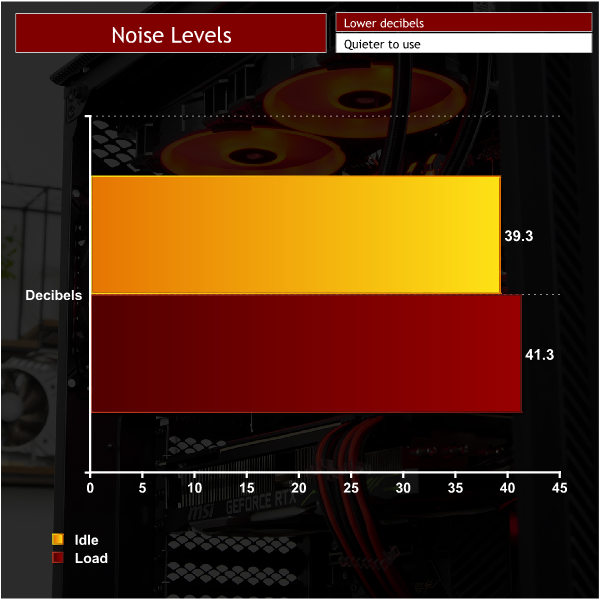 The noise levels coming from the Dragon Army One are pretty consistent but not particularly loud. I have seen much quieter systems – the LL120 fans aren't particularly quiet and this PC makes no claims of being such. It should be perfectly OK for most users and you won't even notice fan noise if you're a headset user.
Power Consumption:
The Cube Dragon army One has a Corsair RM850 850W 80 PLUS Gold Fully Modular power supply. It also comes with braided black and red cables to match the colour scheme of the PC.
The Corsair RM850 is an efficient PSU thanks to the 80 Plus Gold rating, and the modular design allows for the use of the really attractive red braided cables. At maximum load I saw the Dragon Army One PC draw 408 Watts which means a 850W PSU is very suitable for this build. This means that while gaming or undertaking demanding tasks the PSU is not stressed out, but is also not overkill and there is room to upgrade components down the line. At around 40-50% load it will be running at its peak efficiency where it is also quieter and will hopefully have a longer lifespan.