Thermal dynamics
To measure idle temperatures, a reading was taken after having Windows open on the desktop for 30 minutes. A reading under load was taken with Prime 95's SmallFFt test running alongside 3DMark Fire Strike.
'Normal' fan preset: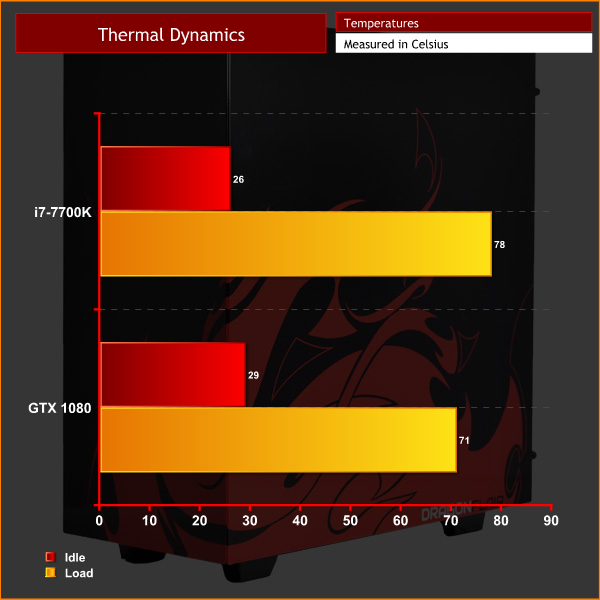 Using the default fan profile (set in the UEFI) thermals are fine – a peak of 78 degrees for the overclocked CPU is perfectly safe, while the peak GPU temperature suggests there is plenty of thermal headroom for some overclocking.
However, as I will explain below, I encountered some acoustic issues with the two Aer case fans, so I also tried out the 'silent' fan profile.
'Silent' fan preset: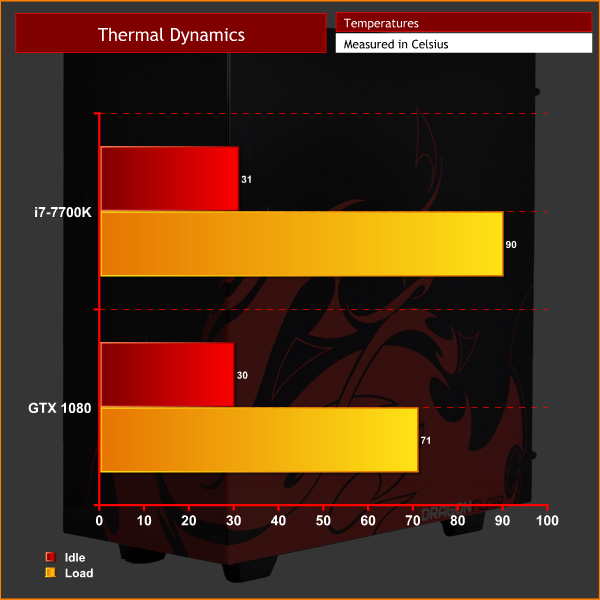 As you can see, the CPU rocketed up to 90C, clearly indicating that this system needs the faster fan curve.
Acoustics
On the whole, the Inferno is not too loud. It is essentially silent while idling, and the fan noise would be easily drowned out by quiet music once the system comes under load.
However, during my time with the Inferno, I did notice that the fans would burst into life (spinning very fast) every now and again, before slowing back down. This happened seemingly at random, and it quickly got annoying – the noise is especially distracting considering it comes and goes very quickly.
This is why I tested the system using two different fan profiles as I wanted to see if the bursts of noise would go away when using the 'silent' mode in Gigabyte's Smart Fan 5. In my experience, they did not, but the overall fan noise was slightly lessened. The two case fans still ramped up quite heavily during seemingly innocuous situations, though, which is a shame. I would suggests a custom fan profile may be required, or even a fixed 40% speed limit may do the trick.