The Dragon Flair Inferno GR4 ships neatly packaged in its NZXT S340 Elite case box. The GTX 1080 box is also included on the off-chance you may want it.
Getting our first look at the Inferno, it is certainly a looker. This is because Dragon Flair has actually finished the S340 Elite with a custom vinyl wrap. The design is dragon-themed, fitting in with Dragon Flair's name, and it really adds something different to the PC.
Funnily enough, I am not usually a fan of this sort of thing – I tend to prefer sleek, subtle and understated designs. However, I do think this wrap looks great and, as you will see in a moment, it fits in very nicely with the overall colour scheme.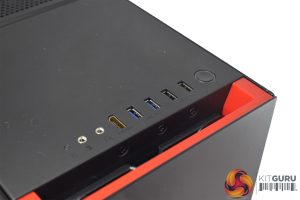 Before looking inside the chassis, it is worth noting that the front panel I/O is plentiful: we find 2x USB 3.0, 2x USB 2.0, headset jacks and a HDMI pass-through port, the latter being a great addition for those with VR headsets.
Taking off the side panel, it is immediately clear that the black-and-red colour scheme is not limited to the external vinyl wrap. Dragon Flair has used cable extensions to reinforce this colour scheme, while the S340 Elite and MSI graphics card also have red accents.
The build is nice and tidy, too, with good cable management throughout.
Starting with the system's cooling apparatus, Dragon Flair has fitted 2x 120mm NZXT Aer fans acting as exhausts. These fans are actually RGB-capable, and we get a look at them turned on below.
Cooling the i7-7700K (which has been given a hefty 4.8GHz overclock) is a 240mm NZXT Kraken X52 AIO. This unit's pump also sports RGB lighting, while its mirror-finish plate also looks very smart.
Dragon Flair has definitely gone big on LED lighting as the RAM is a 2x8GB kit of Corsair's Vengeance LED DDR4. And yep, you guessed it – the DIMMs sport red LEDs.
Just below the CPU block is a Samsung 960 EVO M.2 NVMe SSD, which should deliver very fast speeds. It is also quite large, at 500GB, giving you ample space for games or media.
Moving downwards, Dragon Flair has opted for an MSI GTX 1080 Gaming X 8G graphics card. We reviewed this model back in July 2016, and it walked away with our 'Must Have' award. You can read our full review of this card over HERE.
It's a dual-fan card, fitted with a lovely backplate, and it's shroud is also black-and-red so it fits in perfectly.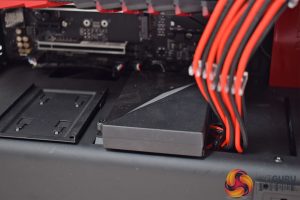 Before moving elsewhere, it is worth pointing out that an NZXT Hue+ is also included. While it only controls the two Aer fans here, it can also be used to control RGB LED strips which you could add in if you want.
The Aorus Z270X Gaming K5 has the following rear ports: 1 x PS/2 keyboard/mouse port, 1 x DisplayPort, 1 x HDMI port, 1 x USB Type-C™ port, with USB 3.1 Gen 2 support, 1 x USB 3.1 Gen 2 Type-A port (red), 3 x USB 3.1 Gen 1 ports, 2 x USB 2.0/1.1 ports, 1 x RJ-45 port, 1 x optical S/PDIF Out connector, 5 x audio jacks (Center/Subwoofer Speaker Out, Rear Speaker Out, Line In, Line Out, Mic In).
The GTX 1080 has the usual 3x DisplayPort, 1x HDMI and 1x DVI ports.
Taking a look behind the motherboard tray, cable management is decent here. There is a fair amount of excess cabling as Dragon Flair has used braided cable extensions, so it is not the prettiest job, but that doesn't matter a whole lot since none of these cables are on-show.
In the bottom left corner we find a 2TB WD Blue mechanical drive tucked away, while the PSU is a Corsair RM650x, 80+ Gold unit.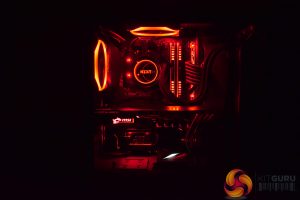 Lastly, it is worth taking a look at the system when it's turned on, LEDs shining proudly. Dragon Flair pre-configured the lighting so it all matches, and it definitely looks great, especially when shining through the tempered glass side panel of the S340 Elite. Top marks here.