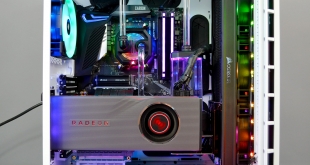 Cyberpower is a UK retailer of pre-built computer systems, with a huge range to choose from, starting with affordable office/business systems all the way up to the top of the range workstation and gaming PCs. Today, we will be looking at one of their flagship systems, the Hydro-X Ultra Gaming, which features a custom CPU liquid cooling loop from Corsair.
The Hydro-X series from Cyberpower is one of their top of the line, pre-built systems. With Hydro-X systems, you can configure and customise the system to your needs. A huge range of options for customisation are available when ordering, such as a selection of cases, CPUs, GPUs, motherboards, storage devices and more. You even have the option of adding sound reducing foam, choosing the colour of the liquid in the cooling loop and adding a selection of coloured cable extensions amongst other things.
The possibilities are almost endless. However, the price is adjusted to reflect your choices, so you could quite easily spend much more than initially expected. The system we have for review is the default Hydro-X Ultra Gaming system, which is initially listed on their website from the 'Exclusive Series' pull-down menu, which you can see here.
Powered by the new AMD Ryzen 9 3900X, 12 core 24 thread CPU, it should provide the Hydro-X Ultra Gaming enough oomph for even the most demanding of tasks. While gaming is the primary focus with this system, the 3900X is a more than capable CPU for productivity tasks, so we will be testing the performance of the system in all scenarios.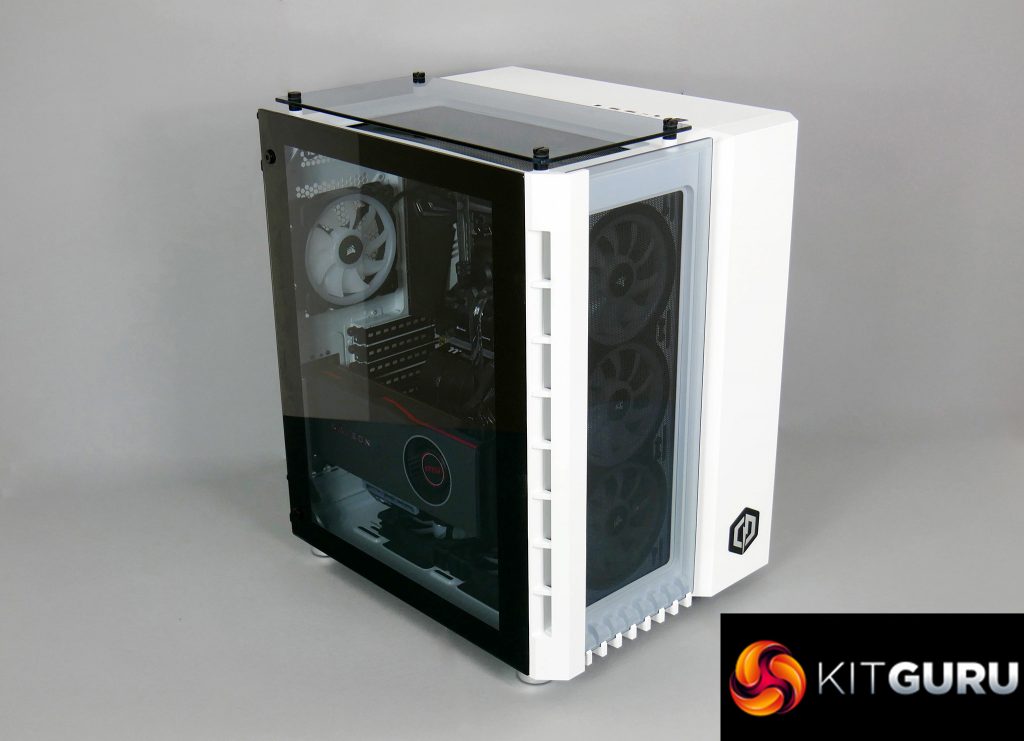 Paired with the Ryzen 9 3900X CPU is an all new X570 platform, featuring an MSI MPG X570 Pro carbon gaming WIFI motherboard at the heart of it. With a number of issues plaguing X570 boards at launch, it didn't get off to a great start. Recently, we have seen several BIOS updates, which are improving performance and stability with every release. The system arrived to us with BIOS revision 7B93v12, which at the time of writing is the current and latest version.
16GB of Corsair Vengeance PRO RGB DDR4 3200MHz is installed in the Hydro-X Ultra Gaming, which is still considered to be relatively high speed. However, due to the vast amount of testing we have seen recently on the new Ryzen 3000 series of CPUs, it is common knowledge that 3600MHz RAM is optimal for Zen 2 performance. With this in mind, we can't help but feel the minimal extra cost incurred by choosing 3600MHz RAM for this system may have proved beneficial.
Two different drives provide storage in the Cyberpower Hydro-X Ultra Gaming system. The first is a Corsair MP600 Gen4 PCIe M.2 SSD – this is great news as the performance from PCIe 4.0 SSD drives is the best we can expect currently, so this an area we are glad to see Cyberpower has not cut costs. Offering extra storage is a 2TB Seagate Barracuda mechanical hard drive, while much slower than the M.2 SSD, it does offer plenty of extra storage for non-critical applications.
To power the system, Cyberpower have chosen a Corsair Vengeance 650M 650W 80+ Silver certified unit. As far as 80+ Silver power supplies go, the Vengeance 650M is very good. We do have to question a Silver rated PSU in 2019, however, when this system costs north of £2000 – an 850W Gold PSU could be sourced for as little as £20 more. On top of that, 650W for this system as sold should be enough – but when you factor in overclocking the CPU or adding extra components, it could well be pushing things close.
Now, for the most important part when it comes to a gaming PC- the GPU. Cyberpower has installed a MSI Radeon 5700 XT in the Ultra Gaming system as default. At around the £400 mark, it could be considered a mid-range card. However, it does have comparable performance to a Nvidia GeForce RTX 2070 Super, and in some games the 5700 XT is better, so it's no slouch. We will see how it performs in this system during testing.
Cyberpower have opted for a Corsair Crystal 680X case as the base for all of this hardware to fit into. The case should provide ample space for components and has good potential for cooling with its dual compartment layout. In addition to this, Cyberpower have installed a Corsair Hydro-X custom liquid cooling loop to keep CPU temperatures under control.
You could argue this is little overkill since the system is shipped with the CPU at stock frequency and voltage, though from an aesthetic point of view the custom loop does look lovely. There is also an option to have the system professionally overclocked by Cyberpower prior to shipping, but this comes with a £29 extra premium.
Key features
Custom liquid cooling loop for CPU cooling
Addressable RGB lighting
High end gaming aesthetics
Tempered glass panels
Specification
Case: Corsair Crystal Series® 680X RGB High Airflow Tempered Glass Mid-Tower (inc x3 LL120 fans)
CPU (Processor): AMD Ryzen 9 3900X – 12-Core 3.80GHz, 4.6GHz Turbo – 64MB L3 Cache Processor
CPU Cooling: Corsair Hydro-X Large Kit [Rigid Tubing, Corsair iCue & A-RGB]
Motherboard: MSI MPG X570 Gaming Pro Carbon WIFI: ATX w/ RGB, PCIe 4.0, USB 3.2, SATA3, 3x M.2
Memory (RAM): 16GB (2x8GB) DDR4/3200mhz Dual Channel Memory Corsair Vengeance Pro RGB w/Heat Spreader
Graphics Card (GPU): AMD Radeon RX 5700 XT 8GB – DX12® – VR Ready, HDMI, DVI, DP, 5 Monitor Support (Single Card)
PSU (Power Supply): Corsair Vengeance Series 650M 650W 80+ Silver Gaming Power Supply
SSD Drive :1TB Corsair MP600 M.2 PCIe 4.0 NVMe SSD – 4950MB /s Read & 4250MB/s Write (Single Drive)
Hard Drive (HDD & SSHD): 2TB Seagate BarraCuda SATA-III 6.0Gb/s 7200RPM Hard Drive (1 Drive)
Internal USB Hub: Built-in USB Ports
Wired Networking: ONBOARD 10/100/1000 GIGABIT LAN PORT — As standard on all PCs
Sound Cards: HIGH DEFINITION ON-BOARD AUDIO
Operating System: Windows 10 Home (64-bit Edition)


Be sure to check out our sponsors store EKWB here