Since AMD launched its Navi graphics cards almost two months ago, we've reviewed a couple of partner cards from Sapphire – namely their Pulse and Nitro+ models. While we focused almost exclusively on the hardware for those reviews, Sapphire has also created an interesting tool on the software side of things, which it calls TriXX Boost. In a nutshell, this lets you lower your resolution scale to increase frame rates while gaming, but offsets the lower image quality by enabling Radeon Image Sharpening.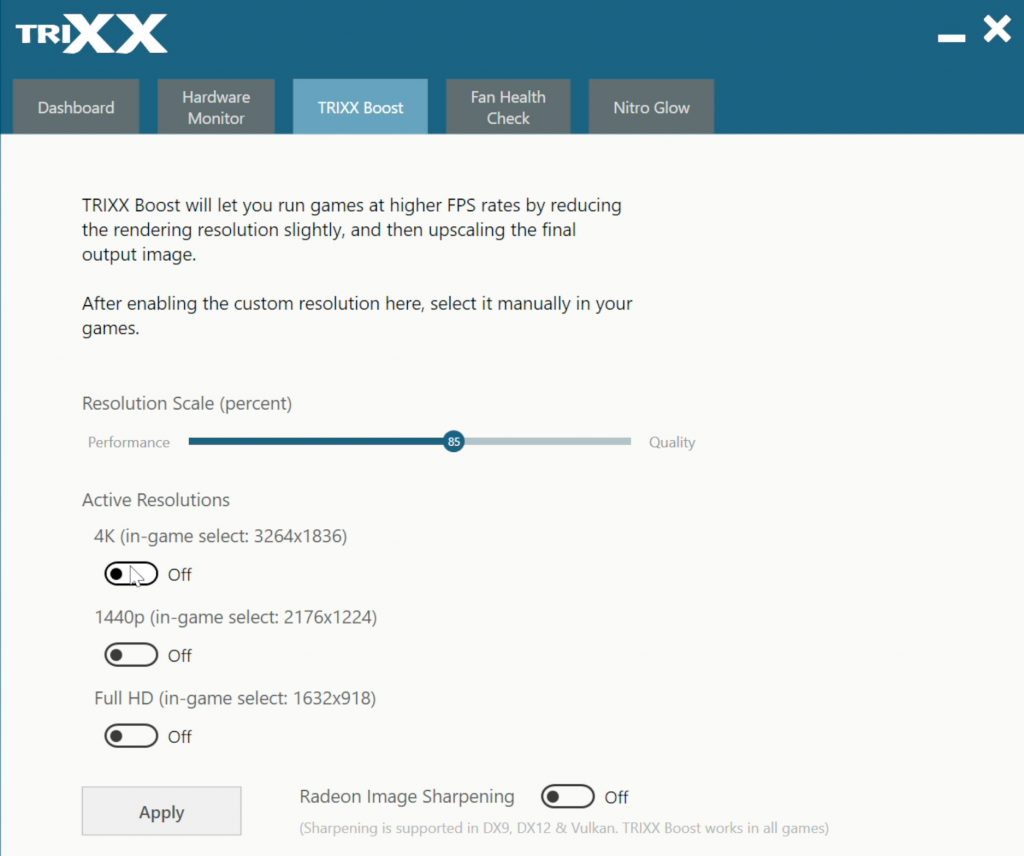 To be clear, TriXX Boost is not a revolutionary new feature that Sapphire has developed which fundamentally changes how games will be played. Instead, it is simply a case of setting a custom resolution based on a resolution scale slider which is adjustable in TriXX. There are other ways to set custom resolutions – some games even have resolution scaling built-in – but TriXX boost makes the process very easy.
Setting a custom resolution is only half of the equation, though – the other half is Radeon Image Sharpening. This works in tandem with setting a lower resolution than native (85% resolution scale with a 4K monitor results in a custom 3264×1836 resolution) by sharpening the final image, meaning we should see a decent improvement in frame rates, thanks to the resolution downscaling, without losing out on image quality.
For a full analysis of how this works and for performance figures, be sure to watch the video above. Here, we'll just focus on a few select examples of the differences in image quality between native 4K, and our custom 3264×1836 resolution with RIS enabled.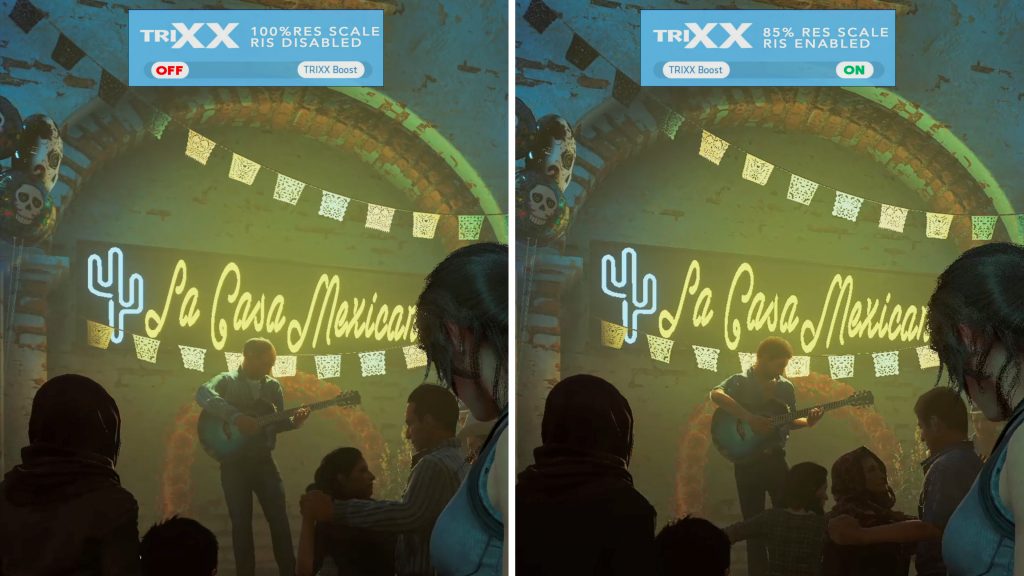 Our first example is from Shadow of the Tomb Raider. Here we can see the neon sign in the background is clearly shaper than the native 4K image – in fact, I'd say it is probably too sharp and looks a bit artificial. The same can also be said of Lara's hair, where each strand looks over-sharpened and a bit 'fake'. This is a 200% crop however, and the differences are definitely less noticeable when viewed normally.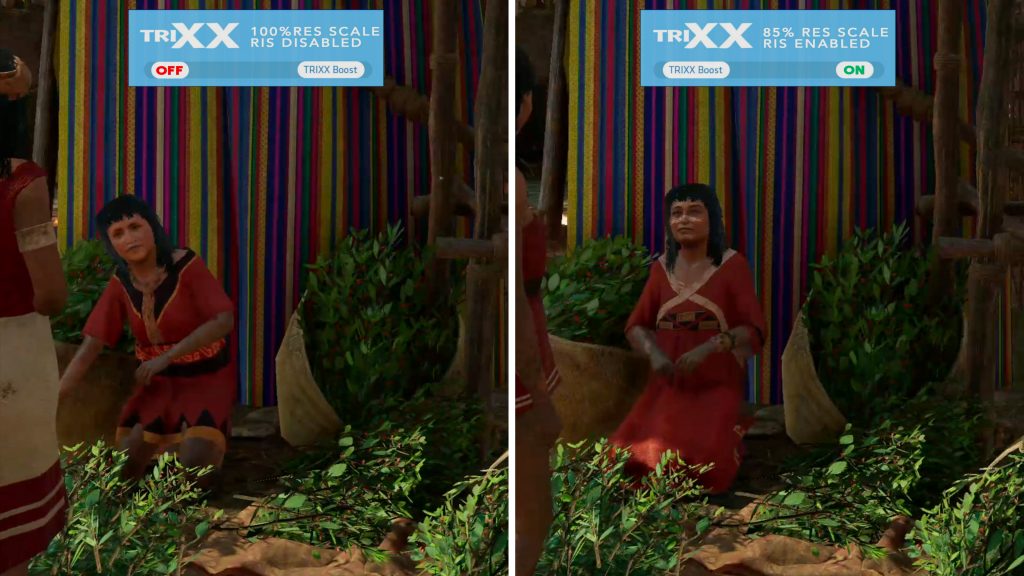 Things goes the opposite way with this next example, where the native 4K image just looks very soft – focus on the lady's face, and her features are barely distinguishable. The image with Trixx Boost and RIS, though, looks a lot clearer and sharper. I would say that the hair again looks more natural at native 4K, as sharpening this results in a grainy appearance. It's still a great result for TriXX Boost though.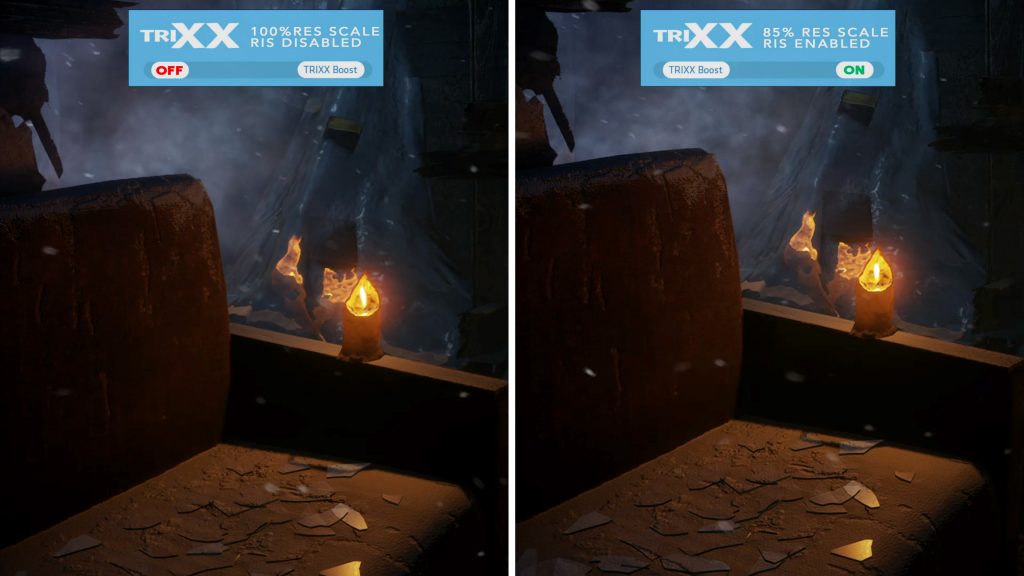 Our last example comes from Metro Exodus, and there is very little difference between these two images. If anything, the flame on the right hand side looks a bit clearer and more well-defined, while the wood the candle is sitting on also shows a sharper edge to it than the native 4K image. That being said, it would be very hard to tell the difference between these two images in a blind comparison test, and that is surely good news for TriXX Boost.
If you want more performance figures then do watch the video above, but TriXX Boost clearly has its benefits. With our 85% resolution scale we saw average frame rates increase by 31% versus native resolution. Considering the minimal difference this made to image quality, we have to say it is a feature well-worth using for any owners of a Sapphire graphics card.
The one downside is that, at present, RIS only works with DX9, DX11 or Vulkan games. While you can use TriXX Boost to set a custom resolution for all games, if it's DX12 then image quality will suffer slightly as you won't be able to use RIS to sharpen things back up. How much that will affect you really depends which games you play the most, but it is certainly something to note.
KitGuru says: TriXX Boost is a useful feature that has largely flown under the radar, so we thought it was worth a closer look. Has anyone picked up a new Sapphire card and played around with this feature? Do let us know your experiences.