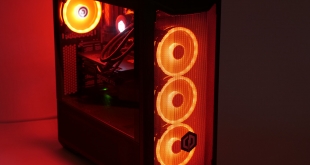 The name of this gaming PC is the Cyberpower Ultra 7 RTX  however we want to be crystal clear this is a completely different system from the PC reviewed by Dominic that had exactly the same name. In fact the hardware is bang up to date as the latest Cyberpower Ultra 7 RTX sports an AMD Ryzen 7 5800X, MSI RTX 3070 graphics card and a Samsung 980 Pro SSD.
Watch the video via our VIMEO Channel (Below) or over on YouTube at 2160p HERE
Note: if the above images are not displaying properly, you may need to disable Ad Block as it is known to interfere with our display code
Specification
CPU: AMD Ryzen 7 5800X
Cooler: Cooler Master MasterLiquid Lite 360 (OEM only)
RAM: 16GB (2x8GB) HyperX Fury DDR4-3200MHz 16-18-18-36 1.35V
Motherboard: MSI X570-A Pro
GPU: MSI RTX 3070 Ventus 2X OC 8GB GDDR6
Case: Lian Li Lancool II Mesh
Fans: 6x 120mm Cyberpower
SSD: Samsung 980 Pro 1TB Gen4 NVME SSD
PSU: Corsair RM750X Gold
Wi-Fi: Intel AX200
OS: Windows 10
You can get a feel for the performance of the Cyberpower Ultra 7 RTX by taking a look at Luke's review of the AMD Ryzen 7 5800X, one of Dominic's RTX 3070 reviews, Simon's review of the Samsung 980 Pro SSD, and Allan's review of a Corsair RM850X power supply. If that little lot doesn't whet your appetite then you clearly haven't been shopping for new PC hardware in 2020 as we're looking at some good kit that has scored well in our reviews.
Sadly I cannot link you to a review of the Lian Li Lancool II Mesh case as we didn't receive one for review and that is vexing as the case looks rather good. In the video I said the case has an opening for a USB Type-C connector however there is no hardware in the case. The explanation is that Lian Li sells the Type-C connector as an accessory for £12 and the case is supposed to have a blanking plug in the hole, but for some reason that plug was missing from our review sample.
Perhaps the strangest aspect of the Ultra 7 RTX is that Cyberpower removes the stock fans from the case and replaces them with a full complement of six 120mm RGB fans that are connected to their own fan control hub which is triggered via a remote control. Clearly none of us want another remote control in our lives and it seems a bit strange to do away with PWM control as that tends to work rather well but as you will have seen in our video this approach works perfectly well, although it is rather unusual.
Testing and Performance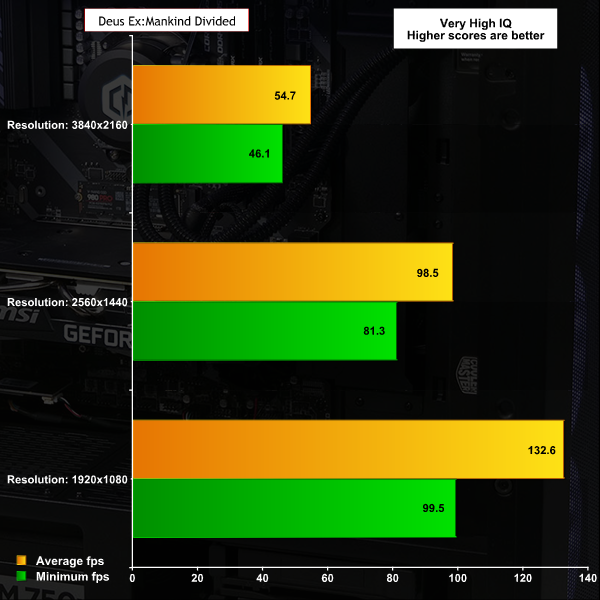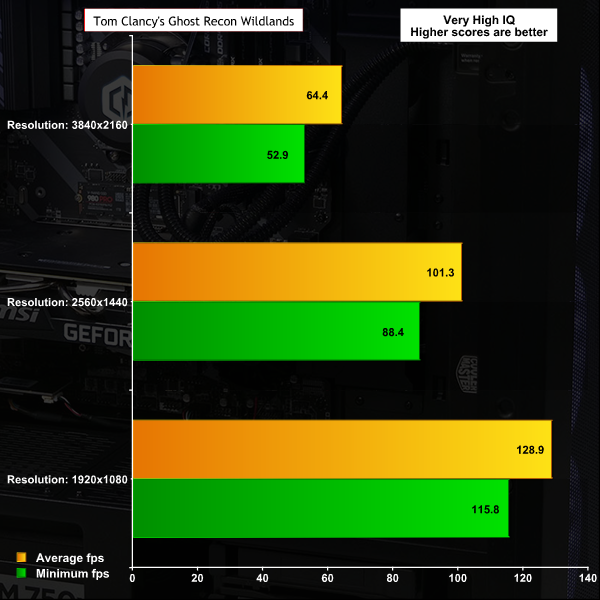 Performance Overview
We ran a selection of games and confirmed the Cyberpower Ultra 7 RTX will comfortably play games at 1440p and can just about manage 4K. This comes as no surprise as both the Ryzen 7 5800X and RTX 3070 are known quantities but we naturally wanted to check the hardware was behaving correctly.
It was a similar story with CPU intensive tests such as Cinebench R23 and Blender as the CPU was happy to run all cores at a steady 4.6GHz. We were mildly unhappy to see the system comes DDR4-3200MHz memory as we know that AMD Zen 3 responds well to 3600MHz RAM.
Cooling Performance Overview
In regular gaming use the CPU and GPU both run at a steady 70 degrees Celsius while CPU intensive tasks push the CPU to 82 degrees, so we are happy to report everything is under control.
Closing Thoughts
You can argue all day about whether Cyberpower could have settled for a Ryzen 5 or should have pushed for a Ryzen 9, and whether or not an RTX 3070 is sufficiently powerful but the fact of the matter is that this PC plays games at 1440p and can handle pretty much any task you throw in its direction. One area where we flat-out disagree with Cyberpower is with the 1TB of SSD storage. While we are very happy with the choice of Samsung 980 Pro we are sure the PC requires additional storage either in a hard drive or an addition SSD. An area that causes us some concern is the MSI X570-A Pro motherboard as we have seen reports of the VRMs overheating.
The Infineon IR35201 controller pushes four signals through doublers to power discrete OnSemi MosFETs in an arrangement that looks bargain basement however we are confident the Ryzen 7 5800X will run happily on Auto without any problems. The question mark over the motherboard will arise if you decide to upgrade your CPU at a later date or to overclock and we feel the wise move is to choose another motherboard when you configure your new PC (and ideally grab some from panel USB-C at the same time).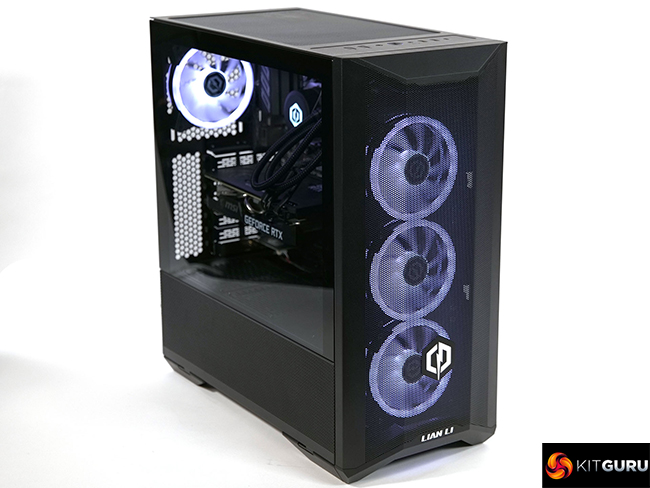 And then we come to the fans. On the one hand the PC behaved admirably well while on the other hand we hate having remote controls that might get lost or damaged. The RGB function is one thing but the idea of having your fans locked at a given speed because you trod on the blessed remote seems like a really annoying prospect. Then again you may have watched our video and thought 'Neat, I hate using the BIOS to set fan curves.
One click works for me.' We can see both sides of this argument and do not much like the path taken by Cyberpower. If we ignore the process and instead look at the result we have six fans packed into the Lian Li that work effectively with very high levels of airflow while the RGB experience is so good you would almost swear the case has glass on every panel.
You can buy the Cyberpower Ultra 7 RTX for £1,999 HERE
Pros:
Solid 1440p gaming experience.
Samsung 980 Pro is one of the fastest SSDs you can buy.
Lian Li Lancool II Mesh has excellent air flow and is fully filtered.
Sit back and enjoy the RGB lightshow!
Cons:
MSI X570-A Pro motherboard has very weak VRMs.
1TB storage is not enough. This clearly comes down to cost but there must be a way to include a 2TB HDD.
The fan control hub requires the remote control for both RGB and fan speed adjustment.
No USB Type-C on the front I/O panel.
DDR4-3200MHz is OK but stepping up to 3600MHz would help the AMD CPU.
KitGuru says: Cyberpower Ultra 7 RTX takes the fight to the latest consoles.
Be sure to check out our sponsors store EKWB here