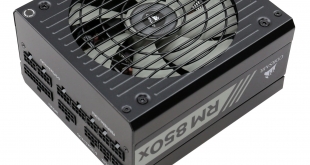 The major difference between the older RM850x and its successor is the shorter, by 20mm, depth of the new model. With the new model Corsair claim to offer excellent performance at a competitive price point, and all with no cost cutting. Our analysis will give you the answers you need to know before spending the money yourself.
Corsair decided to revamp some models of the highly popular RMx line, so they released the new RM550x, RM650x, RM750x and RM850x this year (2018) which feature smaller dimensions, thanks to the 20mm less depth.
On top of that, another major difference is that the fresh RM750x is equipped now with two EPS connectors instead of the single one that the previous model had. It would be nice if the new RM650x also had two EPS connectors, but obviously Corsair didn't want to create internal competition with the RM650i (which also has a single EPS connector).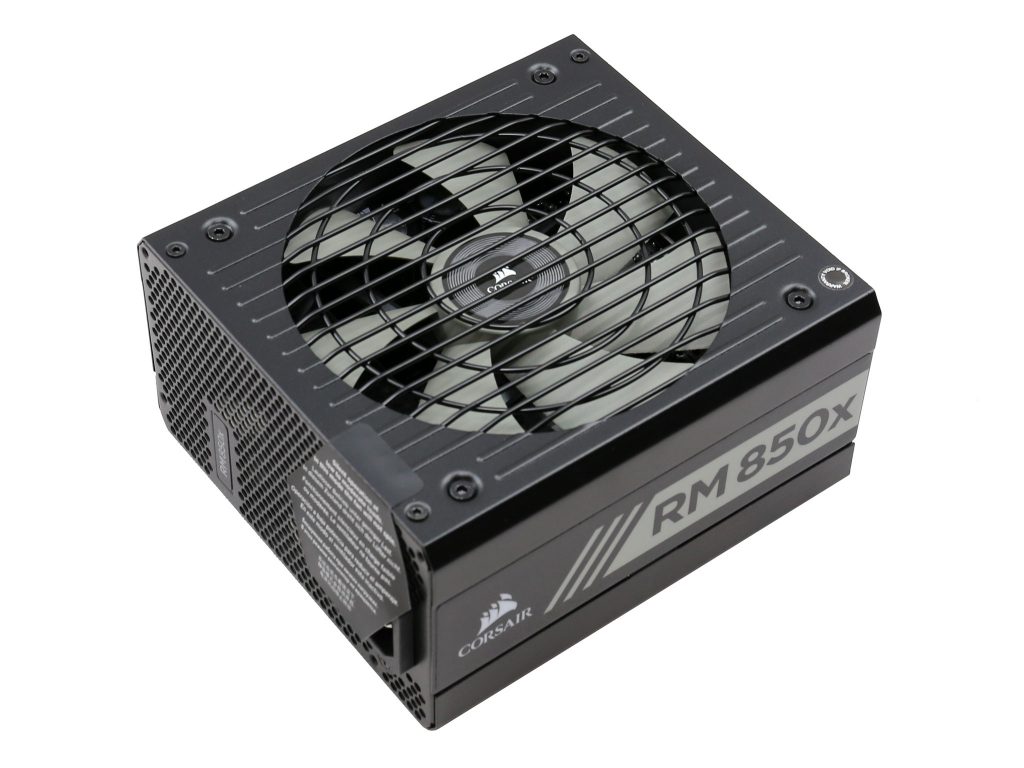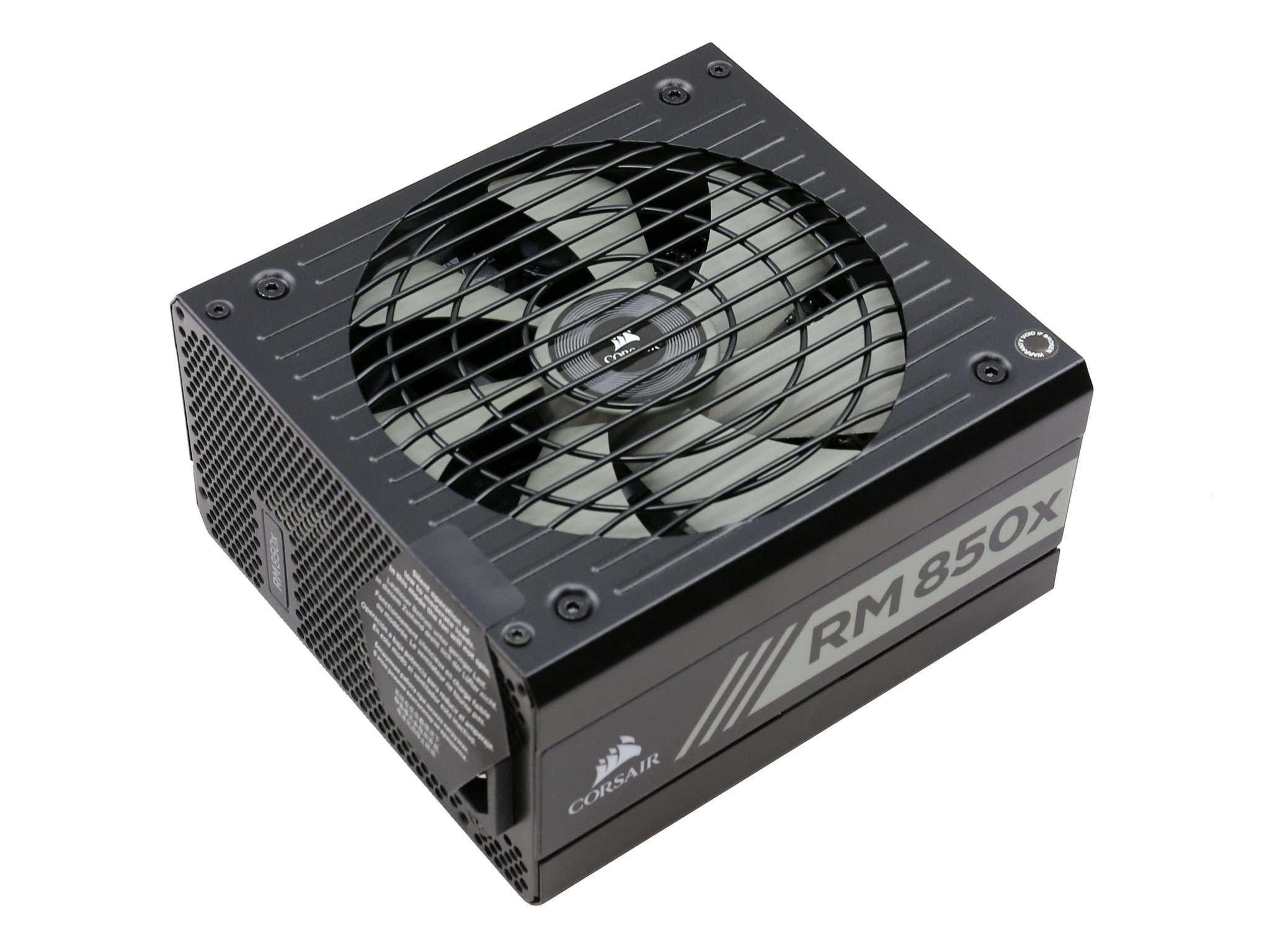 The RM850x has to fight some formidable opponents including the EVGA SuperNOVA 850 G3 and of course the similar capacity Seasonic Focus Plus Gold. The G3 model is usually more expensive while the SSR-850FX is about the same price as the Corsair model.
Read our How We Test Power Supplies HERE
Specifications
Manufacturer (OEM)
CWT
Max. DC Output

850W

Efficiency
80 PLUS Gold, ETA-A (88-91%)
Noise
LAMBDA-A+ (15-20 dB[A])
Modular

✓

(Fully)
Intel C6/C7 Power State Support

✓

Operating Temperature (Continuous Full Load)
0 – 50°C
Over Voltage Protection

✓

Under Voltage Protection

✓

Over Power Protection

✓

Over Current (+12V) Protection

✓

Over Temperature Protection

✓

Short Circuit Protection

✓

Surge Protection

✓

Inrush Current Protection

✓

Fan Failure Protection

✗

No Load Operation

✓

Cooling
135mm Rifle Bearing Fan (NR135L)
Semi-Passive Operation

✓ (non-selectable)

Dimensions (

W x H x D

)
152 x 87 x 162mm
Weight
1.66 kg (3.66

lb

)
Form Factor
ATX12V v2.4, EPS 2.92
Warranty
10 Years
The unit is 80 PLUS Gold certified while in the Cybenetics scale it scores ETA-A and LAMBDA-A+, for efficiency and noise respectively. While a ETA-A rating is common for a high-end power supply, this is not the case with the LAMBDA-A+ rating which is very rare for a 850W unit.
The maximum operating temperature for continuous full load delivery is 50°C, as the ATX spec recommends, while all necessary protection features are present including over temperature protection, which is crucial for any PSU. The cooling duties are handled by a 135mm rifle bearing fan, which is utilized by all RMx models, both the previous and the current ones. The fan is supported by a semi-passive mode which cannot be deactivated, unfortunately.
The previous RM850x was quite large since it measured 182mm in length while the new one is 20mm shorter. This means less hassle during the installation process, especially if the PSU compartment of the chassis is small. Finally, the provided warranty is extra long at ten years, showing Corsair's and CWT's faith in this platform.
Power Specifications
Rail
3.3V
5V
12V
5VSB
-12V
Max. Power
Amps
25
25
70.8
3
0.8
Watts
150
850
15
9.6
Total Max. Power (W)
850
This is a single +12V rail PSU, able to deliver its full power on this rail. The minor rails are too strong for any modern system, at 150W max power combined, while the 5VSB can deliver up to three Amps, on papers at least since in reality it is much stronger.
Cables & Connectors
Modular Cables
Description
Cable Count
Connector Count (Total)
Gauge
In Cable Capacitors
ATX connector 20+4 pin (600mm)
1
1
18-20AWG
Yes
4+4 pin EPS12V (650mm)
2
2
18AWG
Yes
6+2 pin PCIe (600mm+150mm)
3
6
18AWG
Yes
SATA (500mm+110mm+110mm+110mm)
1
4
18AWG
No
SATA (520mm+110mm+110mm)
2
6
18AWG
No
4-pin Molex (450mm+100mm+100mm+100mm)
2
8
18AWG
No
FDD Adapter (+100mm)
1
1
20AWG
No
AC Power Cord (1430mm) – C13 coupler
1
1
16AWG
–
There are two EPS connectors, something that we find essential in a 850W power supply. The number of PCIe connectors is satisfactory as well and the same goes for the SATA and 4-pin Molex. Corsair also provides a Berg (FDD) adapter for the users that still need it.
All cables are long enough, but the distance between the peripheral connectors is small at only 10cm. Finally, the ATX, EPS and PCIe cables feature inline caps for even better ripple suppression.
Be sure to check out our sponsors store EKWB here