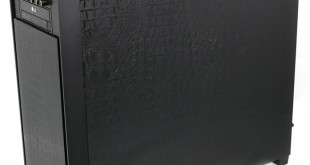 The Raptor is a watercooled gaming system from DinoPC that combines an unlocked Haswell-E Core i7 with dual GTX 980Ti graphics cards. That's an overclocked CPU with an extra Gigahertz of grunt and two overclocked graphics cards, each running at 1220MHz instead of the usual 1000MHz.
Speed is very much of the essence with Raptor so the 16GB of Corsair Vengeance DDR4 runs at a blistering 3000MHz and storage is provided by a 480GB Kingston HyperX Predator M.2 PCIe SSD. That's not much in the way of storage capacity so DinoPC has also packed in a 2TB Seagate SSHD hybrid drive.
You might expect the system to get toasty warm, and that brings us to the most visually striking feature of this PC which is the extensive custom liquid cooling system.
Key parts of the system are the Gigabyte X99-Gaming 5P motherboard, Corsair Obsidian 750D case and Corsair RM850 power supply, all of which are discussed in the video. The DinoPC vinyl wrap on the case, power supply and radiators looks great and is an intriguing styling touch.
Let's give you the run-down on the cooling system. The loop starts in the EK D5 pump/reservoir combo, goes via the 240mm radiator at the front and onward to the Watercool Heat Killer IV CPU water block. From there water travels to the 360mm radiator in the roof of the case and goes down to cool the two graphic cards using a pair of EK 980Ti full cover blocks in nickel and an EK Parallel multi GPU bridge. The two Alphacool radiators are each 45mm in thickness.
In total there are nine Phobya G-Silent fans, each rated at 1,600rpm but slowed below 1,000rpm by the Lamptron FCF v3 fan controller that is located in an optical drive bay. Eight 120mm fans are arranged with four on the 240mm radiator in push/pull, three on the top radiator, one in the floor of the case below the front radiator and a single, larger, 140mm fan at the rear of the case.
The fans on the back and bottom of the case blow fresh air into the case while the radiator fans move air outside the case. Other bits and pieces to finish the cooling system are Tygon Tubing, Alphacool connectors and Mayhems Pastel Red coolant.
The only questionable aspect of the cooling system is the way the pump/reservoir is mounted on a bracket that is attached to one of the fans on the front radiator. It's a set-up that hangs a fair amount of weight from the bracket without a secondary support and the result is a reservoir that isn't quite vertical. It is a minor point but nonetheless it is annoying as the system is effective and looks really good in every other respect.
Edit: DinoPC tells us that our non-vertical pump/reservoir unit is due to one of the two bracket screws coming loose during shipping. They are currently working on producing a custom metal bracket to hold the unit.
In total that's about £700 of liquid cooling hardware.
Specifications
Processor: Intel Core i7-5930K (6 cores/12 threads) OC @ 4.5GHz (36x125MHz)
Motherboard: Gigabyte X99-Gaming 5P
Memory: 16GB Corsair Vengeance DDR4-3000MHz
Graphics: Dual Nvidia GTX 980Ti 6GB 1220MHz core, 7712MHz memory
Solid State Drive: 480GB Kingston Predator HyperX M.2 PCIe
Storage drive: 2TB Seagate SSHD
Watercooling blocks and bridge: Heat Killer IV CPU water block, EK 980Ti full cover blocks, EK Parallel multi GPU bridge
Watercooling pump and rads: EK D5 pump and reservoir combo, Alphacool radiators (360mm top, 240mm front, 45mm thickness)
Watercooling tubing, connectors, and coolant: Tygon Tubing, Alphacool connectors, Mayhems Pastel Red coolant
Watercooling additional hardware: Phobya G-Silent fans, Lamptron FCF v3 fan controller in optical drive bay
Case: Corsair Obsidian 750D
Power supply: Corsair RM 850W
Optical drive: LG M-DISC BD-Rom
Operating System: Windows 10
Performance
DinoPC has overclocked both the CPU and graphics cards by a healthy amount. The six core, twelve thread Core i7-5930K runs at 4.5GHz (36x125MHz) and it appears they didn't have to get too brutal with the settings to achieve that figure. CPU Vcore is 1.35V, CPU VRIN External Override (input voltage) has been increased from 1.80V to 1.90V and the chipset has been left on Auto. The Corsair DDR4 runs at 3000MHz and requires 1.35V rather than the 1.20V we associate with slower DDR4.
On the graphics side of things the stock figures for GTX 980 Ti 6GB cards are: Core 1000MHz, boost 1076MHz and memory 1753MHz (7012MHz). The two cards in this PC are overclocked to run at: Core 1220MHz, boost 1296MHz, memory 1928MHz (7712MHz).
Those figures combine to suggest the Raptor should deliver some 25 percent more performance thanks to the overclocking and there is no denying the figures are impressive. The PCMark 8 and 3DMark benchmarks are ripped to shreds by Raptor and it stomps through Cinebench at quite a pace. While dual GTX 980 Ti cards clearly deliver the goods, the outstanding figure here is the CPU benchmark which demonstrates the benefit of the Haswell-E Core i7.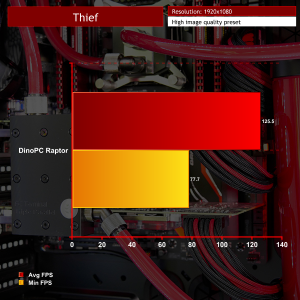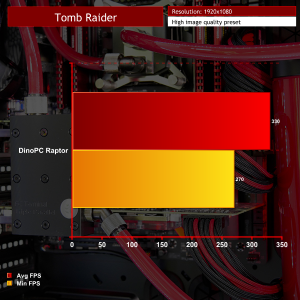 You can clearly see the results in 1080p gaming where the frame rates steam along at 125fps in Thief and 330fps in Tomb Raider, both on High Quality presets, however it is clear this system is designed for gaming at 4K. As you can see in the video, Raptor handles 4K with ease and ran through Thief at 59fps.
The simple message is that Raptor delivers a huge amount of gaming power, which is precisely what you would expect from this level of extreme hardware.
Thermal Dynamics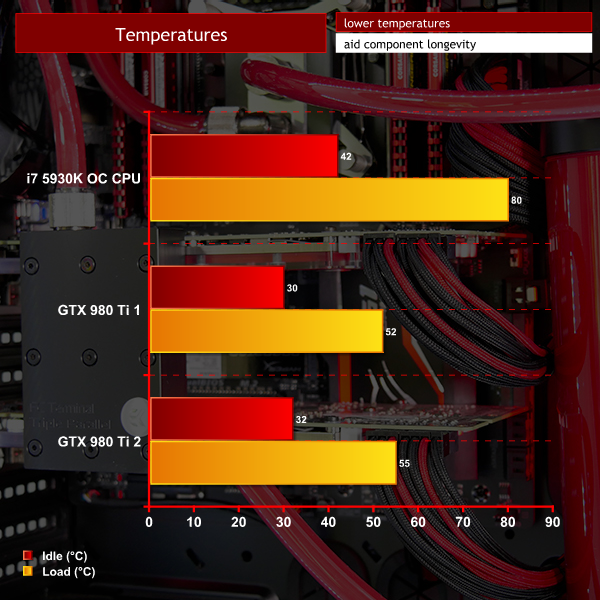 Perhaps the most impressive aspect of Raptor is the way the cooling system keeps temperatures under control. At idle the CPU runs at 42 degrees while the two GPUs tick along at 30 and 32 degrees.
Under extreme load, using AIDA64, the CPU temp rises to 80 degrees while the GPUs run at 52 and 55 degrees. This synthetic workload stresses the hardware far more than a game or other real world software yet the cooling system sheds the heat without any trouble.
Acoustic Performance
If you listen closely you can certainly hear the fans working however the low 960rpm speed that DinoPC dialled in with the Lamptron fan controller makes them effectively silent. It is hard to be sure whether the small amount of noise you can hear is the sound of the fan blades turning or the air moving through the system, however there are no annoyances such as a ticking pump.
Power Consumption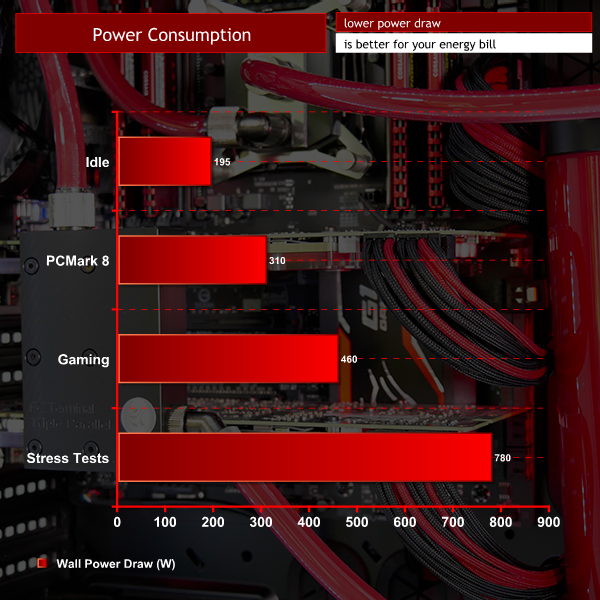 Power draw is interesting as DinoPC has selected an 850W Corsair PSU which appears at first glance to be a bit lightweight. After all, does 850W sound enough for a Core i7-5930K and dual GTX980 Ti graphics cards? When the system idles on the desktop it draws 195W at the wall socket, rising to 310W to run PCMark 8 and 460W for 3DMark or Thief.
A synthetic stress test such as AIDA 64 loads the entire system and results in a power draw of 780W which is roughly 90 percent of the rated 850W figure (ignoring PSU efficiency). In the real world you are unlikely to pull more than 500W so the choice of an 850W Gold-rated PSU looks very sensible.
Closing Thoughts
DinoPC has done a superb job with Raptor. It looks good, is well built and performs superbly. You are never going to go far wrong with an overclocked Core i7-5930K and dual GTX 980Ti graphics cards, but it takes some finesse to overclock them by 25 percent and to keep the finished PC both cool and quiet.
The custom cooling loop makes all the difference here and gives Raptor a high degree of sophistication.
Backing up the CPU and GPUs we have a high end Gigabyte motherboard, 16GB of fast DDR4, a high capacity M.2 Kingston SSD along with a 2TB storage drive, Corsair Obsidian case and Corsair Gold power supply.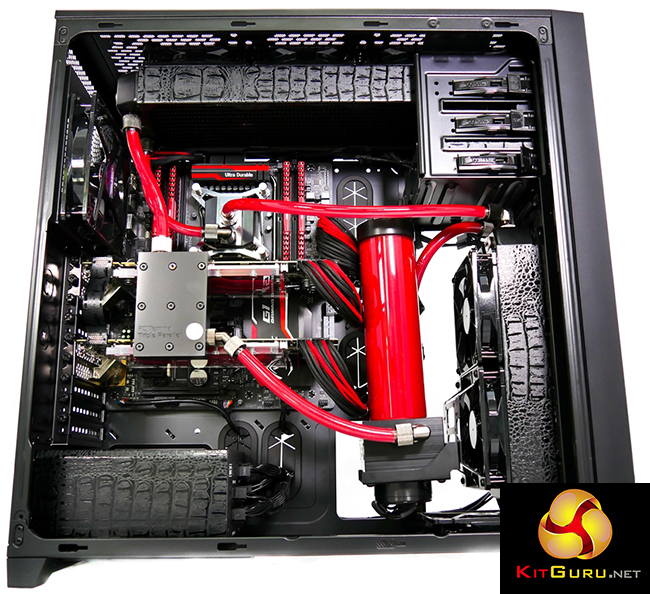 The only question mark over the Raptor is what benefit we can expect to see with the shift from Windows 8.1 to Windows 10 and DirectX 12 when a new batch of games is delivered.
One undeniable truth about this mighty PC is the cost. £4699 is a huge amount of money to pay for a gaming system. While the components and quality are all top notch, there are a number of touches that must add to the price such as the LED lighting kit, the PSU cable extensions and the textured Dino finish on the panels. When you take all that into account there must still be a significant amount of money allocated to R&D and the extra time that it takes to build and test a high end PC.
If you're judging the Raptor by any sane metric where £3k, £4k or £5k is simply too much for a gaming PC then fair enough, that's understandable. On the other hand, if you accept that you have to pay a hefty premium for ultra-high end hardware, the price is pretty much irrelevant and when you compare it to an even higher-end £9k system from 8Pack it starts to look relatively cheap.
Discuss on our Facebook page, over HERE.
Pros:
Epic gaming performance.
Superb cooling.
Low noise levels.
High quality components used throughout.
Cons:
High price.
Pump/reservoir mounting bracket isn't quite vertical due to shipping issues.
The chosen coolant didn't have enough bling for our taste (albeit a subjective point).
KitGuru says: DinoPC's Raptor offers a competitive alternative to the likes of OCUK's Infin8 range, however it is still out of reach for the man in the street.