Tackling the difficulties of getting PC gaming into the living room is currently a key agenda for many companies. MSI's take on the console-sized living room PC is Trident, which comes in a little larger than an Xbox One but features an Intel Skylake CPU, GTX 1060 graphics card and VR capability.
MSI's small form factor Trident has been shrunk in all dimensions. Its tiny volume of 4.7 litres, 3.17kg weight, and designed dimensions make the comparisons to a games console reasonable.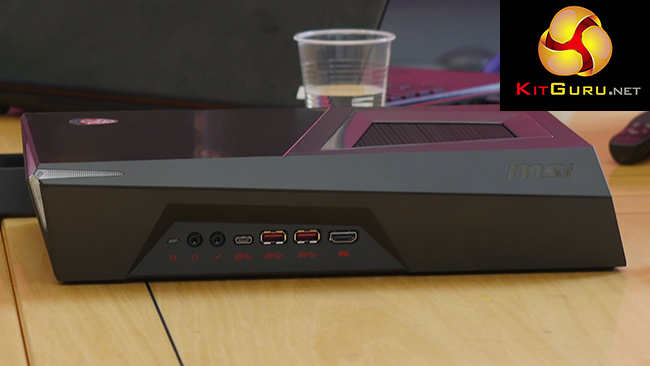 Slip it under your TV and it measures 346mm x 72mm x 232mm. Stand it vertically on your desk or next to the TV using the clever slotted holder that allows cooling air to flow and it is 354mm x 251mm x 98mm.
As a reference point, the original Xbox One is around 333mm x 79mm x 274mm.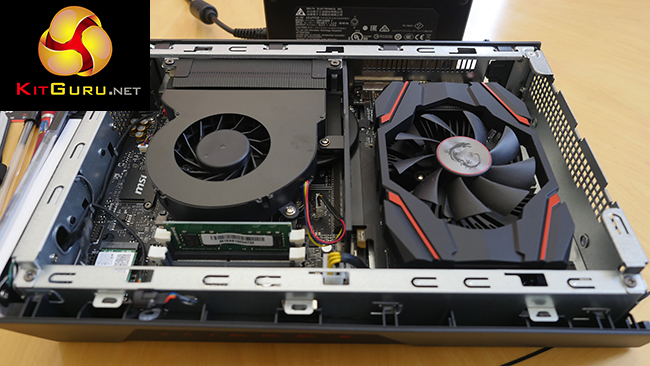 The key hardware is an Intel 6th Gen Skylake processor allied to an Nvidia GTX 1060 3GB graphics card, along with an Intel H110 chipset and an M.2 SSD for fast booting. There's also a 2.5 inch HDD/SSD slot for mass storage and up to 32GB of DDR4 SODIMM memory can be used. Also worth noting is the use of an Intel 802.11AC wireless adapter.
The VR-Ready moniker comes courtesy of the front-mounted HDMI pass-through port to make it easy peasy to connect your VR headset and the GTX 1060 graphics. MSI tells us that Nvidia considers GTX 1050 Ti graphics are VR-capable (but not regular GTX 1050) so they went with GTX 1060 to make doubly certain the frame rate would flow smoothly at all times.
You also get a decent number of USB ports including three Type-A 5Gbps USB 3.1 Gen 1, one Type-C 5Gbps USB 3.1 Gen 1 and four USB 2.0, which is enough to keep most people happy. Added to the rear USB ports are an additional HDMI connection, Ethernet, and audio jacks. MSI also places headphone and microphone jacks on the front side to provide easier access.
Internally the chassis is divided in two to keep the heat from the CPU and GPU separate. We like the way MSI has powered the Trident with an external power adapter as it saves space and eliminates noise. The system shouldn't consume an inordinate amount of power given its use of a 230W adapter.
Pricing starts at £999 however we are not absolutely certain this version of Trident will go on sale in the UK as MSI UK might be keeping its powder dry in preparation for product announcements in just a few weeks time.
Discuss on our Facebook page HERE.
KitGuru Says: MSI has managed to shrink Trident down to a console-like size while maintaining room for strong PC gaming hardware. Would you put Trident on your Christmas shopping list?