We have been asked for our opinions on gaming/racing chairs plenty of times throughout the year, though we had yet to review one. Today, that changes as we are taking a look at the SL4000 Racing Chair from Vertagear – a newcomer to the market. Is the chair worth its £215 asking price?

We opted for the black and white variant of this chair for today's review. However, the usual range of colour options are available, including red and black, green and black, blue and black, or just black.

Features and Dimensions:
Recline and tilt.
Adjustable arm wrests.
Adjustable height.
PVC leather.
Lumbar support and head cushions.
Solid structure.
Two year warranty.
Overall height (incl. base): 1280 – 1400 mm
Width backrest (shoulder): 520 mm
Width backrest (lumbar): 300 mm
Width seat: 370 mm
Depth seat: 530 mm
The Vertagear SL4000 arrives in a big heavy box. Inside you will find the main seat base, along with the seat back support. The gas lift, telescope cover, side covers, wheels, foot base and metal base frame will also be found packaged away neatly inside.
The build starts off from the very bottom, with the five star foot base. All you need to do for step one is push all of the wheels in to place. From there, you are going to need to attach the metal base frame to the seat base using the screws provided.
The next step is to push the gas lift bar in to place with the plastic red cap removed and then put the telescope cover over the top. Then, attach the five star foot base and you have successfully built a stool.
Now a stool wouldn't be the most comfortable thing to spend hours upon hours a day sitting on, so next you need to connect the back seat support. In theory, this should be an easy enough process, you just slide the back in to place between the two metal brackets and secure it with the screws and washers. Unfortunately, things didn't quite go that way for me.
The back of the chair was simply too bulky to actually fit within the metal brackets. On top of that, one side of the chair did not have the holes aligned correctly, which made threading the screws very difficult indeed. The most frustrating part is that this was the final step and it could have gone a lot smoother if some extra care had been taken during quality control.
In the end, after a bit of persuading, I managed to get the whole thing together, with the exception of two plastic side covers, which aren't mentioned in the instructions at all. This is an easy enough fix as It turns out that there is a very easy to miss screw pre-installed on the chair. All you need to do is take it out and align the hole on the side cover.
When it comes down to it, Vertagear has put together a fantastic looking chair. Unfortunately, the build process was a little more frustrating than it needed to be.
Our concerns and observations have been passed along to Vertagear, who are aware and working on tightening these areas up for future chairs. This is a new company, so it is likely that we got unlucky with our sample, I have searched around a bit and not found many similar complaints amongst reviewers, so perhaps we were a little unlucky.
With the build out-of-the-way, now it is time to talk about the actual sitting experience. There is no benchmark or specific test I can put a chair through to show you how good, or bad it is, so remember that a lot of this will be quite subjective- your opinion could differ from mine.
I have been sitting on the Vertagear SL4000 for a few weeks now and I have been nothing but happy with it. The adjustable arm wrests are great, you can push them forward or pull them back and you can set them in three rotations, one click inward, straight or one click outward.  The tops look like plastic but there is actually a bit of 'squish' to them, so it's not going to be too hard on your arms or elbows for extended periods.
The back of the chair is capable of reclining pretty far. You could lay down in this chair and take a nap if you really wanted to.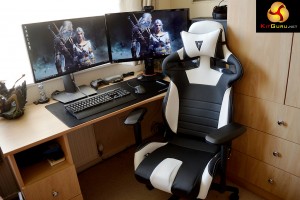 I am quite short, being only 5.5 ft, but I found the back of this chair to be the perfect height. My head lands in-line with where the head rest is, which is great for comfort. I did end up removing the lumbar support cushion though just out of personal preference. The back of this chair does curve slightly around you, which is nice and helps with posture, though you may want to check the seating measurements to ensure it will be a comfortable fit. You can find these on the first page of this review.
If you do want a larger chair, then Vertagear does make one with a wider back, known as the SL5000.
The base seat also offers something very important- dense foam. A lot of standard office chairs use a softer foam padding, which doesn't do a great job of supporting body weight, so you will eventually find yourself just sitting on a hard surface with your bum falling asleep. The SL4000 from Vertagear solves this problem, which makes it much nicer to sit on for extended periods of time.
To wrap things up, after using the Vertagear SL4000 for the last few weeks, I wouldn't want to go back to any other style of chair. While I did run in to a couple of issues with the building experience, the actual chair feels solidly premium once it is all put together. On top of that, I'm a big fan of the design, which offers some subtle differences to other brands.
If you spend a lot of time at your desk or gaming, then I would absolutely say that spending the £200+ on a nice chair like this is worth it. You will thank yourself for it later.

You can buy the Vertagear SL4000 from Overclockers UK for £215. At this price, I would absolutely give it some serious consideration. If you want to spend a little less, the SL2000 offers a similar design at a lower price, though you will be giving up some features. Alternatively, if you want to spend more, the SL5000 is also available.
Discuss on our Facebook page, HERE.
Pro:
Comfortable for extended periods of time.
Lots of body weight and back support.
Can recline.
Cons:
Some QC issues hurt the building process.
KitGuru Says: We have been asked about gaming chairs time and time again. Now, we finally have an answer for you. If you are looking to pick up a gaming/racing seat, the SL4000 has our vote.