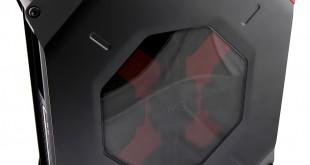 We first saw the ASRock M8 Z87 small form factor barebones in the second half of 2013 when it was reviewed by my colleague Luke Hill. This latest Z97 version is a relatively minor refresh with an update to Intel's latest Haswell compatible Z97 chipset. The SFX power supply has been upgraded from 450W to 600W and that appears to be the extent of the changes.
Actually there is one other change that catches the eye as the price has risen from £480 to £538. We will look at the costs in closer detail in our video analysis.
Luke took a library of photos for his Z87 review and as you'll see from the photos in this review today that the M8 remains cosmetically identical. In particular the BMW design chassis has been carried over, which makes sense as this is the major part of the barebones.
Watch the video via our VIMEO Channel (below) or over on

YOUTUBE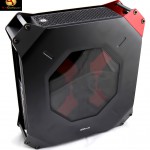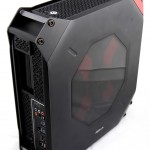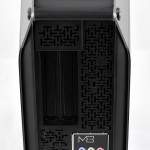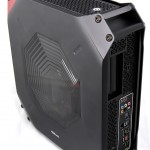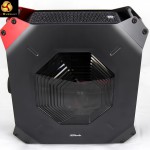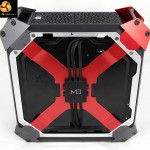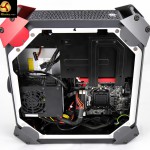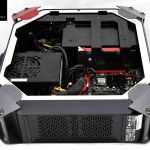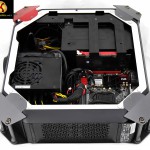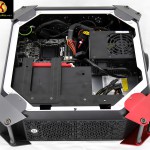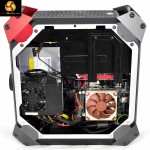 Your money pays for the chassis, four 70mm cooling fans, the Z97 motherboard, 600W SFX power supply and a slimline DVD drive. In addition you need to buy a CPU and cooler, SO-DIMM DDR3 memory, a graphics card, SSD or HDD storage and a copy of Windows.
If we put a value of £100 on the power supply and £120-£150 on the motherboard it suggests the M8 chassis is priced around the £250-£300 mark – which is a lot of money for a case, albeit a very attractive and neatly styled piece of metalwork.
Specification:
Color
– Storm Black
Material
– Steel Body / Aluminum + Plastic
Dimension
– 372mm (W) x 123mm (H) x 400mm (L)
Motherboard
– Z97-M8
CPU
– Supports 5th Generation Intel® Core™ i7/i5/i3/Pentium/Celeron® Processors (Socket 1150)
– Supports New 4th and 4th Generation Intel® Xeon/Core™ i7/i5/i3/Pentium/Celeron® Processors (Socket 1150)
OS
– Microsoft® Windows® 8.1 32-bit / 8.1 64-bit / 8 32-bit / 8 64-bit / 7 32-bit / 7 64-bit compliant
Chipset
– Intel® Z97
Memory
– Supports DDR3 1600/1333/1066 MHz, 2 x SO-DIMM slots, Max. up to 16GB
VGA
– Supports 1 x Dual-slot Graphics Card**Support the latest NVIDIA® GTX 7xx series and AMD R9 2xx series graphics card, please refer to VGA support list.
**Max. Supported VGA Dimension: 295mm x 138mm x 43.5mm.
HDD
– Supports 3.5″HDD and 2.5″ HDD
ODD
– 1 x Slim Slot-in Super-Multi Drive
WiFi
– 2T2R WiFi 802.11 ac + BT v4.0
Front I/O
– 4 x USB 3.0
– 1 x MIC
– 1 x Headphone
– 4-in-1 Card reader (SD3.0 / MMC / MS / MS PRO)
Rear I/O
– 1 x 7.1 HD audio with Creative Sound Core3D
– 1 x Intel® Gigabit LAN
– 4 x USB3.0
– 4 x USB2.0
– 1 x eSATA2
– 1 x DP
– 1 x HDMI
All-In-One OLED Button
– A-Command
Cooling
– Top : 2 x 70mm fan- Bottom : 2 x 70mm fan
Power Unit
– SFX PSU 600W
Inside the ASRock the chassis is effectively divided into sections with the motherboard and CPU in one quarter, the power supply in another quarter and the graphics card potentially taking up half the space (maximum length is 295mm).
ASRock has an extensive CPU compatibility list for the M8 Z97 that covers pretty much any LGA150 Haswell we can imagine, including a handful of Xeons, with a maximum TDP of 88W. The problem here is that the CPU socket only has 90mm of vertical clearance to squeeze in the CPU cooler and fan, and that would leave zero space between the cooler and the windowed side panel.
Working backwards, the components chosen for testing the ASRock started with a low profile Noctua NH-L9i cooler (max 65W TDP) that costs under £40 and an Intel Pentium Anniversary dual core 3.2GHz (53W TDP) G3258 CPU that costs £50.
Added to that we have 2x8GB of Crucial DDR3-1600MHz memory that costs about £110, although 8GB would probably have done a perfectly decent job at a lower cost.
Perhaps the biggest decision was the use of a Sapphire ITX Compact R9 285 at £200. This tiny graphics card uses about half of the available space, leaving a certain amount of room for fresh air to circulate. In all likelihood an ASUS Mini-ITX GTX 970 would have been a better choice however we didn't have one available at the time of this review and the R9 285 outclassed the Pentium Anniversary by a considerable margin, so this wasn't an area of concern.
Finishing off the build we have a 500GB Samsung 840 SSD (£185) and 64-bit Windows 7 Pro which takes the total cost for the PC to about £1200. Obviously the specification you choose will have a dramatic impact on cost but there is no way the ASRock M8 Z97 will result in a cheap PC.
Building the ASRock is a fiddly job. There is the usual lack of space you get with any small form factor and the heat shroud around the graphics card adds to the complication. We had the additional hassle of removing the motherboard from the case to install the Noctua CPU cooler as this requires access to the back of the motherboard.
The BMW design people have made both sides of the chassis look lovely, however they didn't think to provide an access hole or cut-out. This suggests that ASRock intends you to use a stock Intel cooler that mounts on four plastic posts, which isn't an especially nice thought.
Removing four screws should be simple enough however there is a fair amount of cabling to deal with and vertical access to the screw in the corner is very tight indeed.
The drive caddy can hold either one 3.5-inch hard drive or up to four 2.5-inch drives and there is also a housing for a fifth 2.5-inch drive behind the power supply (which is an inconvenient location to say the least).
When the ASRock A8 Z97 was complete it looked really attractive. The two windowed side panels show off the innards to good effect and the overall result works well. It's a nicely styled PC that is simply a great deal smaller than a regular tower and features such as the magnetically retained side panels look superb.
Perhaps the most eye-catching feature is the illuminated A-Command control wheel on the front of the case with its OLED display. It looks lovely and adds some useful functions but could easily be described as overkill.
Performance
Performance is, of course, a sum of the parts. In this instance we have a decent graphics card and a dual core CPU running at stock speed, and the result is a PC that runs well most of the time but occasionally stumbles. A quad core CPU would be a bonus however the twin issues of heat and cooling would surely follow close behind.
Whether or not you can play your chosen games will obviously depend on the combination of CPU and graphics cards you install.
Assess noise and cooling.
• The ASRock M8 Z97's default fan configuration is: 2x 70mm intake fans, 2x 70mm exhaust fans.
Under load our PC drew 190W-200W at the wall socket, which is fairly feeble. This is a direct result of choosing a dual core CPU and Mini ITX graphics card, and it means we weren't putting much of a load on the cooling system. At idle the system is nice and quiet but under load the four 70mm fans increase their speed. They don't get especially noisy however the pitch of those small fans is intrusive.
Our fairly restrained PC was easily cooled by the ASRock M8 Z97 chassis and we had no problems with temperatures under even the heaviest loads.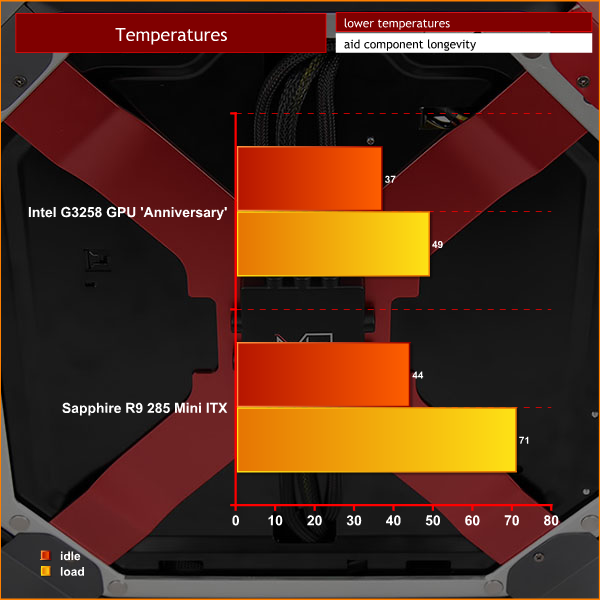 Closing Thoughts
While we like and admire the ASRock M8 Z97, its form and appearance have clearly been led by styling rather than design. For example the back of the motherboard tray looks lovely however it would be a little more practical to have a cut-out that allows you to install a CPU cooler.
Similarly, it is all very well supporting quad core Core i7 and Xeon CPUs, but you need more than 90mm to install a decent CPU cooler. Perhaps the next version of M8 could include an integrated liquid cooler.
There is no denying that £538 is a high price tag however we doubt that many M8 will be sold to recoup the cost of design and tooling for this cute chassis.
You can buy from AMAZON, over HERE.
Discuss on our Facebook page, over HERE.
Pros:
Superb construction, lovely aesthetics
Rugged chassis that is easy to transport
Highly specced Z97 motherboard
600W SFX power supply
Impressive support for graphics card up to 295mm in length
Extensive support for LGA1150 CPUs
Illuminated A-Command control on the front of the case looks superb
Cons:
90mm of height above the CPU socket is too restrictive for a decent cooler
Ideally ASRock would install a cooler in the chassis, for example like those used in many Shuttle SFF
The price is rather high
When the four 70mm fans run at full speed the noise levels are high
No access to the rear of the motherboard
Working inside the case is frustrating
The front USB ports appear to be upside down.
KitGuru says: The ASRock M8 Z97 looks lovely and is a rugged small form factor PC, however it costs a fair amount and has some room for improvement.