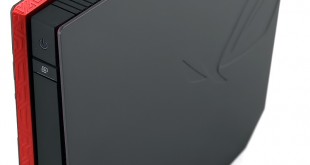 Asus is trying something bold and new with its Republic Of Gamers (ROG) GR8 which is a Gaming Console PC. That may sound like a contradiction in terms and it certainly requires a word of explanation. Asus has taken the innards of a Core i7 laptop and housed the hardware in a casing that is a similar size to an Xbox or PlayStation games console.
This tiny form factor is possible because Asus hasn't needed to accommodate a battery, screen or touchpad as the GR8 uses an external power brick and has USB connections for mouse, keyboard and games controller.
The hardware inside the ASUS GR8 is a Core i7-4510HQ and GeForce GTX 750Ti graphics allied to 8GB of DDR3 RAM and a 1TB hard drive. Interestingly, Asus doesn't expect that potential customers will care about the specification in the same way that they buy a games console as a sealed box that performs a particular job.
In other words you'll buy a ROG GR8 to play PC games at a maximum resolution of 1080p without any thought of 4K or multi-monitor support. Obviously, if you want the full PC gaming experience you'll need to lay out the cash for a full PC gaming system whereas GR8 puts the emphasis on convenience, small form factor and low noise levels.
Asus ROG GR8-R015R Specification:
Operating System: Windows 8.1
Processor: Intel Core i7-4510U Processor
Memory: DDR3 1600MHz 8GB
Graphics Card: 2GB Nvidia GeForce GTX 750Ti Graphics
Hard Drive: 1TB SATA Hard Drive (2.5″ 7200RPM)
Wireless: 802.11 b/g/n/ac
LAN: Intel Gigabit LAN
Keyboard and Mouse: Asus ROG – Mechanical Keyboard (MX-Grade Red) and Gladius Mouse
Power Supply: 120W Adapter
Dimensions: (WxHxD) 238mm x 245mm x 44mm
Warranty: 1 Year Manufacturer Warranty
The layout of the GR8 is console-esque with headset jacks and a pair of USB 2.0 ports on the front, along with the power and Miracast buttons so the GR8 can act as a receiver for media that you stream from your Smartphone or tablet to your TV. The rear of the GR8 carries four USB 3.0 ports, HDMI and DisplayPort, optical S/PDIF and an array of audio jacks.
Network connections are handled either by Intel Gigabit with GameFirst III traffic shaping or Realtek 802.11ac and Bluetooth.
You get the impression that Asus cannot resist the temptation of adding ROG features such as USB Charger Plus (which works even when the system is asleep or off), SupremeFX audio and a headphone amp. All useful features, to be fair.
Asus really doesn't want you to fiddle around with your GR8, however they have given some limited scope for upgrades. Under a side cover there is a 2.5-inch drive bay so you can add a second hard drive or, indeed, an SSD. This is in addition to the 1TB hard drive that carries the Windows 8.1 installation so the secondary drive is purely for storage. If you choose you can also upgrade the 8GB of SODIMM memory, although this seems unnecessary.
Testing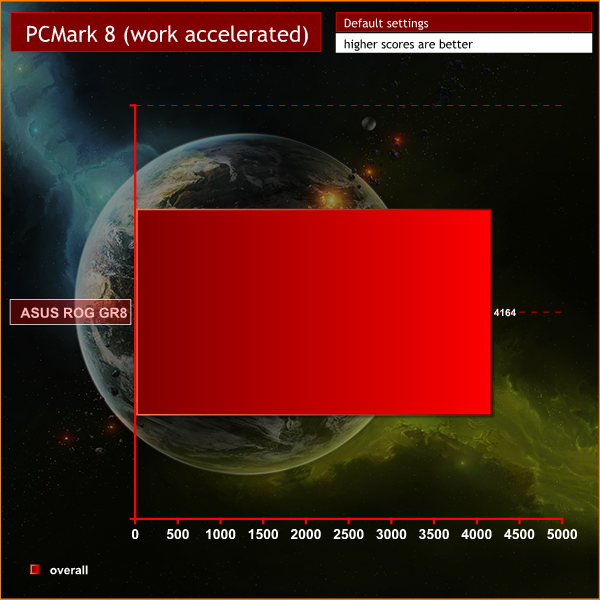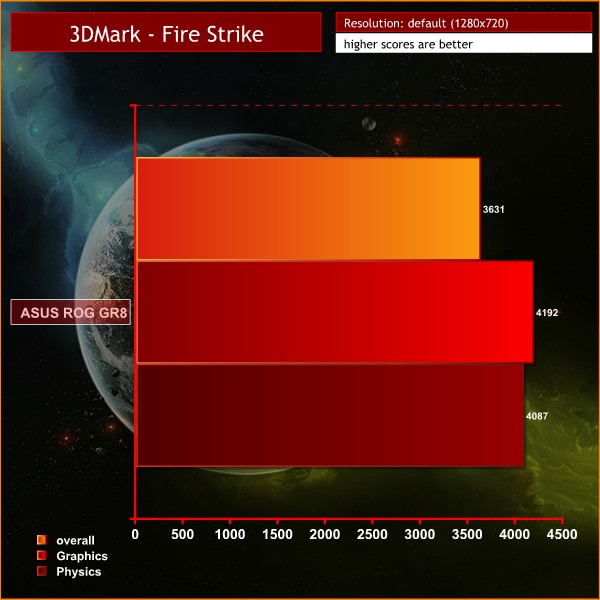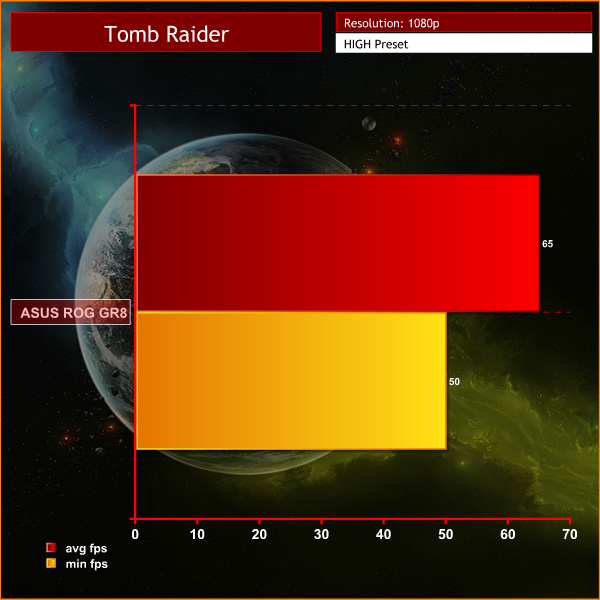 Playing games works exactly as well as you would expect on a dual core Core i7 with GTX 750Ti. Depending on the game you might need to drop image quality settings – Thief stumbled slightly on High preset but Tomb Raider was fine. Gaming performance was good and the GR8 delivered exactly what was promised by Asus.
Thermal Dynamics
Cool air is drawn in from the bottom and vented to the top so laying the GR8 on its angled side isn't a good idea. Bearing that in mind, you might find it tricky to position the GR8 on a shelf of your TV stand.
Asus has done a decent job with the cooling of the GR8 as the CPU idles at 36 degrees and the GPU at 29 degrees. Under load the CPU temp rises to 60 degrees then drops back to 50 degrees as the cooling fan increases in speed. Flog the CPU and GPU hard and the CPU hits the low 70s – say 72 degrees – while the GPU stabilises at 65 degrees. It is clear the cooling system can easily handle either the CPU or GPU when they get hot and only has to work a little harder when both CPU and GPU are pushed to the limit.
Acoustic Performance
You can hear the cooling fan when it is working hard but you couldn't call the GR8 noisy. Asus has done a fine job packing the GR8 into a small casing and also keeping it nice and quiet, which is just what you need for a gaming machine that sits next to your TV or lives in a bedroom.
Closing Thoughts
The GR8 is a well-balanced system that can play games at Full HD provided you keep an eye on the image quality settings. Asus has kept the specification down to a certain level where the price is tempting and the system can be both small and quiet.
The only glaring issue in the specification is the use of a hard drive rather than an SSD as we naturally hope a new gaming PC will boot off SSD. Of course that would ramp up the cost and the priority for this system is to have plenty of room for all those bloated games so 1TB of hard drive does the job nicely.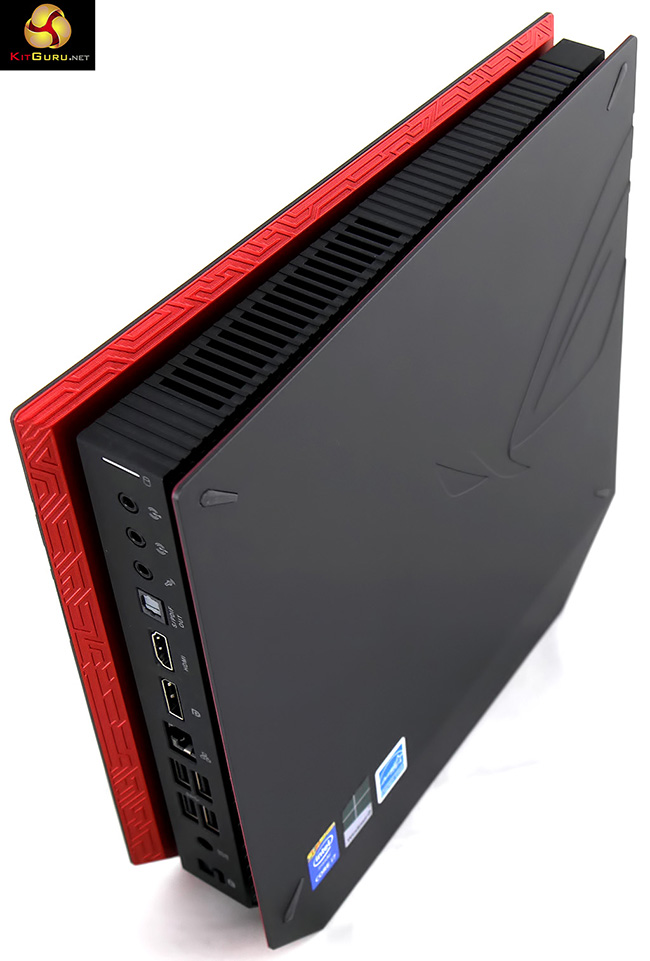 On the face of it you might keep the GR8 in your living room however that would position it as a direct competitor to the PS4 and Xbox One which doesn't make much sense as it is priced at £799. On the other hand if you have a teenage child or student who wants the GR8 to double up as a gaming console and PC the maths starts to make sense.
Speccing a similar tower PC costs about £700 so you aren't paying a huge premium for the small form factor of the GR8.
Discuss on our Facebook page, over HERE.
Pros:
Small form factor.
Smart styling.
Impressively quiet.
Core i7 is only dual core but manages the job nicely.
GTX 750Ti graphics.
Cons:
Your teenager is still going to want either an Xbox or a PlayStation.
KitGuru says: The ROG GR8 walks the line between a gaming tower PC and a high-end laptop and does a good job, however it still looks like an expensive luxury.