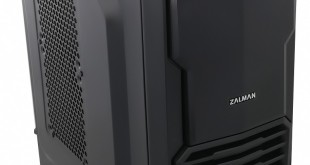 Chillblast has launched a budget PC called Fusion Drone which, despite the name, does not have the ability to fly. On the other hand it is very cheap and this fully configured Windows 10 PC costs a mere £499 inc VAT.
For that sort of price you may expect a dual core CPU, stock air cooler and integrated graphics however Fusion Drone has a quad core CPU, liquid cooling and a discrete graphics card. That sounds impressive and the obvious question is how well it performs.
Watch via our Vimeo Channel (Below) or over on YouTube at 1080p60 HERE
Chillblast Fusion Drone Specification:
Processor: AMD Athlon X4 860K 3.7GHz Quad Core Processor 4MB L2 Cache
Motherboard: Gigabyte F2A88XM-D3H Motherboard
Memory: 8GB DDR3 1600MHz (2 x 4GB)
Cooler: Corsair H55 Water Cooler
Graphics: AMD Radeon R7 370 2GB Graphics Card
Hard Drive: 1TB Seagate SSHD Hybrid SSD/Hard Drive
Optical Drive: N/A
Audio: On-Board 5.1 High Definition Audio
Networking: 10/100/1000 Gigabit Ethernet
Power Supply: Aerocool 500W PSU (80+ Certified)
Dimensions: 189mm (W), 364mm (D), 427mm (H)
Interfaces
3 x USB3.0
5 x USB 2.0
1 x RJ45 LAN Port
2 x DVI Port
1 x HDMI Port
1 x Display Port
1 x PS/2
3 x Audio Jack
Expansion
1 x 16x PCI Express Slot
2 x 1x PCI Express Slot
4 x SATA ports
Operating System: Windows 10 Home 64-bit (Pre-installed & Disc Included)
Warranty 5 Year Standard Warranty (2 Year Collect & Return, 5 Years Labour)
Lifetime Tech Support by Chillblast
The hardware inside Fusion Drone is a combination of AMD CPU and AMD GPU, which is only to be expected as the idea of Intel Core-anything with a graphics card for £499 would be amazing.
Let's start with the appearance of the system as it rather sets the tone for this PC as the Zalman T4 Micro-ATX case looks somewhat dull but is also compact and serviceable. Inside the case you will find a Gigabyte F2A88XM-D3H motherboard with a quad core AMD Athlon X4 860K 3.7GHz processor which does not have a graphics core. If you fancy an upgrade to A10-7850K that will cost an extra £59.
Perhaps the biggest surprise in this PC is the inclusion of a Corsair H55 liquid cooler which may sound like overkill but actually makes perfect sense as AMD CPUs require all the cooling assistance they can get. The 120mm radiator is located at the front of the case below the hard drive cage, which in turn houses a 1TB Seagate SSHD.
Chillblast has installed 8GB of DDR3 memory and a Gigabyte Radeon R7 370 2GB graphics card, which is clearly going to restrict your ability to play games. Once again there is the option to upgrade and the most likely course of action is an R9 380 or GTX 960 for a premium of £65-£70.
I didn't expect much in terms of build quality or cable management – after all, it's a budget PC – however Chillblast has done a fine job and the Fusion Drone is neat and tidy with everything in the right place.
Testing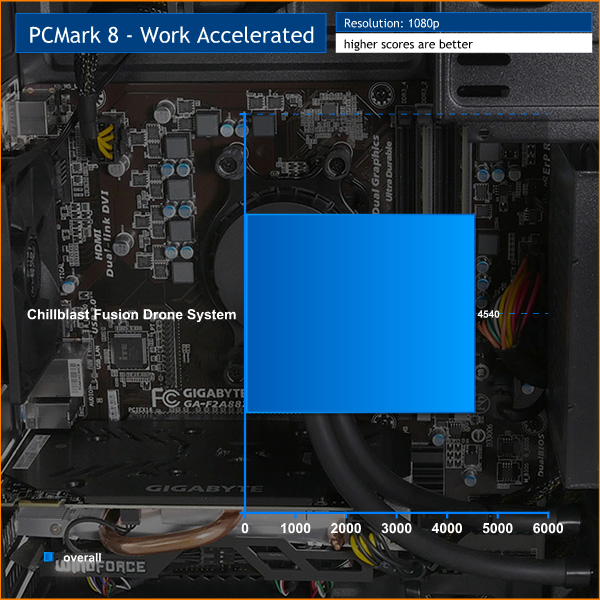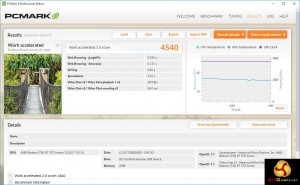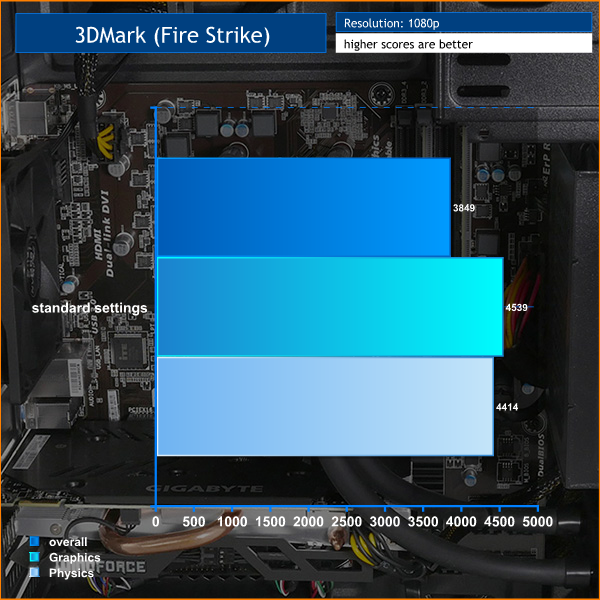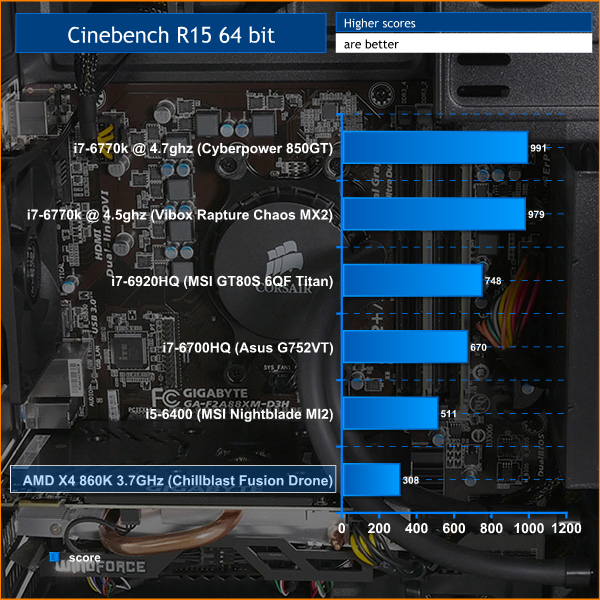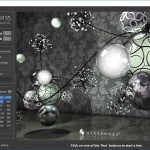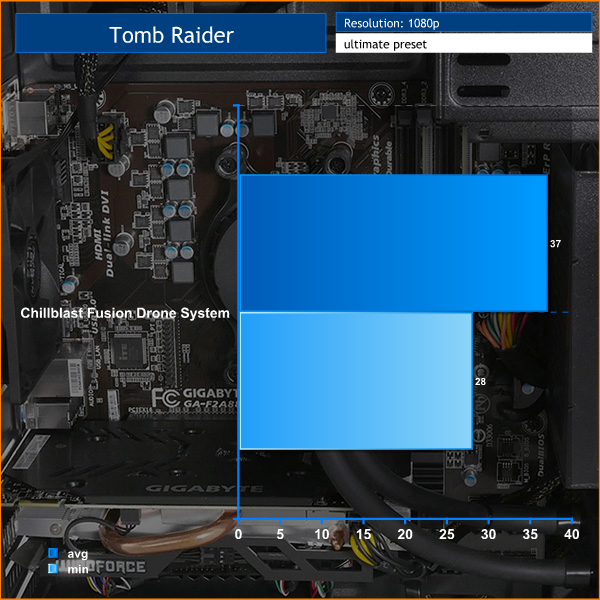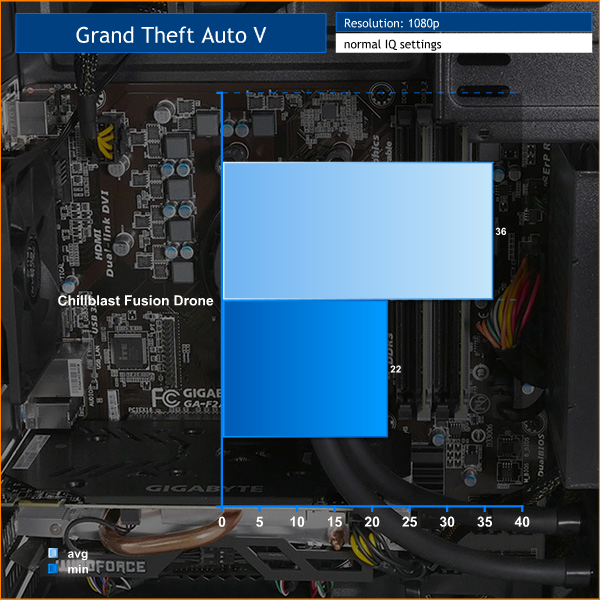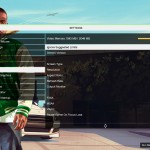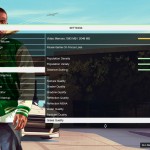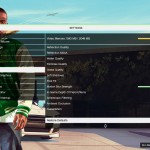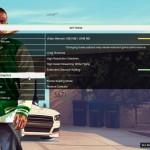 The Chillblast Fusion Drone behaved pretty much as we expected during testing, except for two notable points. The first thing is that we are so accustomed to booting off SSD that an SSHD takes, relatively speaking, a lifetime. Windows 10 starts then the apps load then you get an Internet connection and then FINALLY you are ready for action. Secondly, and more impressively, once Fusion Drone starts running 3D Mark or a game it just gets on with it and chugs out the frames at a steady rate.
At 1080p with decent image quality you are looking at the mid-30s fps which is obviously less than ideal. You should seriously consider dropping image quality to Low or perhaps reducing the resolution to 1,280×10,24. Better yet, spend the extra cash and get an upgraded graphics card, except you then have a £600 PC rather than £499, which rather defeats the object of the exercise.
You cannot for one moment think that Fusion Drone is a gaming power house but it does do a decent enough job for such a cheap PC.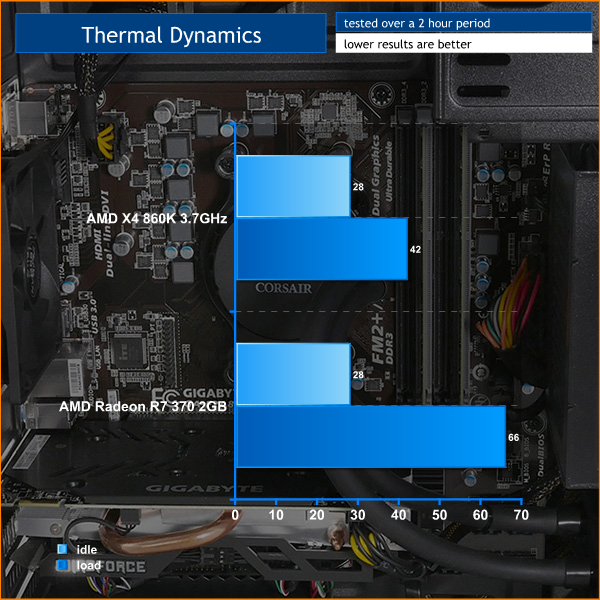 The Corsair liquid cooler does a fine job of keeping the AMD processor cool whilst also keeping noise levels to a minimum. The graphics card is also very quiet and operates below 70 degrees, which is good to see. This is a cheap PC but it uses components of sufficient quality that noise and heat are kept comfortably low, and that is welcome.
Closing Thoughts
The Chillblast Fusion Drone is a cheap Windows 10 PC but despite that it delivers reasonable performance. You have to manage your expectations, in particular with game image quality settings, but once you overcome that hurdle you will find that the Fusion Drone has a fair amount to offer.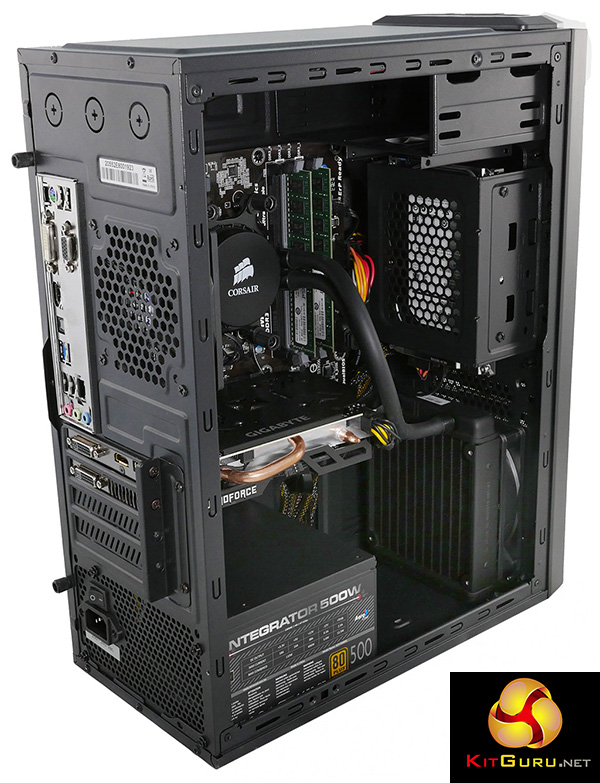 The biggest point to make is that the Fusion Drone would be improved with an upgrade to both the GPU and CPU, as well as the addition of an SSD to handle Windows and your software. That would immediately raise the price to £700 or £800 which destroys the headline benefit of the £499 price.
Our advice is that you should only buy this Fusion Drone if you cannot live with an Intel CPU and integrated graphics yet are confident the AMD hardware is sufficiently good that you won't need to spend any extra cash. That's a fine balance to strike and means the likely market for this PC is relatively small but in the right hands it will be a good buy.
Buy from Chillblast direct for £499 inc vat HERE.
Discuss on our Facebook page, over HERE.
Pros:
Low price.
Corsair liquid cooling.
Quad core CPU.
1TB of SSHD storage.
Quiet operation.
Micro-ATX chassis.
Cons:
AMD Athlon X4 has limited power.
Radeon R7 370 is barely able to game at 1080p.
Severely restricted upgrade path.
KitGuru says: We cannot claim that Fusion Drone blew us away but it does a decent job at a very low price.