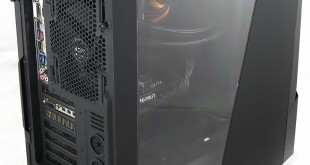 DinoPC has burst out of the starting gate with a new gaming PC called Primal GT5 that packs in the latest hardware, however the emphasis is on value for money rather than out-and-out performance. The heart of the system is an overclocked Skylake CPU which is backed up by a GTX 970 graphics card, so the target audience here is 1080p Full HD gaming rather than 4K.
Primal GT5 is housed in an NZXT N450 Noctis Matte Black case which gives it a sophisticated look and also provides plenty of room for extensive cooling.
Watch via our VIMEO Channel (Below) or over on YouTube at 1080p50 HERE
DinoPC Primal GT5 System specifications:
CPU Intel Core i5-6600K 4.7GHz o/c (stock Turbo speed 3.9GHz)
CPU cooler Corsair H80i GT
Memory 16GB Corsair Vengeance LPX DDR4-2666MHz
Motherboard Gigabyte Z170XP-SLI
Graphics card Palit GeForce GTX 970 4GB
SSD 120GB Samsung 850 EVO
Storage 1TB Seagate SSHD
Audio On-board 7.1
Case NZXT N450 Noctis Matte Black Window
PSU Corsair 650W CS Modular
OS 64-bit Windows 10 Home
Software McAfee Antivirus Plus 2015 one year, one user
Warranty 3 year SureCare
Naturally we took a look in the BIOS of the Gigabyte Z170XP-SLI motherboard to see how the Skylake overclocking process had been handled and it appears fairly straightforward. CPU Vcore has been raised from 1.30V to 1.40V, Dynamic Vcore is set at +0.4V and the CPU multiplier has been raised from 35x to 47x to deliver 4.7GHz clock speed. The impressive thing, as you will see, is that this hefty increase in clock speed has barely affected running temperatures.
On the one hand we have an overclocked CPU and by contrast the Palit GTX 970 graphics card runs at reference speeds with core of 1051MHz, boost of 1178MHz and memory clocked at 1753MHz=7012MHz.
The NZXT N450 case plays a major role in the styling of the system with the combination of matte black paint and red LED lighting beneath the case and illuminating the NZXT logo on the power supply cover. We previously previously reviewed this case in white with blue lighting and the black/red combo looks even better.
In addition to its cosmetic appeal the N450 delivers a massive amount of cooling as it has three 120mm fans at the front and a 140mm fan at the rear. DinoPC has used a Corsair H80i GT liquid cooler on the CPU which is located at the top of the chassis towards the front where it exhaust hot air upwards. This leaves plenty of space above the top edge of the motherboard and adds to the clean appearance of the build when you look through the window as the radiator is hidden from view.
Perhaps the biggest surprise is that this gaming PC only draws 250W at the mains socket when it is under load in 3D Mark. Both the CPU and GPU use the latest power saving technology but nonetheless it is almost shocking to see the Corsair 650W CS Modular PSU is barely stressed and runs around 40 percent of its rated limit.
We ran the DinoPC Primal GT5 through a suite of tests including PC Mark 8, 3D Mark, Thief and Grand Theft Auto V where we ramped the quality settings up high using 1920×1080, but no MSAA.
If you take a close look at the five screen grabs for GTA V you will see the allocated memory jumps from 2,873MB to 3,329MB when Distance Scaling was increased to maximum. You will see different amounts of memory used depending on your hardware as GTA V takes maximum advantage of the graphics card(s) in your PC.
The Primal GT5 delivered impressive results and the gaming experience at 1080p was utterly flawless. Obviously there is no such thing as too much CPU power but the Primal GT5 made us wonder whether it is worth spending the extra £100 on a Core i7 as the combination of overclocked Core i5 and GTX 970 handled everything we threw in its direction.
The combination of Skylake CPU and Maxwell graphics delivers temperatures that are impressively low. The NZXT case and Corsair cooler obviously play a significant part here but the fundamental point is that the CPU and GPU have been engineered for efficiency. Idle temperatures are only slightly above ambient and loaded temperatures are very low indeed. It is hard to credit that we are looking at an overclocked Core i5, rather than a stock part. We did experience some issues getting accurate temperature readings from the motherboard sensors, but they are falling well within safe parameters.
Closing Thoughts
We were deeply impressed by the DinoPC Primal GT5 and can only find trivial issues to raise as question marks. They are far too minor to count as problems.
If you're looking for a gaming PC that can handle 1080p resolution without taking your credit card to the cleaners the DinoPC Primal GT5 thoroughly deserves a place on your short list of contenders. It delivers on performance and cools like a champ yet it also manages to be lovely and quiet.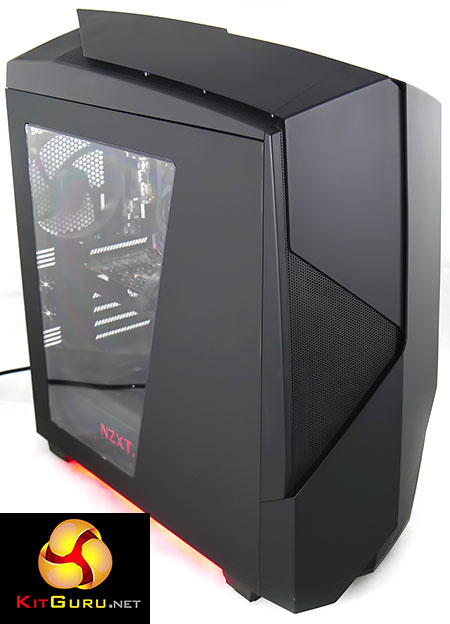 On the cosmetic front we find it hard to believe anyone could dislike the N450 Noctis Matte Black but if, by some chance, you find the red LED lighting is a bit too 'bling' for your tastes you can simply toggle it off using the control button at the rear of the case. DinoPC has delivered a gaming tower that performs superbly well and left us with a huge beaming smile.
Buy from DINOPC for £1,199 inc vat HERE.
Discuss on our Facebook page, over HERE.
Pros:
Stonking 1080p gaming performance.
GTX 970 delivers the goods.
Smart matte black colour scheme with red lighting.
Loads of cooling from the NZXT N450 and Corsair H80i GT.
Rock solid 4.7GHz Core i5 overclocking.
Very tidy build quality.
Only draws 250W under load at the mains socket..
Cons:
Graphics card has mini DisplayPort and mini HDMI outputs.
The design of the case means you cannot easily rest anything on top.
Some people want an optical drive.
KitGuru says: Primal GT5 is a sensibly priced gaming power house.