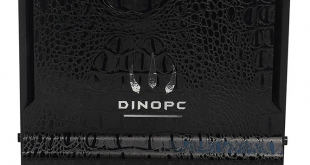 DinoPC has unleashed its latest Raptor gaming PC to coincide with CES in Las Vegas and the launch of Intel 7th Generation CPU technology aka Kaby Lake. The DinoPC Raptor 2 uses Core i7-7700K with dual GTX 1080 graphics cards, all wrapped up in a liquid cooling system that aims to keep the CPU running stably at a solid 5.0GHz – which sounds like an enticing proposition.
The latest Core i7, overclocked and backed up with a pair of GTX 1080s? Wowza. Time we put this high end gaming PC through the ringer and play a bunch of games at 4K resolution to see whether or not it delivers on a massive promise.
Watch via our VIMEO Channel (Below) or over on YouTube at 2160p HERE
DinoPC Raptor 2 Specification:
Case: Phanteks Enthoo Evolv ATX Tempered Glass Black
Case Vinyl: Black Carnivore Skin Vinyl
CPU: Intel Core i7-7700K
CPU Overclocking: 5.0GHz – Stable OC on all CPU cores
RAM: 16GB Corsair 3200MHz Vengeance White LED DDR4 (2x8GB)
Graphics card: 2 x Palit NVIDIA GeForce GTX 1080 8GB in SLI Overclocked
Motherboard: Gigabyte Aorus Z270X Gaming 7
M.2 Super-fast SSD: Samsung 512GB Polaris SM961 M.2 PCIe NVMe
Hard Drive: Western Digital 2TB Black
PSU: 750W Corsair RMx Fully Modular
Sound Card: On-board 7.1 Audio
Operating System: Windows 10 Home (64-bit)
Warranty: 5 Year Silver Warranty
Full custom EKWB water cooling:
EK 360 and 240mm radiators
EK-XRES 140 Revo D5 PWM Pump with reservoir
EK-FC1080 GTX JetStream – Nickel full cover GPU waterblock
EK-FC1080 GTX JetStream Backplate – Nickel backplate
EK-Supremacy EVO – Full Nickel CPU Block
EK-FC Terminal DUAL Parallel 3-Slot – Plexi
PrimoChill PrimoFlex Onyx Black 1/2″ Tubing
EK Matt Black Connectors
6 x Corsair ML120 White LED Magnetic Fans
DinoPC RGB LED Remote controlled kit
But first let's just look at the Raptor 2.
It is built in a Phanteks Enthoo Evolv ATX Tempered Glass case, which is one of our favourite cases of all time. There is nowhere to hide with this case as it has glass on both sides and every aspect of the build is on show.
You get a good view of the EKWB liquid cooling system and the combination of Onyx Black hose and Mayhems Pastel white fluid looks fetchingly retro. Add in the six white LED Corsair ML fans and the DinoPC lighting kit and the simple fact is that Raptor 2 looks glorious.
If, for some reason, you don't like Mayhems White you can simply ask DinoPC to fill the system with a different colour, which primarily changes the cosmetic look of the tube reservoir on top of the D5 pump. Click a button on the lighting control pad (it is DinoPC's own system and works very well) and you can change the colour or the light pattern to make the PC appear quite different.
The top and front panels of the case have been treated to a Black Carnivore Skin Vinyl wrap that looks fantastic.
It is the hardware that is the star of the show and in particular the new CPU.
Intel Core i7-7700K doesn't appear much different to Skylake Core i7-6700K but we will accept the slightly faster, slightly more efficient CPU with thanks. Put it another way, at the start of 2017 the new 7th Gen. Intel hardware is the latest technology on offer and while you may get more grunt with Broadwell-E it is currently two generations behind the times.
Core i7-6700K runs at 4.2 GHz and Turbos to 4.4GHz while the new Core i7-7700K Turbos to 4.5GHz. DinoPC has performed what looks like the world's easiest overclock by increasing the CPU voltage to 1.32V, leaving the Power Limit at 91W TDP and raising the multiplier to 50x. The result is a straight 5.0GHz across all CPU cores. My colleague Luke Hill has published an analysis of both 7700k and 7600k Kaby Lake processors this week, so be sure to check out our front page for detailed analysis.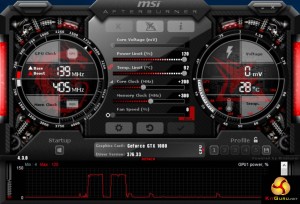 DinoPC has also overclocked the two Palit GTX 1080s using MSI Afterburner. Each Raptor 2 system is different in regards to GPU overclock but they are all set at minimum 200MHz plus on Core and 300MHz plus on memory. In our review PC the Core boosts to 1733MHz and the memory to 5005MHz.
Our single query about the hardware chosen by DinoPC is that Gigabyte appears to be rebranding itself as Aorus, apparently to compete with Asus Republic of Gamers and the idea of an Aorus Z270X motherboard simply doesn't sound right to our ears. Gigabyte Z270X is perfectly satisfactory, thanks.
As you will see in our video (above) we had two minor snags with Raptor 2 that we put down to the newness of Kaby Lake. The first is that Ashes of the Singularity refused to run at Crazy settings in DX12 mode with multiple GPUs. The other was that the fans would often run at full speed when the system started and required a restart for PWM control to become effective. We are quite sure this will be cured by a BIOS update from Gigabyte/Aorus, hopefully in the near future.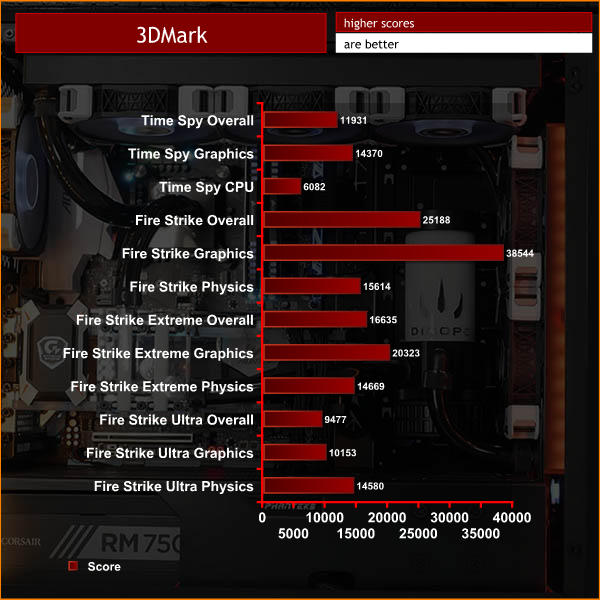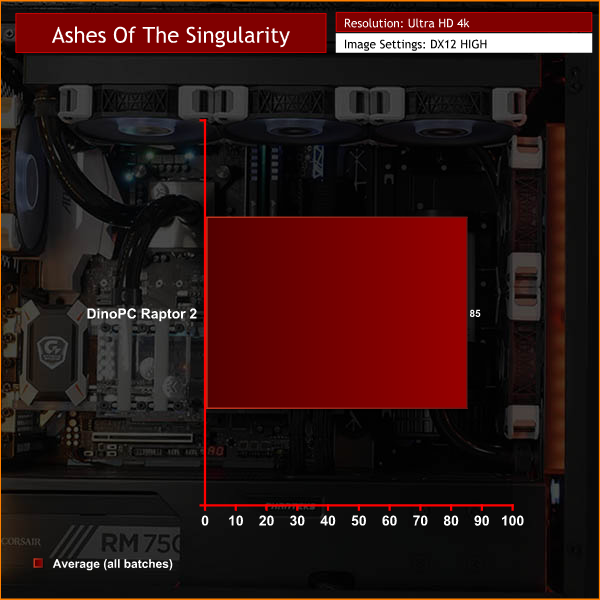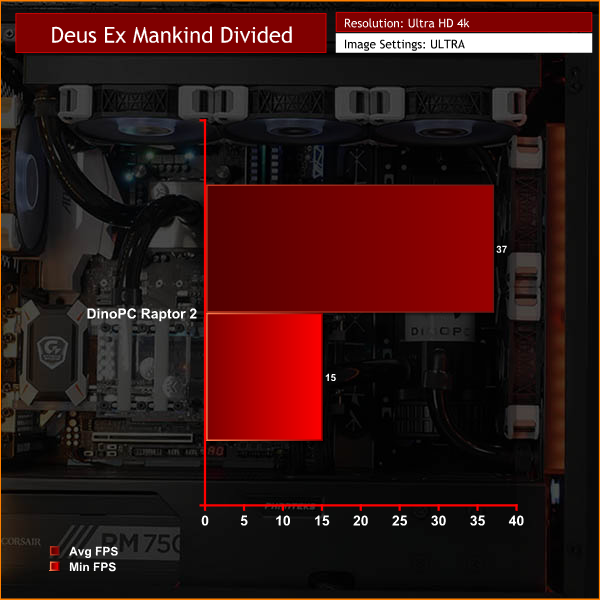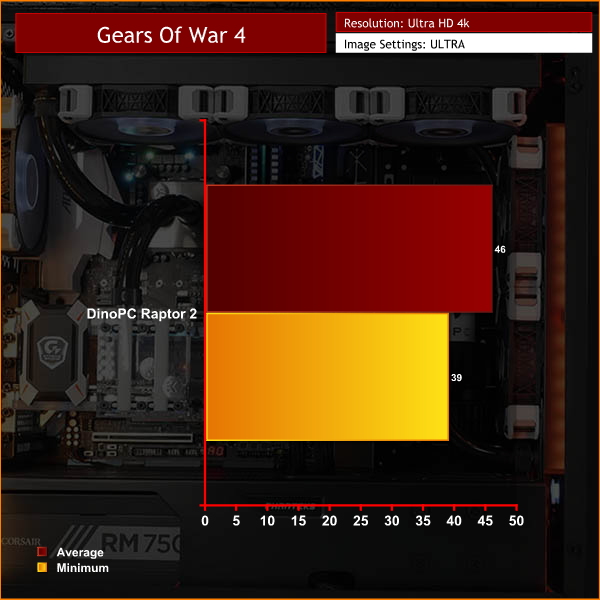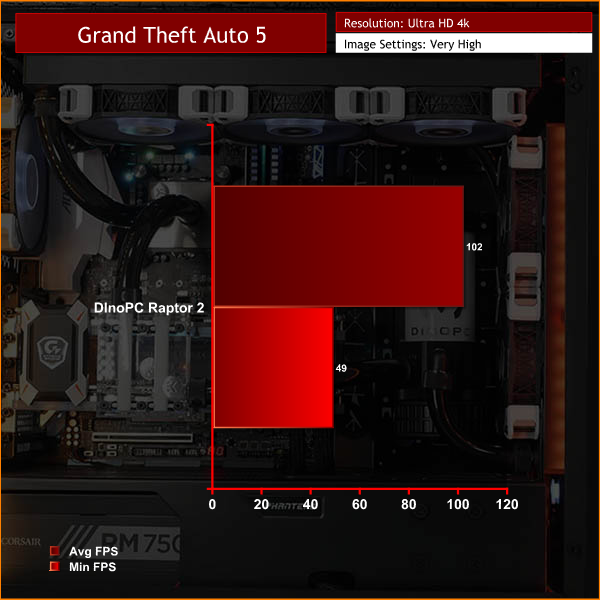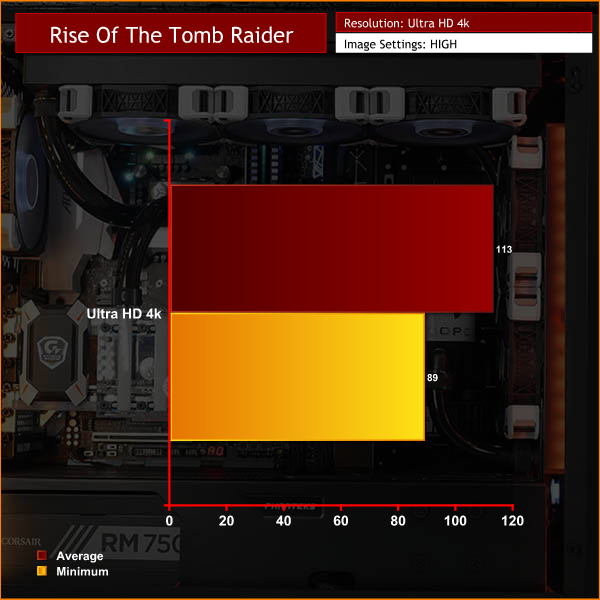 We tested the DinoPC Raptor 2 system at 4K as there was no point messing around with lower screen resolutions. Performance was a notch above the PC Specialist Vortex VI (review HERE) which is a laptop that combines Core i7-6700K with dual GTX 1080 GPUs. That may not sound like a massive vote for the Raptor 2 however the Vortex VI is remarkable and the Raptor 2 is better. Furthermore, you can bet there will driver and BIOS updates that help the new Kaby Lake system to leap further ahead.
Gaming at 4K on DinoPC Raptor 2 is a fabulous experience. No doubt you can also edit videos and encode movies but that's not quite so much fun.
Power draw
Idle                  105W
3D Mark         560W
Cooling Performance.
Dino PC has used a 360mm radiator in the roof of the Phanteks case and a 240mm at the front with five 120mm Corsair ML fans and a sixth fan in the exhaust position at the rear.
The D5 pump moves fluid through an EK-Supremacy EVO Nickel CPU Block and the graphics cards are fitted with EK GTX JetStream GPU waterblocks and backplates. This is top grade hardware that could only be improved marginally with a change to the fans. Basically it is as good as it gets.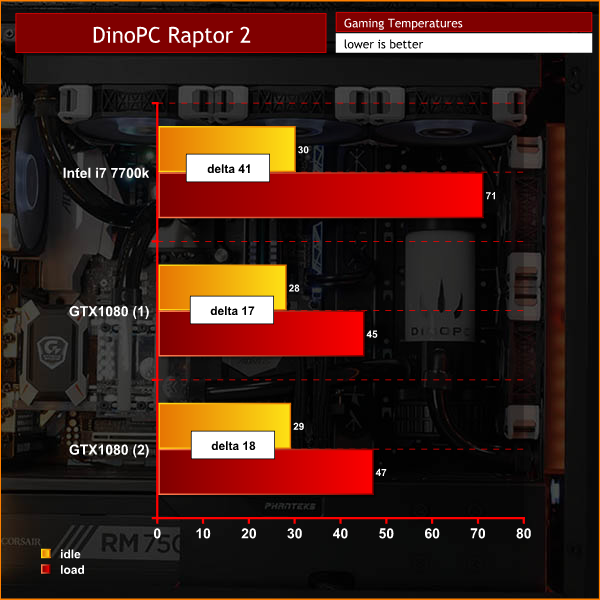 The two GTX 1080 GPUs run nice and cool and top out below 50 degrees C. The Core i7-7700K is hotter and hits 71 degrees under extreme load, however that is pretty good going for an overclocked LGA115x CPU. At first glance the EKWB cooling system is massively over the top for a compact ATX case such as Phanteks Evolv Glass however the temperature figures show that DinoPC has made some excellent choices.
Acoustics performance.
With the current BIOS acoustic performance is a matter of pot luck. If the fans run at full speed the PC is annoyingly noisy. When PWM control works correctly it is a delight. We have to hope that a BIOS update will fix this questionable behaviour.
Closing Thoughts
We were deeply impressed by the DinoPC Raptor 2. It looks amazing and packs in the latest CPU and GPU technology. If Skylake X were expected any time soon or we had the least idea whether AMD Ryzen was going to live up to the hype then we might advise you to hold tight and delay your buying decision.
As things stand, if you're looking for a top notch gaming PC that is bang up to date, the DinoPC Raptor 2 delivers exactly what you want. Even if those other two expected-some-time-in-2017 platforms turn out to be superb, the Raptor 2 will still keep you going until at least the next upgrade.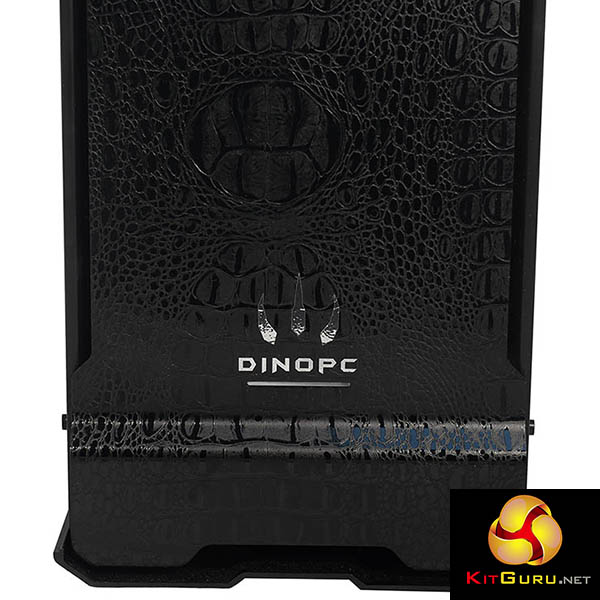 The extensive cooling system looks superb and delivers tangible benefits as the overclocked CPU and GPUs run much cooler than you would expect with air cooling or an All In One. Clearly you can save a good deal of cash if you go down that route and stick to stock clocks but your PC will undoubtedly run hotter and you will have a very different experience.
There are minor matters such as the colour of the coolant. Speaking for myself, I like the Pastel White but would prefer clear tubing that shows it off fully. Having said that, the Onyx Black is very nice indeed.
Also, I would probably choose to lose the Corsair ML fans with their LED lighting in favour of duller but more effective EKWB Vardars.
The point here is that we are splitting hairs. These are trivial details that tinker at the margins and change nothing about the fundamentals of the Raptor 2. It is a damn fine gaming PC and if you buy it we are confident you will be very, very satisfied.
The DinoPC Raptor 2 has yet to get a link on the official website due to Intel NDA. We have heard that the price will be around the £3,500 mark and the purchase page will be updated when DinoPC is allowed to sell Kaby Lake.
Discuss on our Facebook page HERE.
Pros:
Raptor 2 looks amazing.
Overclocked 5.0GHz Core i7-7700K.
Dual GTX 1080 graphics cards with minor overclocked settings.
Extensive EKWB cooling system does a fabulous job.
Top quality system build.
The Phanteks Evolv Glass case is superb.
DinoPC lighting system works well.
Cons:
The system needs some form of update to sort out some fan control issues (possibly the BIOS, possibly the fans).
Unconvinced about the Corsair ML fans.
A better CPU may be coming in a few months time.
KitGuru says: In an ideal world everyone would own a DinoPC Raptor 2.