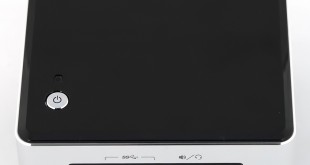 If you take a look at our review of Gigabyte BRIX S you will pretty much have the low-down on the latest version of Intel NUC (Next Unit of Computing). DinoPC sent us a mini PC that uses NUC5i3RYH that is built around a Core i3-5010U, which is a mobile Broadwell CPU.
These days a Intel mobile CPU is pretty much a System-on-Chip so the choice of Core i3-5010U has a marked impact on the way that Intel NUC5i3RYH behaves and performs. In addition to the 5th Gen processor we – finally – have a NUC with a 2.5-inch drive bay, so we are talking about incremental improvements over 4th Gen NUC such as D54250WYB however the changes are significant.
Watch via our VIMEO Channel (Below) or over on YOUTUBE.
£229 inc VAT for barebones (requires memory, storage and OS).
£62 for the Crucial 8GB DDR3L-1600 memory kit
£64 120GB M500 SSD model CT120M500SSD. 240GB costs £96.
£42 Toshiba 1TB MQ01ABD100 HDD.
Intel NUC 5I3RYH Specification:
Board Form Factor UCFF (4″ x 4″)
Internal Drive Form Factor M.2 and 2.5″ Drive (2 drives supported)
TDP 15 W
DC Input Voltage Supported 12-19 VDC
Processor Included Intel® Core™ i3-5010U Processor (3M Cache, 2.10 GHz)
Max Memory Size (dependent on memory type) 16 GB
Memory Types DDR3L-1333/1600 1.35V 2x SO-DIMMs (dual channel)
Integrated Graphics
Graphics Output Mini-DP 1.2, Mini-HDMI 1.4a
Intel® Clear Video Technology
# of Displays Supported ‡ 3
PCI Express Revision 2
PCI Express Configurations ‡ M.2 slot with PCIe X4 lanes
USB 2.0 Configuration (Back + Internal) 0 + 2
USB 3.0 Configuration (Back + Internal) 2B, 2F + 0
Total # of SATA Ports 2
Max # of SATA 6.0 Gb/s Ports 2
RAID Configuration RAID-0, RAID-1
Audio (back channel + front channel) 7.1 digital + analogue stereo headset
Integrated LAN 10/100/1000
Integrated Wi-Fi Intel® Wireless-AC 7265 + BT 4.0
Integrated Bluetooth
Pull the mainboard out of the GIGABYTE BRIX S and lay it next to the NUC 5i3RYH and you will struggle to spot the differences. The only obvious change is that Intel has moved to an integrated Wi-Fi module where the antennae clip to the board whereas Gigabyte uses the traditional add-in Wi-Fi card.
The change we most admired about the BRIX S was the addition of a 2.5-inch drive bay that allows you to add serious storage such as a 1TB HDD in addition to the M.2 SSD that provided the storage for your Operating System and applications. Intel has gone down the same route with the NUC5iRYH and DinoPC combined a 120GB Crucial M500 SSD with Toshiba 1TB MQ01ABD100 HDD. It's a tight decision but we would probably spend another £30 and select a 240GB M500SSD over the 120GB version.
Rounding out the Crucial love fest we have 8GB of DDR3L-1600 memory.
The biggest difference between the two Mini PCs is that BRIX S uses a Core i5 which means it runs at 1.3GHz and Turbos to 2.6GHz while the Core i3 in the Dino PC NUC runs at a fixed speed of 2.1GHz. Naturally this has an impact on performance and also affects the power consumption, which in turn alters the heat output and the cooling requirements.
There is one other change worth mentioning which is that previous NUC use an external power brick such as you find on a small laptop while the new NUC has an adapter-on-plug which is much smaller and more compact.
Performance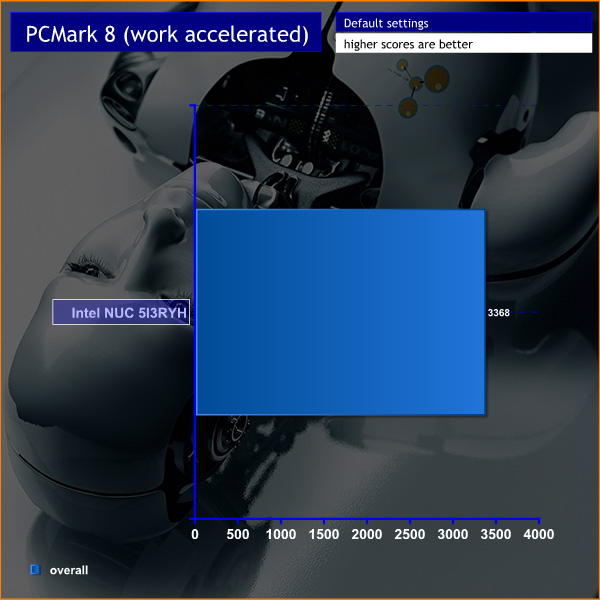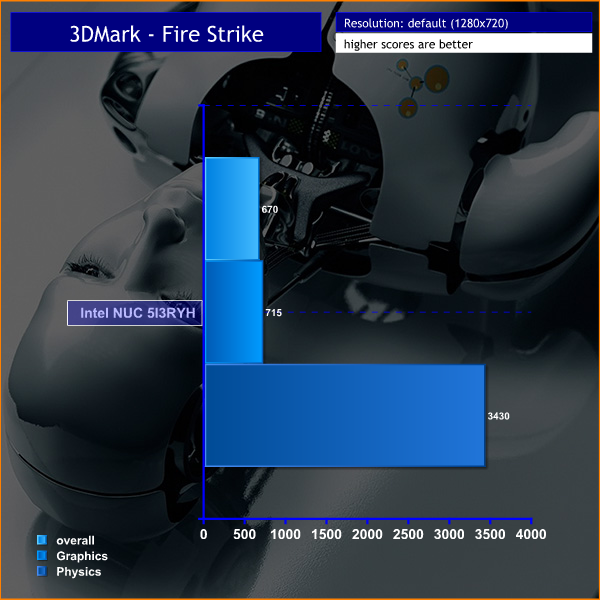 The performance of NUC5i3RYH is all about the Core i35010U. It delivers adequate performance but of course falls short of the ability to play serious games. Compared to the Core i5 it is slightly less responsive and on paper it is less impressive. While the extra 20 percent performance offered by Core i5 isn't strictly necessary, the extra zip and zing is very appealing, even though Intel charges a considerable amount of extra cash for the Turbo feature.
Power and heat.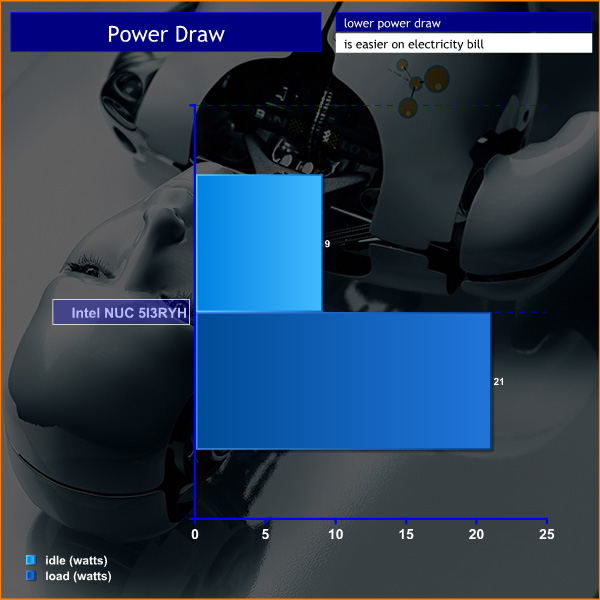 The NUC5i3RYH idles at 40 degrees and the temperature rises to 66 degrees under maximum load. The temperatures of the CPU and GPU move in unison, which makes sense as it is an APU.
Power draw is interesting as the previous Core i5 NUC required 35W under load while BRIX S dropped slightly to 32W. By contrast this Core i3 sips a tiny 21W which is fairly awesome for a Windows 8.1 PC.
Acoustics Performance
The cooling fan in previous NUC could be annoying however when we tested the BRIX S we commented on the low noise levels. The same is true of the NUC5i3RYH which is really quiet despite having a CPU fan that spins at 3,300rpm. We cannot say whether this is thanks to the sophistication of the 5th Gen Core i3 design or simply a consequence of the lower clock speed and lower power draw.
Closing Thoughts
This 5th Gen INTEL NUC from Dino PC is a modest improvement over the 4th Gen however the changes to add a 2.5-inch drive bay and reduce the size of the power supply are both welcome.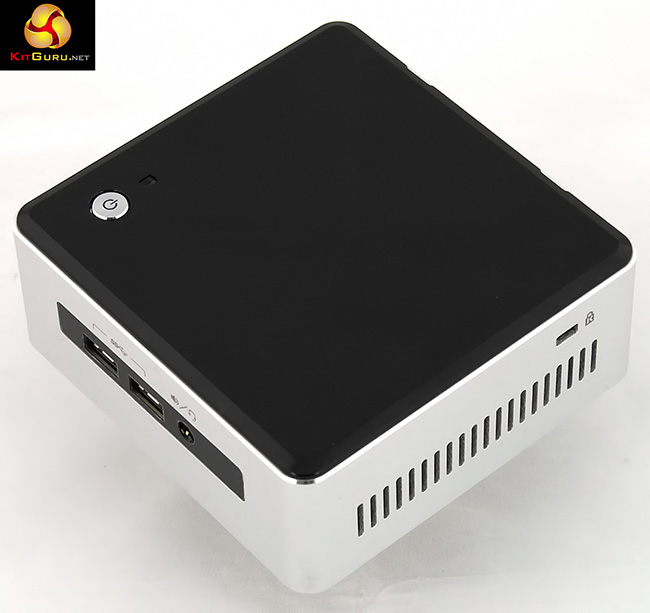 Our only regret is that we would have liked to see the Core i5 version rather than Core i3. Having said that this new, lower power, quiet and cheaper NUC is an impressive little PC.



The Intel NUC 5I3RYH has yet to be listed on the DINOPC website, but we will update this page with a direct link, when it is.
EDIT: 19th March. The fully kitted out NUC (with SSD, DDR3 memory etc) is now available from DINOPC for £389.00 inc vat. DINOPC are also giving KitGuru readers a special deal, a free MINI DISPLAY PORT to VGA adapter and a free copy of Panda internet Security valid for 1 year. ENTER CODE 'KITNUC' to claim.
Discuss on our Facebook page, over HERE.
Pros:
Compact form factor.
Tiny power draw.
Very quiet.
You get the option of adding a 2.5-inch hard drive.
Reasonable performance.
The price of NUC continues to fall.
Cons:
Core i3 holds back both the graphics performance and also affects system responsiveness.
No upgrade path.
KitGuru says: Intel NUC offers a legitimate alternative to the desktop PC however we feel that Core i5 performance makes a worthwhile contribution compared to this Core i3.