When Overclockers UK delivered their Titan Katana we practically clapped our hands with glee at the prospect of seeing another AMD Ryzen gaming PC. To our way of thinking, anything that stimulates competition and drives down prices is welcome and we love seeing AMD Ryzen take the fight to Intel Core i7.
It made us even happier to see that Titan Katana combines the Ryzen 7 1700 CPU and GTX 1070 graphics card yet came with a price tag close to £1,300.
That is the sort of price that puts the OCUK Titan Katana within reach of the mainstream gamer who doesn't want to take out a mortgage to buy a new PC.
When you look at the typical price of a gaming PC that can deliver a decent frame rate at 1440p, rather than 1080p, it becomes clear the Overclockers UK Titan Katana is priced to the lower end of the scale.
In general terms Overclockers UK has picked quality components that are relatively cheap such as the Phanteks Eclipse case and Asus B350 chipset motherboard. You can see the results when you drill down to the specifics and see the way Overclockers UK has saved about £50 by choosing an AMD Ryzen R7 1700 rather than 1700X.
We go into this in some detail in our video (above) but one obvious point of cost saving is the use of an air cooler, rather than the expected All In One. As you will see the temperatures are perfectly acceptable but there is no denying that cosmetically this looks a bit peculiar. It's not the use of an air cooler per se, but rather the orientation of the cooler. AMD uses a rectangular mounting pattern with the result that the cooler points up and down rather than front to back.
Specification:
Case     Phanteks Eclipse P400S Glass
CPU     AMD Ryzen 7 1700 Eight Core CPU 3.7GHz Socket AM4
CPU Cooler     Cooler Master 212 120mm air cooler
Motherboard     Asus Prime B350-Plus
2x USB 3.1, 4 x USB 3.0,  and 2 x USB 2.0 ports on back panel
2 x USB 3.0 on front panel
Memory     16GB Corsair Vengeance LPX DDR4-2400MHz (2x 8GB Kit)
Graphics Card KFA2 GeForce GTX 1070 EX OC Sniper RGB 8GB
SSD         Samsung SM961 Polaris 256GB M.2-2280 PCI-e 3.0 x4 NVMe Solid State Drive
HDD        2TB Seagate BarraCuda 3.5-inch Hard Disk SATA-III, 6GB/s, 7200rpm, 64MB Cache
Power Supply Cougar VTX 650W 80 Plus Bronze will be upgraded to Gold in retail PCs
LED Lighting 2x 50cm RGB LED Strip
Sound Card On-board 6 Channel (5.1) HD Audio
Networking 10/100/1000 Gigabit LAN Port
Operating System Windows 10 Home 64-bit
Warranty 3 Year Standard Warranty – parts, labour and warranty.
Overclockers UK have lived up to their name by adding some extra speed to the AMD Ryzen 7 1700. This CPU has a base speed of 3.0GHz and Turbos to 3.7GHz however Overclockers UK has set the CPU multiplier at at 38x for a steady 3.8GHz.
We like the idea of free clock speed and have no reason to think the modest changes in the BIOS will have any impact on reliability but even so, Overclockers UK was keen to talk about their three year warranty.
They offer a full three 3 year warranty including collect and return, parts and labour. In addition they offer an upgrade service so the customer can buy some shiny new hardware (presumably from OCUK) and then return the PC to have the hardware installed.
If we were to find fault with this PC it would be the way the Phanteks lighting strip has been installed. The Phanteks Eclipse is a clever case with a small amount of lighting built in the front panel and the neat trick is the way Phanteks has included a connector so you can extend the lighting.
Buy an accessory light strip, plug it in and bingo you have RGB Aura lighting for your entire case. Overclockers UK has included the LED strip and the effect of the lighting is as good as we would expect however the look of the strip inside the main compartment is rather unsightly.
Testing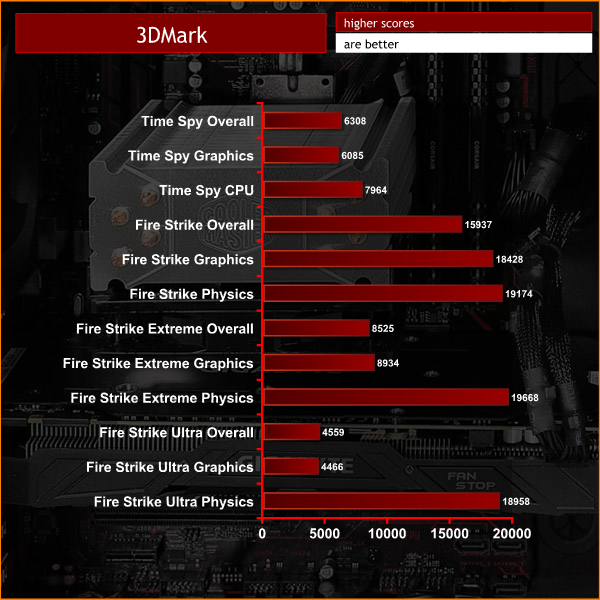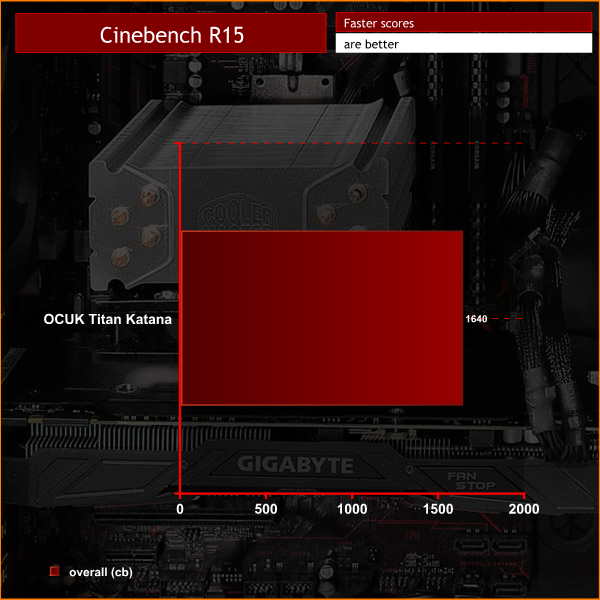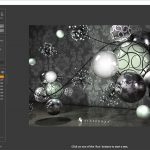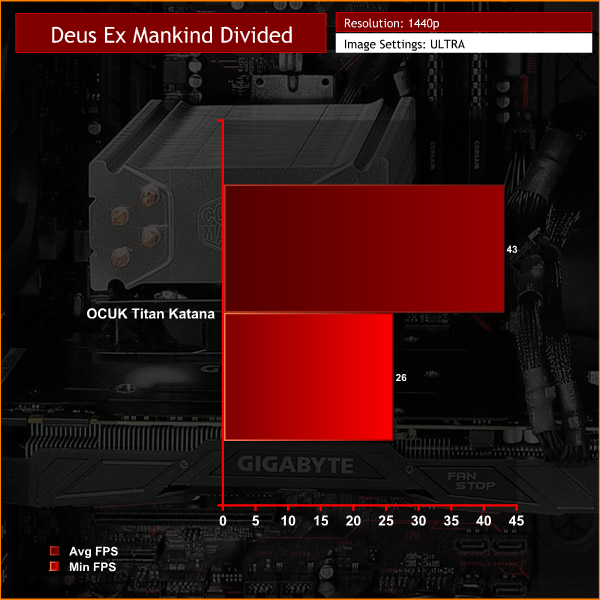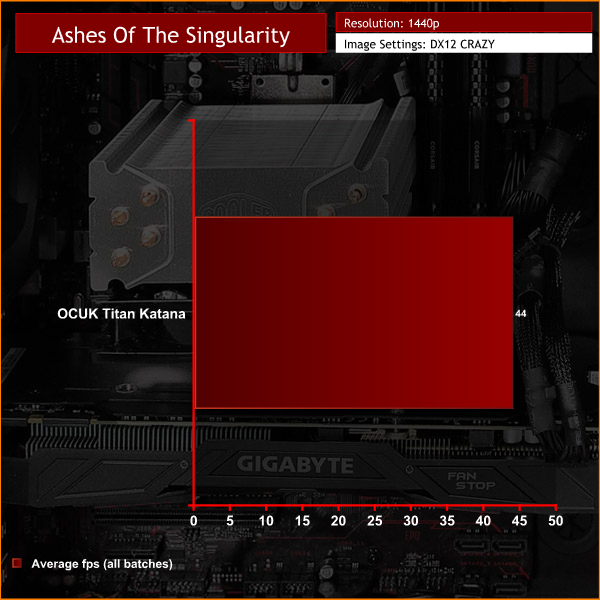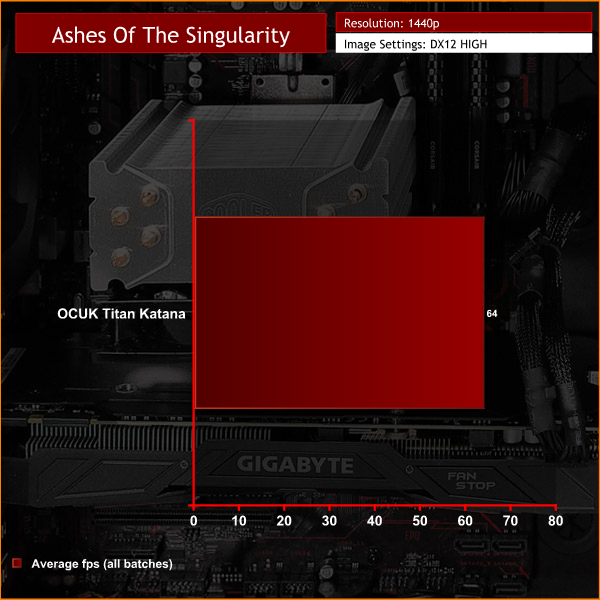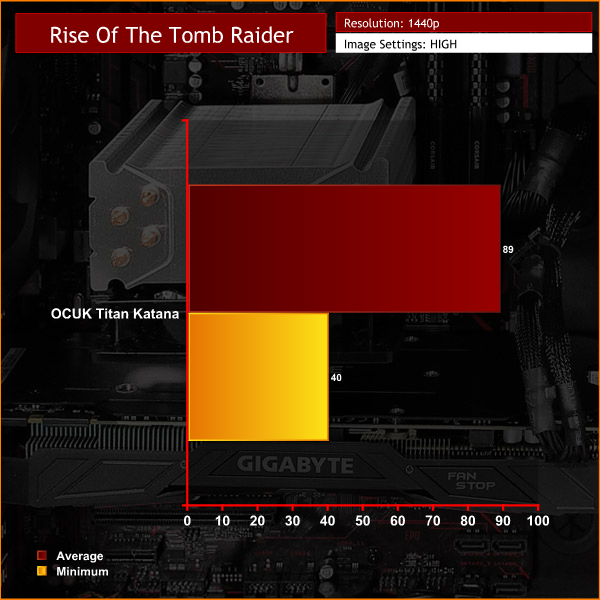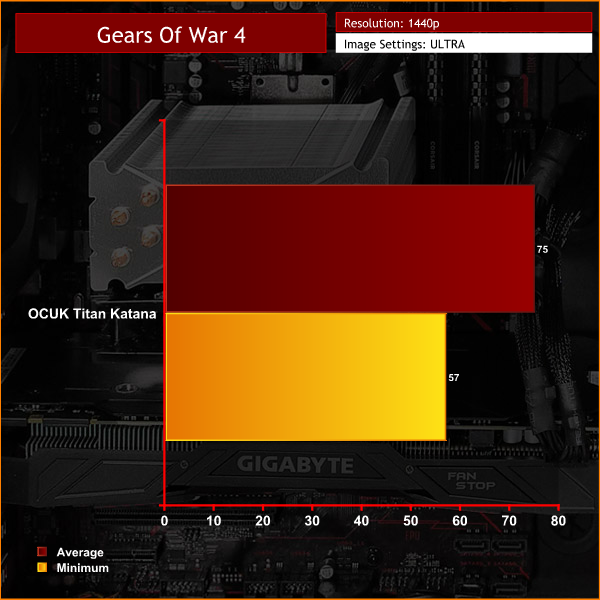 We started testing this PC at 1080p and quickly realised this was pointless as the Titan Katana had no difficulty playing the latest games at this resolution. Increasing the resolution to 1440p dropped the frame rate to 40-something fps in Deus Ex: Mankind Divided and Ashes of the Singularity at Crazy settings. Gears of War 4 delivered an average of 75fps at 1440p which is pretty darned tooting good.
Cooling Performance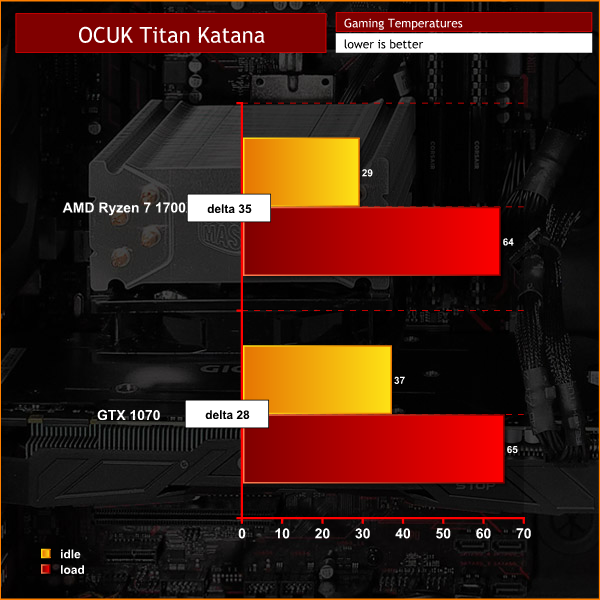 AMD has updated its Ryzen Master software such that it delivers accurate temperature figures and there is no longer any need to deduct 20 degrees from the reported number.
The impressive thing is that the CPU temperatures we saw from the Titan Katana are measurably lower than the PC Specialist Fusion Zen (HERE) which uses a Corsair H60 liquid cooler.
Acoustics performance
This is a quiet PC, despite the fully windowed nature of the Phanteks case. The fans run at a fairly low speed, yet cooling is good and we were completely happy with this aspect of the Titan Katana.
Closing Thoughts.
The Overclockers UK Titan Katana performs well and shows you don't need to break the bank to get decent 1440p gaming. The star of the show is the overclocked Ryzen 7 1700 CPU however the balance of the chosen components is impeccable. At every turn Overclockers UK has worked to keep the price down and has resisted the urge to throw in unnecessary extras.
We discuss in our video that the Bronze rated power supply in our review sample will be upgraded to Gold in the retail version, and we regard this as very good news.
While we weren't mad keen on the cosmetic appearance of the CPU cooler it worked perfectly well and this is only a minor point. Our only real criticism of this PC is the messy installation of the LED strip that is clearly on show inside the windowed panel.
If you're looking for a budget gaming PC that can power along at 1440p, Overclockers UK Titan Katana is clearly one that you should consider.

Buy from Overclockers UK HERE. Priced at £1,335.
Discuss on our Facebook page, over HERE.
Pros:
Ryzen 7 1700 packs in eight CPU cores.
GTX 1070 graphics can handle 1440p.
Temperatures are nice and low.
Phanteks includes multi-colour lighting with the Eclipse P400 case.
Cons:
Air cooling looks a bit basic.
Add-in lighting strip looks like an after-thought.
KitGuru says:  The Overclockers UK Titan Katana system delivers 1440p gaming on a budget, powered by Ryzen 7 1700X.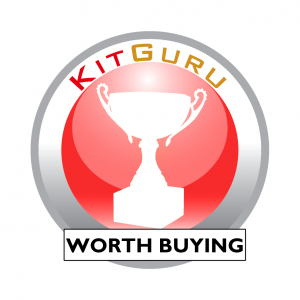 Be sure to check out our sponsors store EKWB here