PC Specialist has announced a gaming PC with the shortest name we have ever heard. Ladies and Gentlemen, we present 'Nox'. There is always a danger that a review of a PC can turn into a list of components and Nox falls under that heading as PC Specialist has selected some top notch hardware and then assembled a high end gaming PC that is ideal for Full HD gaming. Nox can also handle 4K provided you are sensible about image quality settings.
Watch via our VIMEO Channel (Below) or over on YouTube at 1080p50 HERE
PC Specialist Nox
CPU: Intel Core i7-6700K 4.0GHz up to 4.6GHz
CPU cooler: Corsair H100i GTX
Memory: 16GB Kingston HyperX DDR4-2666MHz
Motherboard: Asus Maximus VIII Ranger
Graphics card: Zotac GeForce GTX 980 4GB
SSD: 400GB Intel 750 PCIe NVMe
Storage: 2TB Toshiba 7,200rpm HDD
Audio; On-board Realtek 5.1
Case: Corsair Obsidian 750D
PSU: Corsair 750W CS Modular
OS: 64-bit Windows 10 Home
Warranty: 3 year Standard (I month C&R, 1 year parts, 3 years labour)
The heart of the NOX system is an overclocked Intel Core i7-6700K that typically runs at 4.0GHz/4.2GHz however PC Specialist has overclocked the CPU to 4.6GHz. They have increased CPU Core voltage from 1.2V to 1.328V and then increased the multiplier to 46x.
This CPU clock speed is backed up with 16GB of Kingston HyperX DDR4 with an XMP profile of 2667MHz enabled on the Asus Maximus VIII Ranger motherboard. Those three major components add up to £650 and they are all top notch and beyond reproach, although it might be worth noting that Core i7-5820K is currently available for £300 and that £90 saving could be put towards an X99 motherboard. That's just a thought as Skylake is rather expensive.
Graphics are provided by a Zotac GTX 980 4GB, although if we are being pedantic we should say the figures are 1140MHz core, 1241MHz boost and 7012MHz memory which is a tiny percentage faster than reference speed.
The big news is the 400GB Intel 750 PCI Express SSD with NVMe which is blisteringly fast and also horribly expensive at £290. PC Specialist has also included a 2TB Toshiba hard drive to ensure you have somewhere to store all your games.
Wrapping the whole thing up we have a Corsair Obsidian 750D case, Corsair 750W CS power supply and Corsair H100i GTX CPU cooler mounted in the roof of the case with the Obsidian fans left in place at the front of the case.
PC Specialist has added a white LED lighting kit which contrasts beautifully with the black Corsair case, and of course the Corsair H100i GTX is also illuminated to add to the effect.
On the software side of things there is an installation of 64-bit Windows 10 Home, Corsair Link to monitor and control the H100i GTX cooler and to display temperatures and fan speeds and a trial copy of BullGuard Internet Security. BullGuard quickly got on our nerves and when it informed us that 'Internet Explorer had been granted access to the Internet' it was destined for the uninstall bin.
Other than that minor glitch the experience with Nox was entirely positive.
Testing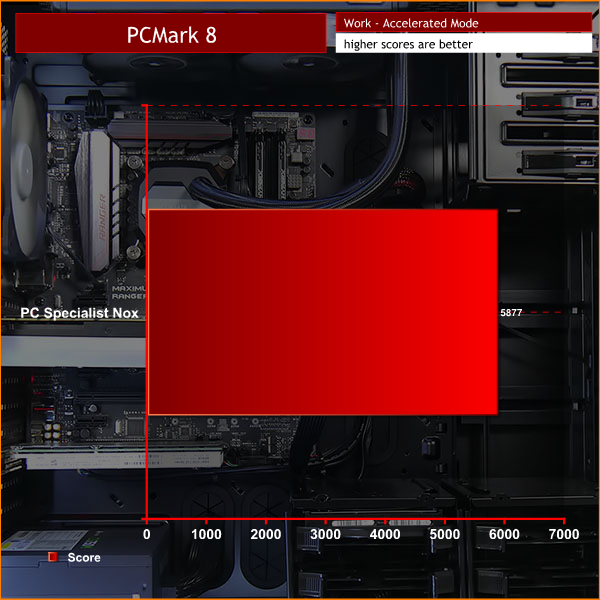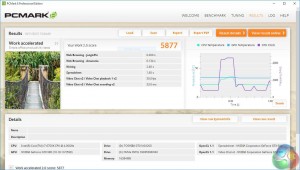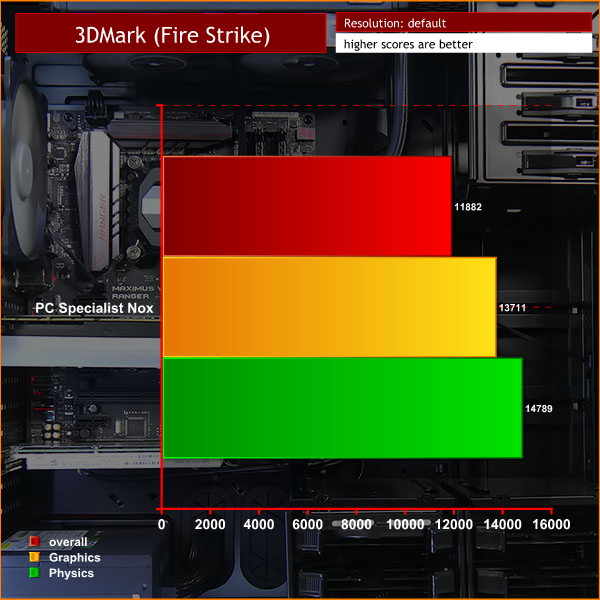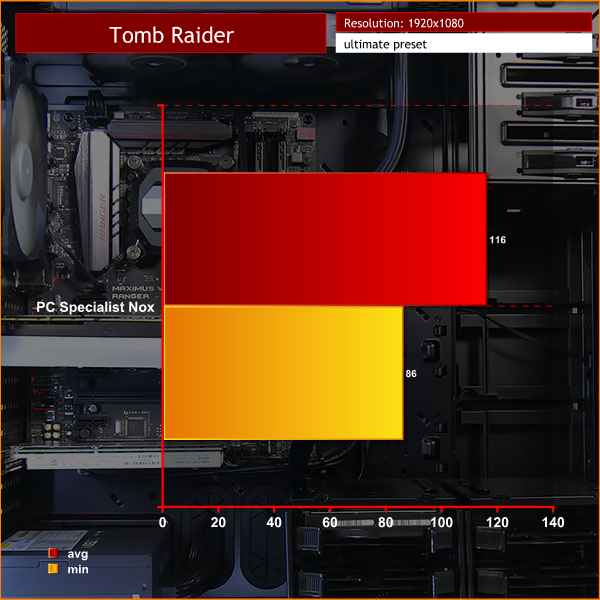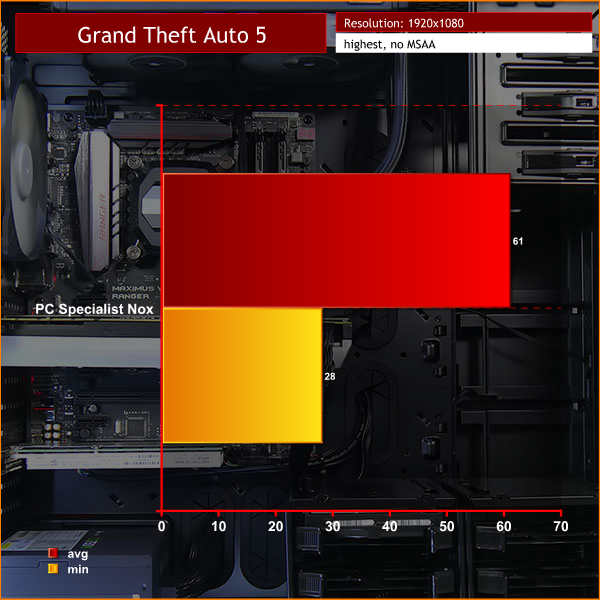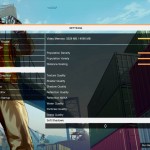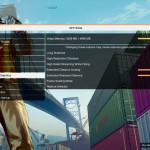 Nox was tested at 1,920 x 1,080 rather than 4K which is a reflection of the fact that GTX 980 can drive Full HD at any settings you choose, while 4K demands you trim your image quality settings to keep your frame rates suitably high.
The PC delivered excellent results in 3D Mark, GTA V, Thief and Tomb Raider and was superb fun across the piece. Mind you, we would expect nothing less from an overclocked example of the latest Core i7, especially when it is backed up by an Intel 750 SSD, a bunch of DDR4 and a GTX 980 graphics card. Lovely.
Power and temperatures
Despite the stellar performance, this PC barely sips electricity. It only draws 75W at the wall socket on the Windows desktop which rises to 280W in 3D Mark and 310W in the synthetic AIDA64 benchmark.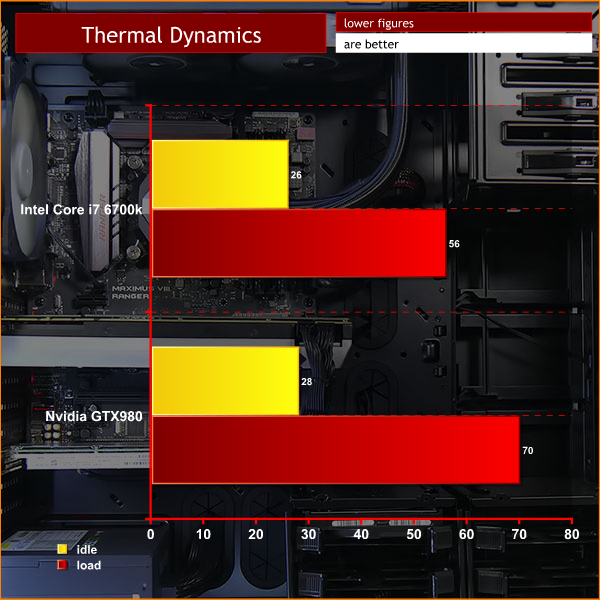 Temperatures were pleasingly low which shows that the Corsair case flows plenty of air, the Corsair H100i GTX does a fine job and GTX 980 Maxwell technology is superb. None of this comes as a surprise to those of us who admire fine PC hardware.
Closing Thoughts
There is no point in disguising the fact that we adore the PC Specialist Nox. Take a look at our video and photos and you will see a stack of carefully chosen components that have been neatly built into an excellent gaming PC, and then PC Specialist overclocked the CPU for good measure.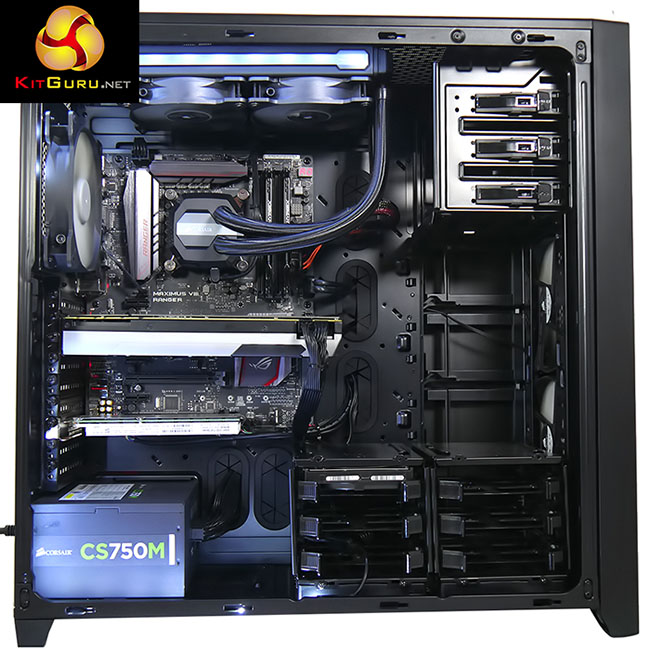 You could easily copy the specification of Nox and it shouldn't be too difficult to match the quality of the PC Specialist build, provided you dedicate a few hours to the process. The thing is that we cannot see how you can buy these components for less than £1800 which makes no sense as you can buy this built PC for £1499 with a three year warranty.
The only snag we can point to with this PC is that our sample came with a recovery DVD for Windows 10 yet the PC doesn't have a DVD drive. Clearly you could specify an optical drive at a small cost when you order your new Nox.
So what would it take for Nox to score a full 10 marks? Good question. Let's set the bar stupidly high. If Nox was on sale for £1299 it would get full marks but in the meanwhile it has to settle for 9.5. It's that good. Really.

Buy from PCSpecialist for £1,499 inc vat HERE.
Discuss on our Facebook page, over HERE.
Pros:
Excellent gaming performance at Full HD.
Crazy low price.
Overclocked Skylake Core i7.
Zotac GTX 980 4GB.
Intel 750 PCI Express SSD shows the way forward.
Corsair H100i GTX is a top line cooler that also has LED lighting.
Core Obsidian case is a fine piece of work.
Very tidy build quality.
Three year warranty.
Cons:
No optical drive.
Bullguard Internet Security trial version was annoying.
KitGuru says: Overclocked Core i7 Skylake plus GTX 980 in a lovely PC build. Nox is superb.