The last time I saw a Shuttle barebones was back in 2009, at a time when LGA775 and Core 2 Duo were the flavours of the month. The Shuttle SH110R4 barebones we have on review today is bang up to date, sporting an Intel H110 chipset with support for a Skylake LGA1151 CPU and DDR desktop RAM yet it looks pretty darn familiar.
The barebones consists of the chassis, power supply, motherboard and I.C.E.2 (Integrated Cooling Engine) CPU cooler with rear case fan. To complete the build you will need to provide a CPU, RAM, storage and an Operating System. You can choose to either use integrated graphics or to take advantage of the dual expansion slots to plug in a graphics card to give you a decent amount of gaming power, which means the specification and cost of your finished PC are somewhat up in the air.
Watch via our VIMEO Channel (Below) or over on YouTube at 1080p60 HERE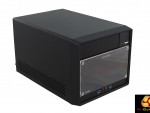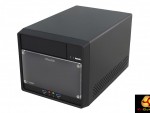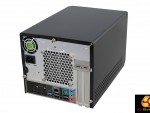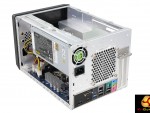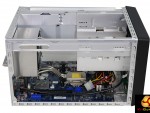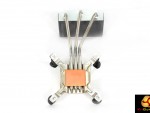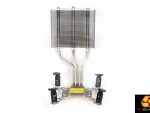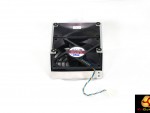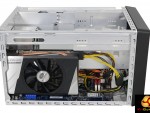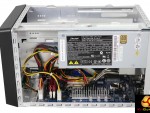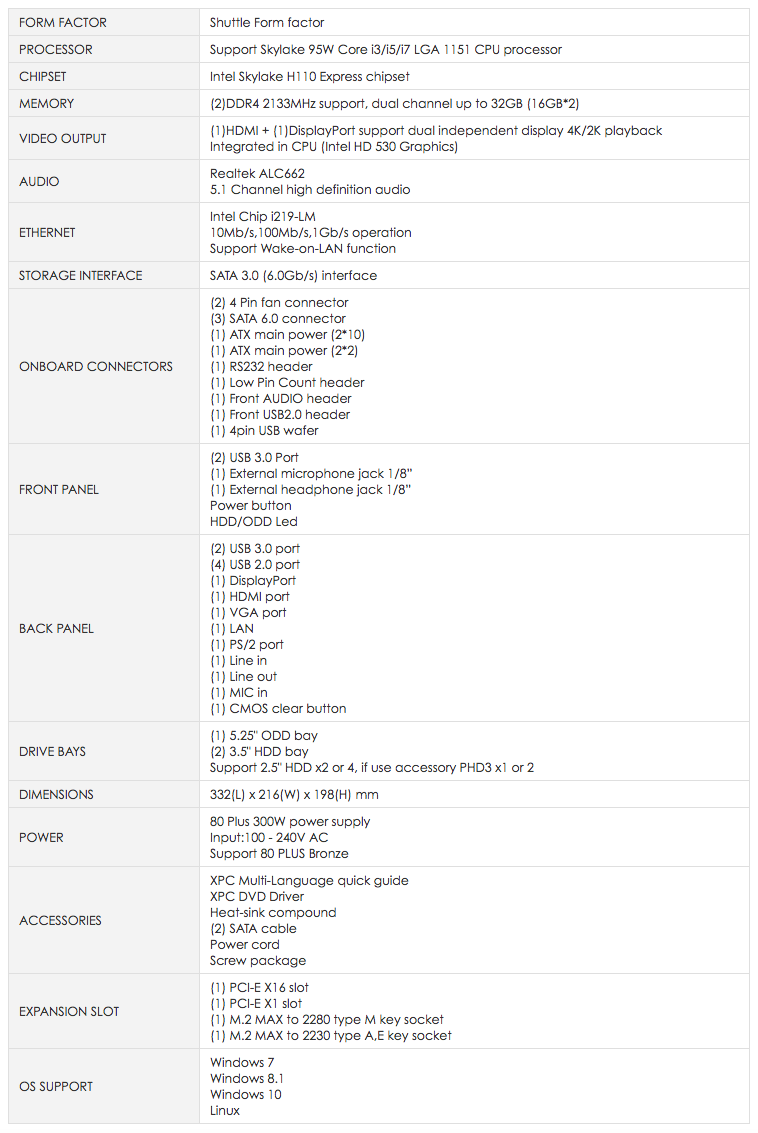 More on the Shuttle SH110R4 over HERE.
As you can see in our video and photos the SH110R4 barebones offers a curious mix of features. The motherboard is bang up to date with the latest CPU socket, support for DDR4, a pair of M.2 slots and both HDMI and DisplayPort on the I/O. By contrast the chassis is stuck in the dark ages and doesn't have mounting holes for even a single 2.5-inch SSD, unless you buy a Shuttle bay adapter. This seems bizarre when you consider the drive bay is a single piece of aluminium that simply requires a few strategic holes.
Instead we installed an M.2 SSD in the appropriate slot on the motherboard.
We have no doubt that KitGuru readers might provide those holes but the power supply is a bigger problem as it is a 300W unit that is only rated 80 Plus Bronze. That is annoying as it seems reasonable to expect a Silver or Gold unit in 2016 but it also shows the age of the design as there is only a single six-pin PCI Express connector. Many graphics cards have an eight-pin connector, such as our Sapphire Compact ITX R9-285, so we used an adapter to covert the two four-pin Molex to a six-pin and then converted the two six-pins to an eight-pin.
While we are harking on the theme of olde worlde, the I.C.E.2 CPU cooler hasn't received any obvious changes in a long while. Those three heatpipes and wide-spaced fins on the convection cooler look somewhat lightweight when you consider this barebones is specced for a CPU up to 95W.
The cost of a Shuttle barebones has fallen over the years from around £300 to a current price of £195. That may sound like a bargain but once you factor in £300 for the Core i7-6700K we chose to use, £80 for 16GB of Corsair DDR4, £80 for an SSD, £240 for a compact Sapphire graphics card and a license for Windows 10 you end up with a figure around the £1,000 mark.
Obviously we could have kept the cost down but equally we could have pushed the specification higher. Our point here is that the cost of the barebones is only one small part of the overall equation and the finished result is a fairly expensive mid-range PC.
Testing
To put this barebones through its cooling paces we will be using a test system consisting of an Intel Core i7-6700K, Radeon R9 285 and an SSD. This system allows us to produce a substantial amount of heat and effectively test the Shuttle SH110R4's cooling capabilities.
Test System:
Processor: 4.2GHz Intel Core i7-6700K
Motherboard: Shuttle with H110 chipset
CPU cooler: Shuttle ICE 2
Memory: 16GB Corsair Vengeance LPX DDR4-2666MHz
Graphics card: Sapphire ITX Compact R9 285 2GB
Power supply: Shuttle 300W Bronze
Storage drives: Kingston 240GB SSD
OS: Windows 10
Ambient 23 degrees
Cooling Performance.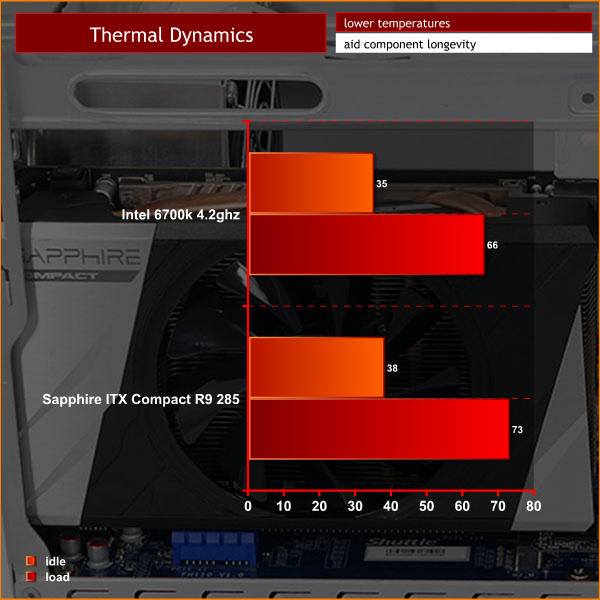 The combination of Core i7-6700K and Shuttle I.C.E.2. resulted in CPU temperatures that were about ten degrees warmer both at idle and under load than we ideally like to see. This isn't a cause for concern but more a reflection that the chassis is fairly small and the cooler quite rudimentary. It is our educated guess that a revision to the I.C.E.2. hardware would help temperatures significantly but as things stand you can happily use SH110R4 with a Core i7-6700K without any problems.
Acoustics performance.
You can hear low level noise from the 92mm cooling fan at the rear of the chassis at all times and the 50mm fan in the power supply is also audible.
As the CPU temperature rises above 40 degrees and then clicks upwards to 50 degrees the cooling fan at the rear of the chassis ramps up both in terms of speed and noise. It isn't entirely fair to do a stress test on a Core i7 in the Shuttle but demonstrates this type of small form factor is not well suited for use as a video editing workstation where the CPU is hammering away with the result that the fan can get intrusively loud.
Closing Thoughts
It is surprising that Shuttle does not appear to have updated the SH110R4 for the modern era. Yes, the motherboard supports current hardware and you get two USB 3.0 ports on the front and two on the rear, however those are features of the motherboard, rather than the chassis. The absence of a 2.5-inch drive bay is a surprise as you really shouldn't have to buy a Shuttle accessory to install a SATA SSD in 2016.
The inclusion of a 5.25-inch optical bay seems unnecessary in this day and age as it takes up so much space but there are a good few KitGuru readers who still love their DVD drives so we'll let that one slide.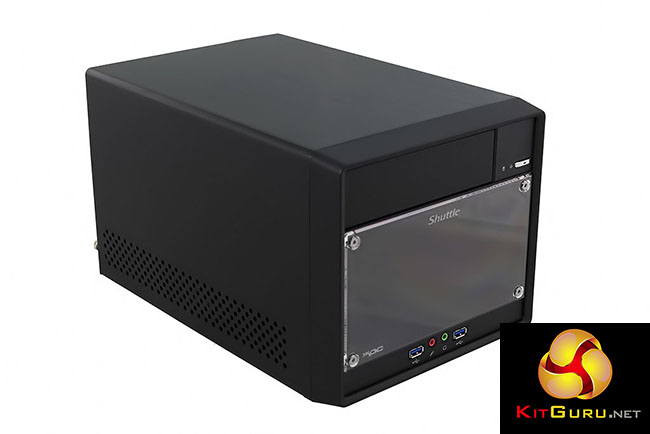 The lowly rating of the power supply is a real problem, both in terms of its Bronze inefficiency and also in terms of the single six-pin graphics connector. Make it Gold with an eight-pin and we would be happy but as things stand this aspect of the hardware is woefully out of date.
When we first saw the Shuttle SH110R4 we felt a wave of nostalgia as it was so immediately familiar. In some respects this is a pleasant feeling, but perhaps it highlights the point that Shuttle would be well advised to give their barebones an overhaul and drag them into the modern era.
The Shuttle SH110R4 is available in the UK for around £210 inc vat. You can buy from eBuyer for £206.99 inc vat HERE.
Discuss on our Facebook page, over HERE.
Pros:
Easy to assemble as a PC.
Small form factor but with sufficient space inside.
Skylake socket with DDR4 support.
USB 3.0 ports front and rear.
Aesthetically pleasing.
Cons:
Power supply is rated Bronze and only has one six-pin graphics connector.
No 2.5-inch drives bays included.
Cooling fans can get noisy when they work hard.
The finished PC ends up quite expensive.
KitGuru says: The Shuttle SFF design is a modern classic that deserves an update.