For this review we took our acoustic readings using a decibel meter placed on top of the OCUK Asteroid System. We took readings at desktop idle and at the end of a 10 minute AIDA64 full system stress test, as well as background noise reading in a silent room as a reference point.
KitGuru noise guide
10dBA – Normal Breathing/Rustling Leaves
20-25dBA – Whisper
30dBA – High Quality Computer fan
40dBA – A Bubbling Brook, or a Refrigerator
50dBA – Normal Conversation
60dBA – Laughter
70dBA – Vacuum Cleaner or Hairdryer
80dBA – City Traffic or a Garbage Disposal
90dBA – Motorcycle or Lawnmower
100dBA – MP3 player at maximum output
110dBA – Orchestra
120dBA – Front row rock concert/Jet Engine
130dBA – Threshold of Pain
140dBA – Military Jet takeoff/Gunshot (close range)
160dBA – Instant Perforation of eardrum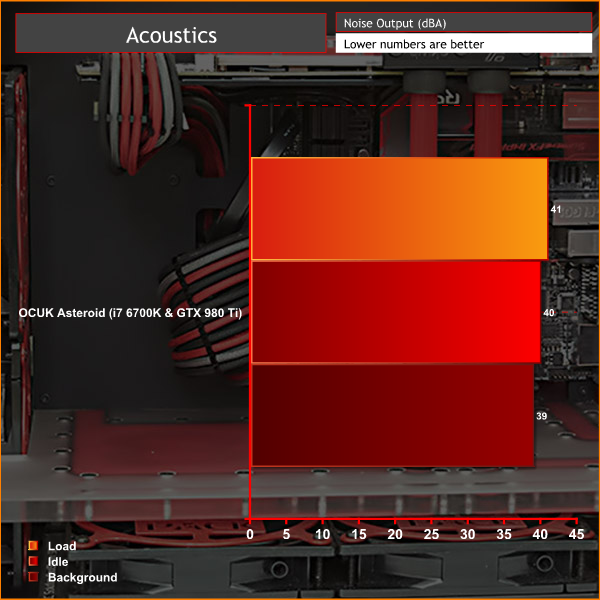 The noise level is incredibly low given the background noise of a silent room with nothing operating in was 39 dBA. The system adds a small amount of noise when turned on due to the pump and fans but they are broadly silent, even cranking on a full system load barely increases the noise level. The advantages of a fully custom watercooling loop with high quality waterblocks is clear to see.