The pre-built PC market is becoming increasingly populated with major OEMs and System Integrators, many of which are now targeting the high-end PC gaming and enthusiast audience. Yet very few of those brands offer something truly exciting or unique in this space – Overclocker UK's Ian '8Pack' Parry is one of the exceptions to that rule.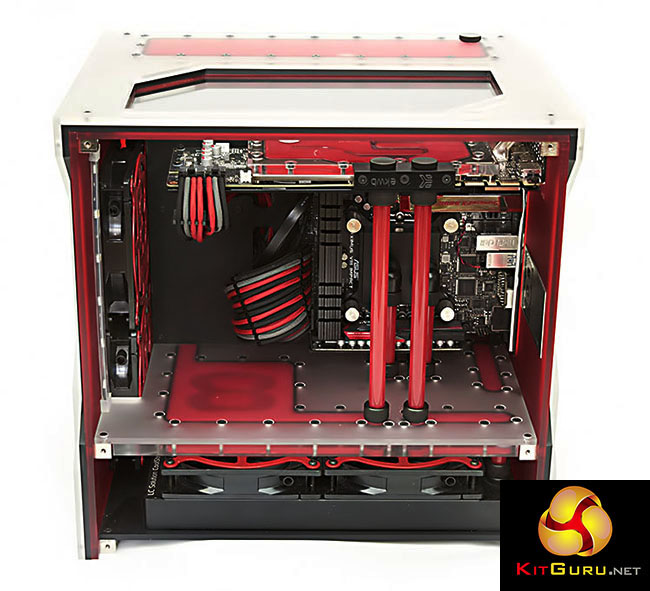 The Overclockers UK 8Pack Asteroid system is a unique creation, and that's not just because it's spec'd and designed by a world-renowned extreme overclocker. At its heart the 8Pack Asteroid system crams in seriously high-end hardware – a Core i7 6700K and Nvidia GeForce GTX 980 Ti – and is custom overclocked to extract the maximum performance of its components. Topping it all off the system is fully watercooled to provide a unique aesthetic, low temperatures and quiet operation.
There are no compromises made in other areas of the system either – a SuperFlower Titanium 1000-watt power supply and 1.5TB of SSD storage are supplied as standard. OCUK provide an alternative GPU option with the GeForce GTX Titan X and there will be a GeForce GTX 1080 option available in the near future, according to OCUK, once stock materialises. OCUK confirmed that it will offer a free-labour upgrade to the GTX 1080 for anyone that purchases or has purchased an Asteroid before the GTX 1080 option is available, the customer only needs to pay for the additional hardware used.
Impressively, everything the 8Pack Asteroid has to offer is all rolled into a compact mini-ITX form factor making it ideal for taking to events, gaming LANs in particular, or fitting into a compact space. The Asteroid is a unique showpiece in its own right though we do wonder why OCUK doesn't offer ASRock's X99 mini-ITX solution as an alternative CPU and motherboard option.
This would have given the system the ability to support the octa-core Intel Core i7 5960X or the upcoming Broadwell-E i7 6950X, rumoured to have as many as 10 cores.
ASRock's X99 ITX motherboard is supported by a number of waterblock options from EK and Bitspower, though there are arguments against the X99 and LGA 2011-3 choice including increased thermal output and lower single-threaded performance compared to Skylake. There may indeed be more cores with Haswell-E or Broadwell-E but most modern games are still better optimised for the quad-core high-frequency design of the i7 6700K.
Key Specifications:
CPU – Intel Core i7 6700K Hyperthreaded Quad Core Processor with maximum possible stable overclock (4.7GHz Minimum) with EK Supremacy CPU Waterblock
Motherboard – Asus Maximus VIII Impact Z170 Motherboard (optional motherboard waterblock available)
Memory – 8GB (2x4GB) Team Group DDR4 3866MHz Memory
Graphics  -Nvidia GeForce GTX 980Ti 6144MB GDDR5 Graphics Card Fitted with EK Full Cover Waterblocks and Overclocked to maximum stable overclock.
Primary Storage – 1x 500GB Samsung 850 Evo Series Solid State Drive configured as primary (operating system) hard drive 1x 1TB Samsung 850 Evo Series Solid State Drive configured as secondary (game) hard drive
Power Supply – SuperFlower Leadex Titanium 1000W Power supply with custom braided cables
Case – Custom Parvum Mini ITX Cube Case – Black/Red
Cooling – Custom Loop Watercooling Configuration
Options – Watercooling Fittings and Fluid Colours Custom Cable Braiding Colours
Warranty – 3 Year Collect and Return Warranty – UK Mainland
Price (as configured): £3,989.95