One aspect of the Nintendo Switch we were disappointed not to see in our recent hands-on coverage, was the interface. How the menus look and feel when you're not playing games can be almost as important as when you are, so it's exciting to get a sneak peak at them, even if the Tweet with the image in quickly disappeared.
The Tweet in question came from Binding of Isaac developer/publisher, Nicalis, which was seemingly showing people that the game was working on the Switch. Presumably it showed too much, as it swiftly deleted the tweet. This is the internet though, where everything lives forever – especially if someone doesn't want it to – so of course we have a copy of it.
Nicalis deleted the tweet…here's the pic pic.twitter.com/ggfkBXFHdh

— Wario64 (@Wario64) January 19, 2017
The image shows a dark, grey backdrop for the menu system, along with a number of large, colourful icons for selecting certain games. Switching users mid-game may be possible, and it seems that accessing the store, chat functions and a variety of options doesn't require going back to a main menu to do so.
It's all reasonably similar to the Wii U's menu, but a lot slicker, as Polygon points out.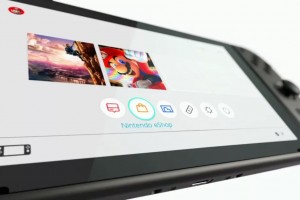 While the layout remains the same, the background colouring for the Switch's menu is different than we saw briefly during Nintendo's Treehouse livestream event. It could be that Nintendo's Switch has a 'night-mode' or similar, something to drastically reduce the brightness of the Switch's screen, making it easier on the eyes – and possibly a sleeping spouse.
It's also worth noting that the screenshot also showed us that both 1001 Spikes and Cave Story look to be coming to the Switch too. They were previously unannounced, so suggest that we may see a larger launch line up for the Switch than we have previously been told about.
Discuss on our Facebook page, HERE.
KitGuru Says: I like having a night mode on anything I use. Makes it easier to play in darkened rooms without straining your eyes.