Virtual Reality was just a pipe dream for most of us a few years ago, with the hardware and software to take us truly inside virtual worlds, seemingly impossible to perfect. Now though it seems, after Oculus led the way, anyone can make a brand new piece of VR gear with just some tape and a bit of ingenuity. Take Ukranian developer Beatshapers, which managed to use mobile VR tips from John Carmack to turn a PS Vita into a VR headset.
It wasn't quite as easy as that makes it sound of course, as Beatshapers has already been working with Project Morpheus and are well versed in a lot of the VR practices that are unique to the medium's development. It's worked with Rifts as well, both DK1 and DK2, so if anyone was going to expand the available hardware offerings for VR, it was going to be these guys.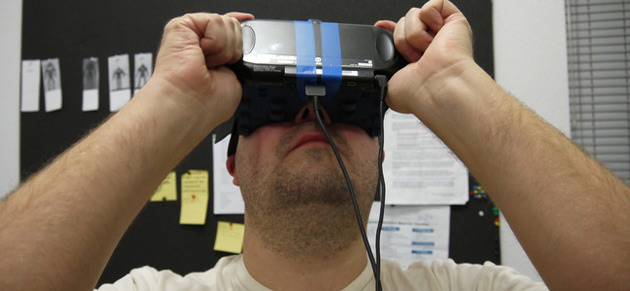 It's impressive that it actually looks less cool than wearing a normal Rift
Using first Google Cardboard, but eventually settling on a Stooksy produced foam casing for the Vita, Beatshapers' developers were able to tape the PS portable console to their face and using the same lenses from the original Oculus Rift DK1, create a low-resolution VR headset.
"We made a quick concept proof prototype with basic geometric graphics, but this had amazing results," Menshikov continues. "Control wise, we have full access to the rear touchpad, d-pad, face buttons, and triggers. The analogue sticks are only partially exposed, but this could be fixed with a custom fit enclosure. Maybe we'll use a 3D printer for that if we have enough time."
Although low detail, the Vita-VR is a higher resolution than the original DK1. It also has a sensitive gyroscope, so although it doesn't feature positional tracking, it has very accurate head tracking.
It could, the developer suggested, be used as a quick replacement or low-level alternative to Sony's Project Morpheus VR system.
Discuss on our Facebook page, HERE.
KitGuru Says: Any of you with Vitas lying around fancy giving this a shot?
[Thanks
PushSquare
]
Image source: PushSquare