One of the more interesting features Microsoft announced for Windows 10 earlier this year was the streaming of Xbox One games to the platform. While initially only available for a select few, the feature has now been rolled out to anyone using the preview build of the new OS on a desktop, laptop or tablet.
To enable the feature, Xbox One users need to head into the settings-preferences menu, and tick the box that reads "Allow game streaming to other devices." Whatever device is set to be used for streaming to, it will also need to have the latest version of the Xbox app installed on it. Once done, users simply select "Connect" and then Add a device, from the menu in the application.
From there you can play games to your heart's content without sitting in front of the console itself. For full tips have a look at Microsoft's blog post on the matter.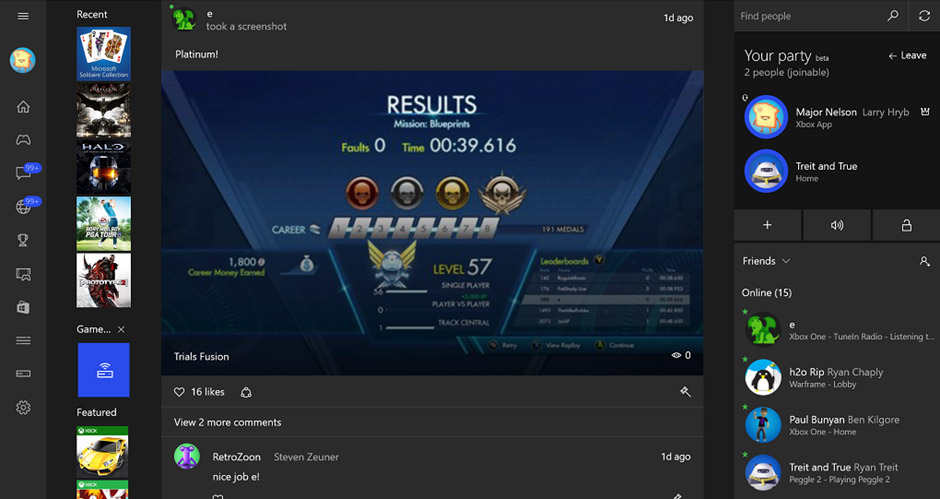 This streaming feature isn't the only update coming to the Windows 10 Xbox app though. Microsoft has also officially added party chat, a My Games feature which automatically searches out official Windows 10 store games, as well as older titles not purchased through there. That way you can play all of them through the Xbox app, and have the launchers all in one place.
Profiles and Xbox Avatars have also been integrated with the new OS too, giving players the ability to customise how they look to other gamers. They can even use the photo taking feature to use their Avatar's posing or facial expressions as a gamer pic.
And on top of all that, the Xbox sharing system has also been brought over, meaning that from within the streaming game on Windows 10, players can still record screenshots and footage of their actions through the Xbox One.
Windows 10 officially launches on the 29th July, starting with Windows Insiders and will then roll out to everyone else.
Discuss on our Facebook page, HERE.
KitGuru Says: The ability to continue playing games even if someone else wants to use the main TV was one of the better features on the Wii U. Good to see the other consoles adding that feature too.