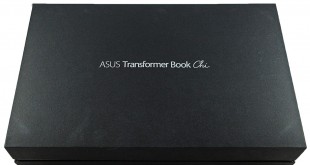 Not too long ago we looked at the Asus Transformer Book T100 Chi, a smaller 2-in-1 hybrid laptop. While the concept of a 2-in-1 is interesting, the T100 Chi simply did not have powerful enough components inside to be a true laptop replacement. The 12.5″ T300 Chi, however, incorporates an Intel Core M processor, 8GB RAM, and a 128GB M.2 SSD. We review the T300 Chi and measure how it stacks up against the competition.
Specifications:
Operating system: Windows 8.1
Processor: Intel® Core™ M-5Y71 processor. Dual-core, 1.2 GHz / 2.9 GHz with Turbo Boost, 4 MB cache
Graphics: Integrated Intel HD Graphics 5300
Memory (RAM): 8 GB
Storage: 128 GB SanDisk SSD
Screen: 12.5″ LED 2560 x 1440
Wireless: 802.11 a/g/n
Ethernet: Gigabit Ethernet (10/100/1000)
Bluetooth: Bluetooth 4.0
USB: Micro USB 3.0 x 1, Micro USB 2.0 x 1
Video interface: Micro HDMI x 1
Audio interface: 3.5 mm combo jack
Memory card reader: SD memory card reader
Sound: SonicMaster technology
Camera: Integrated HD webcam
Mouse / trackpad: Multitouch trackpad
Keyboard: Island-style keyboard
Battery: 2-cell Lithium-ion
Battery life: Up to 8 hours
Dimensions: 16 x 317 x 191 mm (H x W x D)
Weight: 1.45 kg
The bigger brother of the T100 Chi, the T300 Chi has significantly improved hardware. Rather than an Intel Atom CPU, we have the innovative Core M-5Y71 which is passively cooled. 2GB of RAM is bumped up to 8GB, and Asus have also ditched the eMMC storage in favour of a proper M.2 SanDisk SSD.
While I want to focus on the Core M processor in this section, I will first outline the general design and connectivity ports of the T300 Chi. There are no real surprises as everything looks as it did on the T100 Chi, just slightly larger. The sleek yet durable aluminium chassis is the same, which remains very light at just 1.45KG (including the keyboard dock.) At its thickest, the T300 Chi is 19.1mm, and just 8.1mm at its thinnest. Clearly, this is a very portable unit.
Just as with its little brother, what makes this a 'Transformer Book' is that the keyboard dock detaches to give you a fully functioning tablet when you want the extra portability. The dock attaches via two strong magnets which simply slot into the tablet part of the T300 Chi – this is actually a fairly elegant solution.
Around the edges we – again – have no full-sized connectivity ports. Everything is micro-sized here, obviously to keep the T300 Chi thin, but it can be annoying when you are out and about and have to use the supplied adapter to plug-in a standard USB pen drive, for instance. So on the left edge, there's the DC power in (a proper 33W power brick is supplied with the T300 Chi, rather than the microUSB charger supplied with the T100 Chi), a Windows button and volume buttons. On the right edge we find a microUSB 3 port, micro HDMI, and a combo audio jack. At the back, on the right, is also a microSD card slot.
Now, on to the main components of the device. We have a nice 8GB of RAM – more than enough for the average user – a 128GB SanDisk i110 SSD which provides fast but limited storage, and the Core M-5Y71 CPU, which is clocked at 2 GHz and turbos to 2.9 GHz. Core M processors are quite new and very innovative, so it is worth a look at how they work and how they compare to other mobile processors.
Perhaps the standout feature of Core M is that it is entirely passively cooled, making for silent operation. Previously, performance had not been sufficient and CPU temperatures had been too high to warrant the inclusion of a passively-cooled processor in a serious laptop. Core M changes all of that, and does so it two main ways. For one, Intel used 14nm manufacturing processes with the entire Broadwell family (the family to which Core M belongs.) This allows chips to be more efficient and therefore keep heat down. In addition, you will also find reduced performance to other chips. The baseline Core M 5Y10 has a 0.8GHz clockspeed, for instance – what we would consider to be rather slow in this day and age.
All-in-all, the Core M 5Y71 (the most powerful of the Core M range) boasts an incredibly low TDP of 4.5W. This is mind-bogglingly low, and it is simply incredible. I last reviewed the Dell Vostro 15 3549, which had an i5 Broadwell-U CPU, with a 15W TDP, and I thought that was low. The Core M Y571 uses less than a third of the power, and with the rest of the T300 Chi, actually outperforms the Vostro 15.
However, in the T300 Chi I did find the 5Y71 ran quite hot in tablet mode. It idled (on Windows desktop) at around 45 degrees centigrade, which is not so bad. But under load, it could reach up to 71 degrees centigrade.
On balance, this is not actually too hot, and there was certainly no thermal throttling. The only problem with the heat is due to the hybrid nature of the T300 Chi. When holding the device as a tablet in your hands, it can get uncomfortably warm – especially on the right hand edge where the CPU is located. When attached to the dock, the heat is not really noticeable, it is just a problem for the T300 Chi when in tablet mode. The keyboard stays entirely cool as it is entirely separate to the tablet section.
Benchmarks
Now, I have said the performance of Core M is less than other mobile processors. In the benchmarks though, it still proved very able for its primary functions. This is especially evident with the PCMark Vantage score of over 9000 – 3000 more than the Vostro 15 3549 scored with an i5-5200U. While not a like-for-like comparison as the Asus hybrid has double the RAM of the Vostro and an SSD to boot, it just shows the T300 Chi is no slouch. The video encoding was also completed about 5 minutes before the Vostro managed it, so you can be confident Core M is capable.
Battery
In the PCMark 8 battery benchmark, the T300 Chi lasted for 4 hours 18 minutes, which is a great score. My colleague Leo Waldock has a general rule that you can double the battery benchmark score to give you a real-world figure for how long the battery will last under normal conditions. This is because PCMark 8 is a relentless assault on a laptop's battery, the likes of which general tasks do not even come close to. As such, you can be assured of all-day battery life with the T300 Chi.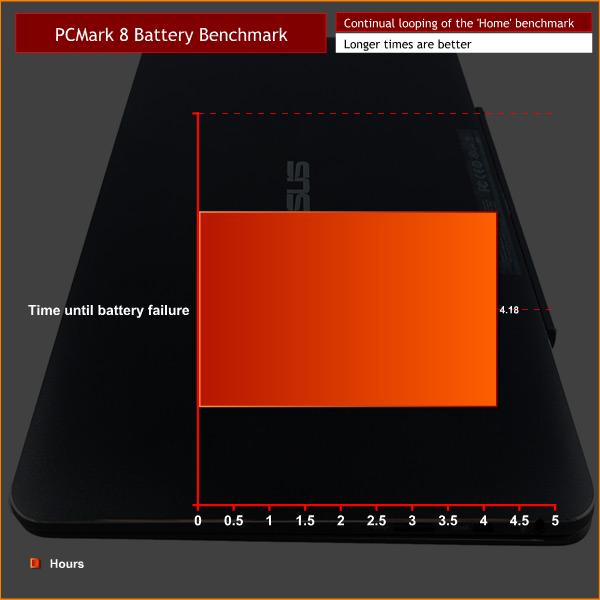 Closing Thoughts
Overall, then, I think it is fair to say the Asus Transformer Book T300 Chi is a great hybrid laptop. While I was disappointed with the lack of power the T100 Chi presented users, the T300 Chi has 8GB of RAM, an integrated 128GB SSD and the all-new Core M 5Y71 processor – all of which add up to give a responsive and slick system.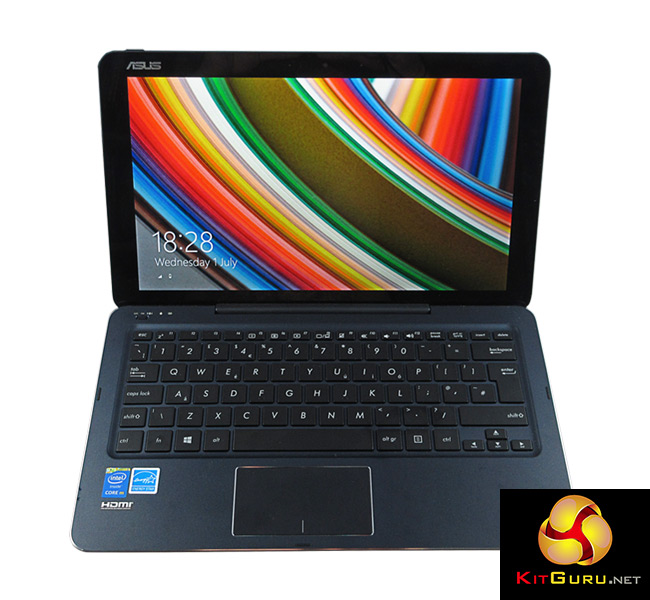 The design of the 2-in-1 remains largely the same to the T100 Chi, the only difference being a regular power brick is now necessary, as opposed to a microUSB charger. This does mean there are no full-sized connectivity ports, but Asus have supplied an adapter which gives 2x USB 3.0 ports.
It is a highly portable device though, weighing just 1.45KG with the dock attached, and measuring a total thickness of 19.1mm. Especially with the added portability that comes with being a hybrid, it would be very easy to take the T300 Chi anywhere.
The Intel Core M also proved highly capable at performing normal and intensive tasks, even more so than the Broadwell-U powered Dell Vostro 15 3549 that I reviewed recently. You can be assured that the combination of 8GB RAM, SSD and Core M 5Y71 make for a relatively powerful machine that will handle general tasks with absolute ease.
The T300 Chi does come with a £799.99 price tag however, which would suggest you certainly pay for the added functionality of a 2-in-1 Transformer Book. Still, if you are in the market for a hybrid laptop, this one seems like a good bet, and you will not be disappointed. There is a cheaper option at £669.99 – but that has less RAM and a slower Core M CPU, so we'd recommend shelling out the extra £120 for the additional performance gain.
You can pick up the T300 Chi from Currys for £799.99 inc VAT here.
Discuss on our Facebook page, over HERE.
Pros
Slim and light.
Sharp 1440p panel.
Core M is silent and performs very well.
Fast M.2 SSD.
Sturdy and attractive aluminium build.
Added functionality of a 2-in-1.
Cons
No full-sized connectivity ports.
Core M can get warm in tablet mode.
KitGuru says: Buyers certainly pay for the privilege of a 2-in-1 hybrid laptop, but the T300 Chi has very little to complain about. It is a fast and slim hybrid, making it well worth a purchase.