Jump launched its new game subscription service this Tuesday, delivering over 60 games for $9.99 per month. While other subscription services often cater to AAA titles, Jump bases its growing library around the more "revered" indie games, even launching with Ed McMillen and Tyler Glaiel's new game The End Is Nigh.
The idea for Jump came about when creator and former indie developer Anthony Palma wanted to combat distribution and discoverability problems within the independent game industry. Often overshadowed by the higher-budget AAA titles pushed by bigger studios, Palma and his team saw the potential of online technologies and how they could help indie developers get a foothold in the market. The primary aim is to offer easily accessible games to an audience that might have missed great titles while offering a safer, more sustainable income for independent developers.
Combating the problem that other game subscription services encounter, Jump doesn't stream games to your computer. Instead, it uses proprietary HyperJump delivery technology which provides players with the same experience as a game that is fully installed on their machine, but without long download times and without requiring large amounts of disk space. This results in no latency issues or dips in quality while playing, with users being often being able to jump into the game in under a minute.
Although a fully-fledged service, Jump is still in early stages with many other features planned. In October, users will gain the ability to manually allocate hard drive space for its caching system. Players will also experience the platform's recommendation system which gradually learns what its users like based on genre, play-style, motivations and themes. Each month will see approximately 10 new games make their way to the service, starting on October 1st.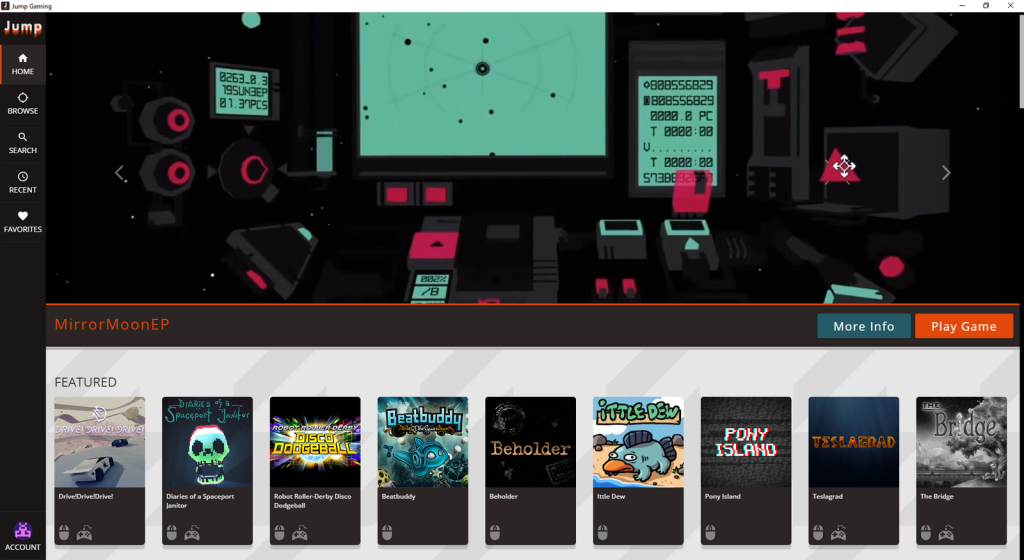 These features are built with both the customer and developer in mind, delivering the right game to the right customer. In fact, Jump holds indie developers in high regard, giving them a generous 70% take of the revenues based on minutes played by users. Additionally, some developers will receive payments in advance to ease any risk for them.
"Independent studios are the lifeblood of innovation in the industry, chairman of Gazillion Games and former CEO of Sega Tom Kalinske said. Many of the greatest game developers in the history of video games started out as pioneering indies pushing the boundaries of game-making, storytelling, and technology. Indie studios are able to take risks, be provocative, and drive the industry forward with their creativity and new ideas, and are helpful in getting new gamers, programmers, and artists, working in the industry."
Despite only being available on PC for the time being, Palma describes the service as being platform-agnostic and does intend to offer it to console users and eventually VR. This might also expand into triple-A titles, but indie developers will always be first and foremost as Jump is the home for independent games.
KitGuru Says: My experience of Jump so far has been overwhelmingly positive. It's been smooth and without issues. Knowing that the library is set to expand exponentially in the coming months only invests me more into the platform they are building. Do you like the idea of Jump?