PlayerUnknown's Battlegrounds has been quite the success story after selling four million copies in just three months and the early access game doesn't seem to show any signs of slowing down. Due for its full release later this year, Battlegrounds has managed to climb into second place on Steam's most concurrent players list, beating some of the most popular games out there.
Valve's own games tend to top the list, with Dota 2 sitting comfortably at the top and Counter-Strike: Global Offensive in second. PUBG has proved immensely popularly lately, managing to attract enough players to sit comfortably in the third and fourth spots, with the only other game to rise above it being PayDay 2 after developers, gave away five million copies.
For a brief moment tonight, @PUBATTLEGROUNDS had more players online than @csgo_dev! Thank you one and all <3 pic.twitter.com/BYN7qdSTgB

— PLAYERUNKNOWN (@BattleRoyaleMod) July 9, 2017
Battlegrounds often sits above big hit Grand Theft Auto 5 and Brendan Greene, aka PlayerUnknown's former venture H1Z1: King of the Kill but Greene sent out a tweet detailing that the game had actually risen to the second spot, taking over the concurrent players for CS:GO for the first time. Its time there was brief, but an great achievement for a game five years its junior and CS:GO has risen back to the second spot with over 500k players.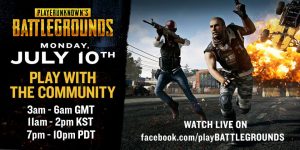 Although Battlegrounds is , it is still set to release later this year if all goes according to plan. In the meantime, Greene has laid out plans of a weekly Facebook livestream series to keep fans in the loop on what the development team are doing. This begins tonight at 7pm-10pm PST/3am-6am BST and will presumably run on Monday nights or Tuesday mornings depending on where you live.
Bluehole VP and executive producer Chang Han Kim revealed more in a statement. "This new initiative with Facebook will bring our passionate fan base closer to our development team. Livestreaming has been very important to the growth of PlayerUnknown's Battlegrounds. We believe that featuring PUBG livestreamers on Facebook further strengthens our commitment to the community while extending the reach of our game to a global audience."
"Facebook and the Bluehole team have a shared belief in the power of gaming communities, and PlayerUnknown's Battlegrounds is a stunning example of a hit game guided directly by its fans," adds director of global games partnerships, Leo Olebe. "Battlegrounds is just as much fun to watch as it is to play, and we're excited to see some of the best PUBG creators bring exclusive content to Facebook to help fuel its growing community on the platform."
KitGuru Says: Despite its status as early access, fans seem to have embraced the game as they would a full release and helped it grow to where it is currently. Have you been playing PUBG? How heavily do you get involved in the forums and direction of the game while it is still in development?