As is the case in many online multiplayer games, a Halloween special event is a must. Sea of Thieves is no different and is adding its own Halloween twist in a big October update adding new contracts, cosmetics and a new permanent game mode.
Halloween has arrived in Sea of Thieves with a free October content update for all players with Xbox Game Pass, on Xbox One and Windows 10 on PC. Old Boot Fort has been seized by dark forces and transformed into the Fort of the Damned. Your mission is to undertake voyages to claim the Flames of Fate and then band together to take down the Fort.
Fort of the Damned is a permeant new game mode that has been added in the October update. Players can activate the new Fort on-demand as long as the in-game requirements are met. Players can take on this challenge as often as they like.
Along with the new Fort of the Damned game mode, the Pirate Emporium has been stocked with new items for the Halloween season. Included are some supernatural additions to the pet range, a skeleton Cockatoo and skeleton Marmoset have been added. Players need to hurry as these will only be available for a limited time, once the November update is released, they will be gone. Pirate Emporium will also be stocking the Cutthroat Ship collection, together with emotes from the indispensable Taunt Emote Bundle.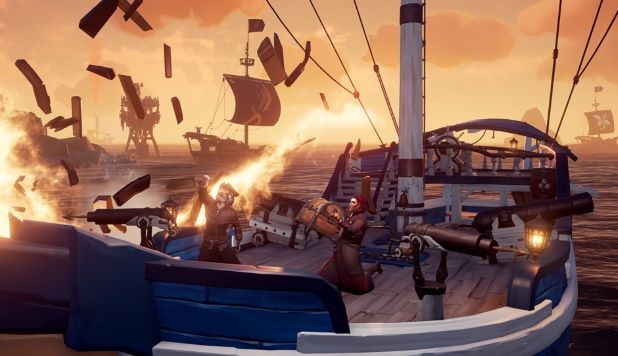 In addition, there is an update to the Arena, pirates now have the opportunity to compete in two-person Sloop crews, so they can team up with a friend and take on other duo crews to see who is best. Six new locations have been added, featuring two variations of each and include new chests and Outposts, for players to safely transfer to more challenging Sea Dog delivery locations.
Other features of the update include a new banjo instrument to play, new cosmetics including clothing and weapons, updated loot with new commendations and brand-new Xbox achievements. For more information on the Fort of the Damned update, check out the update notes on the official Sea of Thieves support page.
Kitguru says: It's been a while since I last played Sea of Thieves, this October updated sounds interesting, so it might be time to jump back in the galleon and set sail once more. Will any of you guys be joining in?