Last year, Microsoft launched a limited-time subscription service called Xbox All Access. Now it is back with a few changes and just in time for the ramp up towards next-gen consoles. Xbox All Access will be available in the US, UK, and Australia, greatly expanding the service's reach. However, the most important part is that the subscription comes with the option to upgrade to Project Scarlett when it releases.
Microsoft is bringing back the Xbox All Access subscription service to the US, with the UK and Australia also being added on this time around to expand availability. The subscription works similarly to a phone contract, giving you a few different monthly payment options and in return, you get an Xbox One X, Xbox One S or Xbox One S All-Digital Edition console, plus a wireless controller and 24 months of Xbox Game Pass Ultimate, which bundles Xbox Live Gold, Game Pass for Consoles and Game Pass for PC.
The specific console bundles available differ from country to country. For instance, Australian customers can choose between the Xbox One X or Xbox One S Forza Horizon 4 bundle. Meanwhile, US and UK customers can choose between all three console options, including the Xbox One X, Xbox One S and the One S All-Digital Edition.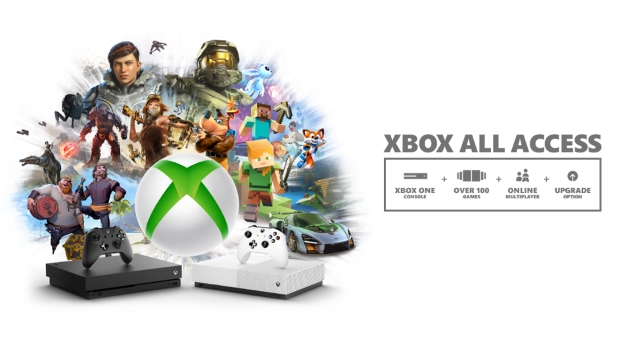 Pricing differs a bit from country to country too. The Xbox One S All Access bundle will be the cheapest at £17.99/$19.99 USD per month for 24 months. The Xbox One S bundle bumps the monthly cost up to £19.99/$22.99 USD/$27 AUD and the Xbox One X bundle will be £24.99/$30.99 USD/$38 AUD per month.
If you want to upgrade to Project Scarlett, you'll be eligible after 18 or more monthly payments if you chose the Xbox One S bundle. If you get the Xbox One S All Digital Edition, then you will also need to pay an extra $20 up front to upgrade. Finally, if you pick an Xbox One X bundle, you'll only need to make 12 monthly payments before getting to upgrade to the next-gen Xbox. Upgrading does involve renewing your 24 month subscription though, so you will be back on the hook for two years afterwards. The terms and conditions also require that you "trade in the original console in good condition".
The monthly cost of a Project Scarlett console was not revealed at this time. If all of that sounds good to you, then you can join Xbox All Access at the official website.
KitGuru says: All in all, you can save some money in the short term compared to paying full price for a console upfront with no discounts. However, could this be worth it if you plan to upgrade to Project Scarlett? Without knowing the monthly cost, it's hard to tell. Are you interested in getting Xbox All Access? Do you think it's worth it?