Following controversy surrounding Ubisoft's quoting of player numbers in some of its other games, it's been much more forthcoming with For Honor. That's meant we can keep a much better eye on how many people are actually playing and though there's been a bit of a drop off since it initially launched, numbers have remained relatively steady.
Since the launch of For Honor, GitHyp has been tracking its statistics on Steam and in the game itself, which show Steam as having more than half of all players, though they don't paint the whole picture. For Honor's highest player numbers came on the first Saturday after launch, the 18th, where 83,000 players were cutting each other to ribbons. 45,000 of those were Steam players.
There's been a bit of a drop off this week, hitting a low of around 28,000 on Steam, but that is expected to go back up again as we approach the weekend.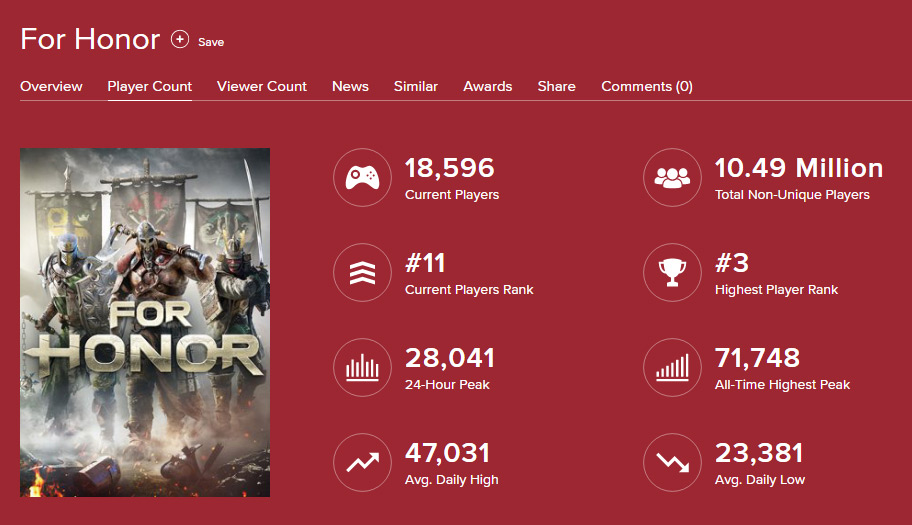 None of it seems likely to hit the highs seen during the open beta though. Steam alone had more than 70,000 players at its peak on the 11th February.
For Honor hasn't only retained its position as one of the more popular games on Steam and Uplay, but on Twitch too. With more than 54,000 average viewers on 20th February, it's one of the top 10 most viewed games on the streaming site.
This too is a drop off from its peak though. During the open beta it had almost 124,000 viewers, while the closed beta saw more than 146,000 tune in to watch others play it.
Discuss on our Facebook page, HERE.
KitGuru Says: How are you guys finding For Honor more than a week on from its release. Do you think it has what it takes to remain popular long term?