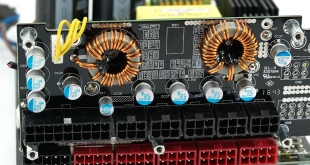 Kolink are a relatively new brand to market, however I was impressed with their 1200W power supply, which I reviewed in November 2016 – today we look at the new 1050W model. These products are controlled by Hungarian Kellytech, a sister company of European based Caseking – who have exclusive distribution rights. Unsurprisingly they are sold in the United Kingdom by Overclockers UK.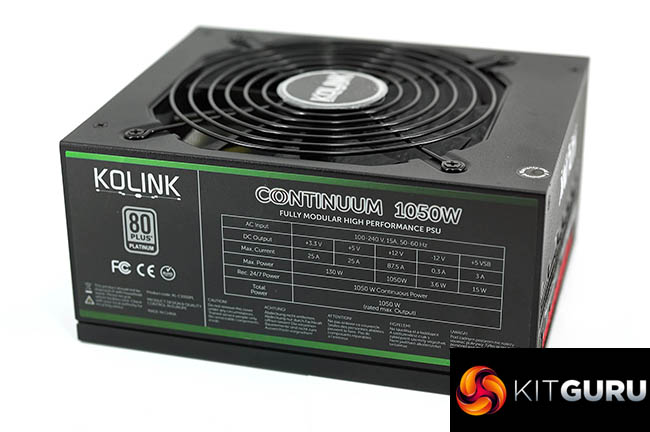 Kolink currently are producing power supplies, cables, cases and accessories with plans for further expansion this year. There is a full range of their products visible at this page.
Today we take a look at their second high end power supply due for release in early March. This time its a 1050 watt unit made by High Power (Sirtec/Sirfa) – an OEM who have created some very good power supplies in the past.
There is a 5 year warranty offered with the Kolink Continuum KL-C1050PL power supply.
Specification
Dimensions: 150 x 86 x 180 mm (W x H x D)
Fan: 140 mm (automatic control, semi-passive)
Colour: Black (power supply, fan)
Efficiency: at least 92/90/89 percent 50/20/100 percent utilization. Meets the requirements of 80 Plus Platinum. Efficiency in the European 230-volt power is up to two percentage points higher
Active PFC
Form Factor: ATX12V 2.4 / EPS12V 2.92
Power: 1050W
Protections OVP / UVP (protection against overvoltage and undervoltage), SCP (Short Circuit) OPP (overload) OCP (overcurrent on the rails +12, +3.3 and +5 volts)
Price: £169.99 inc vat @ Overclockers UK HERE.
Review photography handled in house at KitGuru with a Leica S series medium format camera and S series prime lens.