Do you want to earn some money for ratting on your employer? Well now you can! Thanks to a scheme by trade group the Business Software Alliance, those that snitch on their bosses, co workers and other business professionals for using pirated software can now "pay off [their] credit card debt," as any successful court cases against firms that use pirated software can mean those that reported it can expect a monetary reward.
The idea behind this system is to help crack down on companies using unlicensed software, which are perhaps even as numerous as end user piracy – we know the US military has been doing it for years. However while that's an understandable goal, the way in which the BSA is going about it seems rather underhanded: offering cash incentives to people – most likely employees – that might know about such software license side-stepping.
It even tries to appeal to those cash-strapped around Christmas, with an advert posted online late last year that stated "money can get tight during the holidays. If you know a company using unlicensed business software, file a report today to be eligible for a cash reward."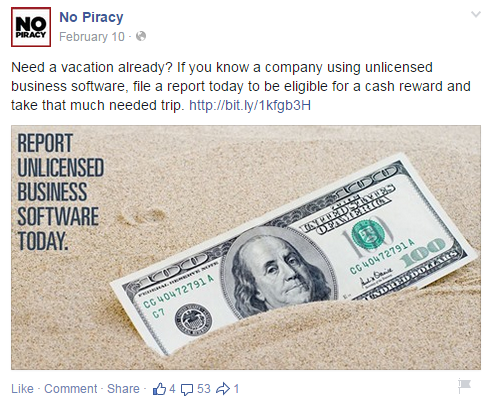 Unfortunately for those that think cashing in on this is a great idea, as TorrentFreak points out, the smallprint reminds you that you will only receive any money at all if the eventual court case is successful, which is not exactly certain. On top of that, if the company you reported is your own employer, that internal investigation could get pretty uncomfortable.
Discuss on our Facebook page, HERE.
KitGuru Says: Giving your employer a financial headache is never a good way to secure your job, especially if you're the one that caused it. These campaigns are trying to tease people into putting their jobs at risk with the vague promise of potential money.