Although Valve might spend much of the year offering big sales at discounted prices, with all of the gamification that goes along with that, for some people it's still not often enough. Fortunately, you may soon be able to play a game, about buying games.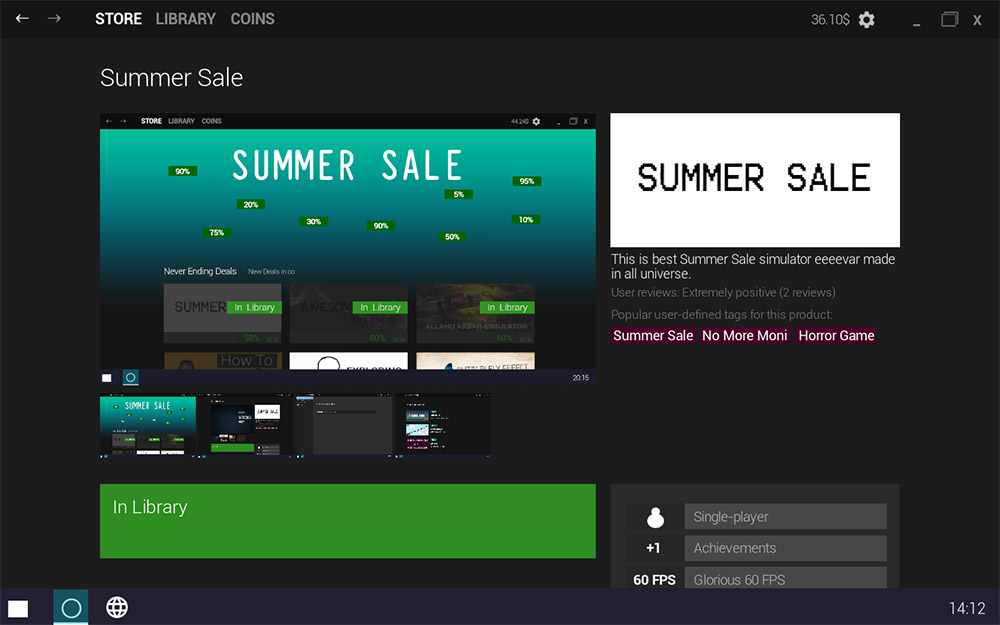 Summer Sale is currently in Greenlight and offers that exact experience to gamers. Admittedly in-game it doesn't look that much like Steam just yet, but you can buy 'games' at discounted prices, play them to earn more money and continue the never ending loop.
There's unlocks to play with, Steam settings to tweak, which perhaps puts it in the Incremental genre, but it's rare to find a game so meta that it's actually about buying other games.
There are a number of different purchasable games within Summer Sale, all of which you can actually play, though they look incredibly basic and far from fun. There is however, still clear progression to be made, which is sometimes enough for people.
[yframe url='http://www.youtube.com/watch?v=T5Y-YA0jsEg']
As much as Summer Sale might seem to be glamorising the idea of Steam sales and the discounting period, it also pokes fun at the whole practice, suggesting those that buy lots of games may do so simply to look cool.
"Expierence [sic] Summer Sale without loosing money. Buy games that you like or those that you don't. Be the cool guy that owns every game in store," reads the game's description. "Customize your game as you like. Change colors and widget locations. Don't like default game color. Then CHANGE it without any microtransactions. Non-stop SUMMER SALE even in winter, autumn and spring."
At the time of writing, it's reached the #100 rank on Greenlight, so is creeping ever closer to becoming a fully fledged Steam game.
Discuss on our Facebook page, HERE.
KitGuru Says: This isn't one I'll be rushing to play, but I see what the creator is going for. It does help bring home how much Valve has made its sales into something more than buying games.