One of the big things keeping players coming back to Destiny 2 is the promise of exotic loot. Last week in order to make obtaining exotics through gameplay a bit easier, Bungie re-introduced the 'Three of Coins' item that is supposed to boost the chances of an exotic loot drop for a set amount of time. Unfortunately, players swiftly discovered that the item was not working at all, leading to more community dissatisfaction to cap off the year.
In another player-led investigation, Destiny 2 regulars discovered that the Three of Coins consumable wasn't resulting in exotic drops when doing certain activities. While some had success while on patrol missions, the larger and more rewarding strikes, crucible matches and public events weren't necessarily offering better loot.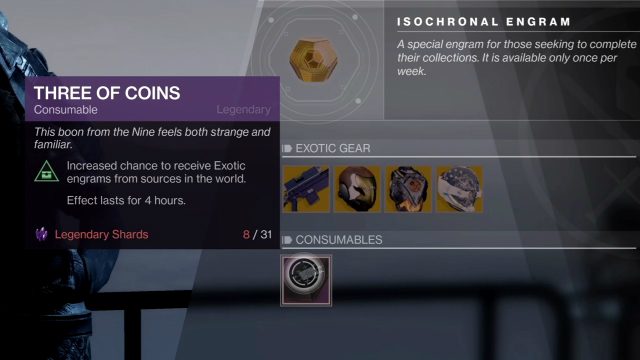 Bungie has confirmed that the Three of Coins consumable is bugged at the moment. According to the studio, this item is supposed to provide a 50 percent increase to the chance of an exotic engram dropping upon activity completion. However, this bump was not activating when running through Heroic Strikes. The studio seems to be adamant that it is working in other areas, despite players reporting poor results.
A hotfix for this is expected in 'early 2018', with that in mind, it may not be a good idea to invest your Legendary Shards into the Three of Coins each week when you visit Xur until the fix is in place.
KitGuru Says: I haven't had a chance to try out the Three of Coins in Destiny 2 yet, but the item seemed to work quite well in the original game. For now, it seems that it may be best for you to save your shards for something else. Are many of you still playing Destiny 2? Have you had much luck with exotic loot drops?