Update (22.08.19): Back in July, Crytek announced that Hunt: Showdown would be leaving Steam Early Access this month as part of the full release. Now, owners of the game can try out the 'release candidate' update for last minute testing before version 1.0 officially goes live.
The update began rolling out last night, bringing several anticipated features over from the test servers to the main game. This includes three-person teams, a complete UI overhaul, new hunters, new legendary skins, an increased player count for matches and general improvements to AI, bosses and weapon changes.
Crytek has packed so much into update 1.0 that the studio had to post two separate patch note listings on Steam. Almost every part of the game has seen changes ahead of the full release. If you haven't played Hunt: Showdown in a while, then now is your chance to get a feel for what the final game will be like before it exits Early Access for good.
Original story (03.07.19): Crytek has been working away on Hunt: Showdown since its launch into Early Access last year. The game has quietly amassed a large following during that time and currently has 'mostly positive' reviews on Steam. Now, Hunt: Showdown is going to take the next step, with the full launch coming in August.
Hunt: Showdown launched on Steam Early Access in February 2018. The game has received a ton of updates since then and the passionate community has helped steer the direction of development along the way. Now, Crytek is confident that it can exit early access, with a full release planned for the 27th of August.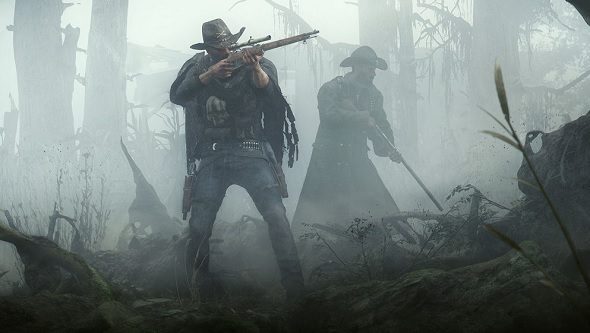 While large-scale battle royale titles have been dominating the multiplayer market for the last couple of years, Hunt: Showdown does things differently. It is a PvP focused game but instead of throwing 100 players onto a map to fight it out, Showdown is set in the swamp lands of Louisiana, with a small group of bounty hunter teams taking down monsters and competing hunters.
Over the course of development, the game has received a new map, new modes, new weapons etc. When the final release rolls around in August, the game will continue to receive updates on both PC and Xbox One but will no longer be considered early access.
KitGuru Says: I haven't tried out Hunt: Showdown myself yet but I've been seeing a lot of positive reviews. Perhaps I'll give it a go while it is on sale. Have any of you played much of this game? Are you looking forward to it leaving early access?