Hitman has been one of Square Enix's staple franchises over the years but this time around, they are handling Agent 47 a little differently.
Rather than launching a full game, we are getting 'episodes' which are due to be released on a monthly basis.
However, this is also one of the first triple-A titles to launch with DirectX 12 support which is quite exciting, so let's dive in and see just how well it runs. 
Click images to enlarge. 
Our first point of call is this graphics options menu, which isn't quite as comprehensive as the one you will find in The Division but most of the bases are covered with options for FXAA or SMAA, texture quality, SSAO, shadow resolution and you can even switch between the DirectX 11 and DirectX 12 APIs.
The game itself is fairly impressive as far as visuals go. There are some muddy textures here and there but that is to be expected of a third person game since everything is designed for you to look at from a distance.
Where this game really shines is in level design, even the tutorial levels are well thought out with plenty of crowds and assassination options. These crowds will have an effect on frame rate though so that is worth remembering.
One area where the game is let down is hair quality, it just doesn't really look up to par with the rest of the game.
I have managed to play through all of the levels available in the first episode of Hitman right now and I haven't encountered any crashes graphical glitches like shadow flicker but I have encountered issues with cut scenes freezing or not playing at all.
Today, I will be benchmarking Hitman on a system featuring an Intel Core i7 6700K, 16GB of G.Skill DDR4 RAM, a 1TB Samsung EVO SSD and an Asus Maximus VIII Hero motherboard. For graphics cards, I will be using a reference GTX 980Ti, an MSI GTX 970 4G, a Sapphire R9 290 Vapor-X, an XFX R9 390X Ghost Edition and finally, the newest addition to the collection, an R9 Fury X. None of the cards are overclocked in our tests.
For the release of this game both AMD and Nvidia launched updated drivers. On the Nvidia side, we are running driver version 364.51 and for AMD, we are using Crimson Software version 16.3. Our results were collected using the in-game benchmarking tool but I will also be discussing the real-world gameplay experience in the text below.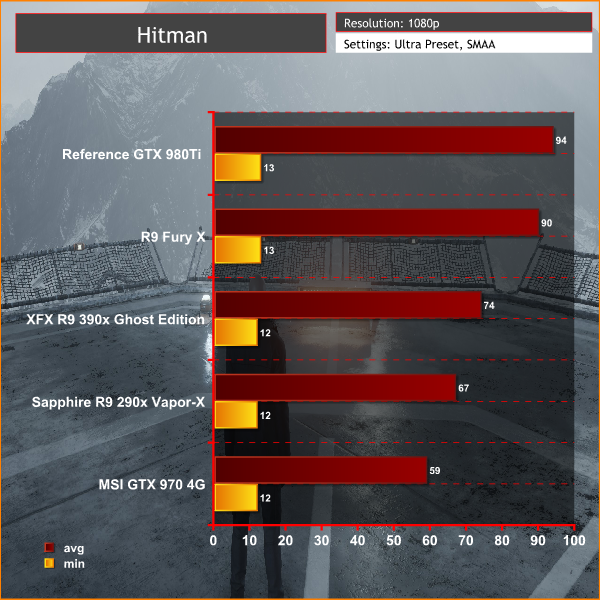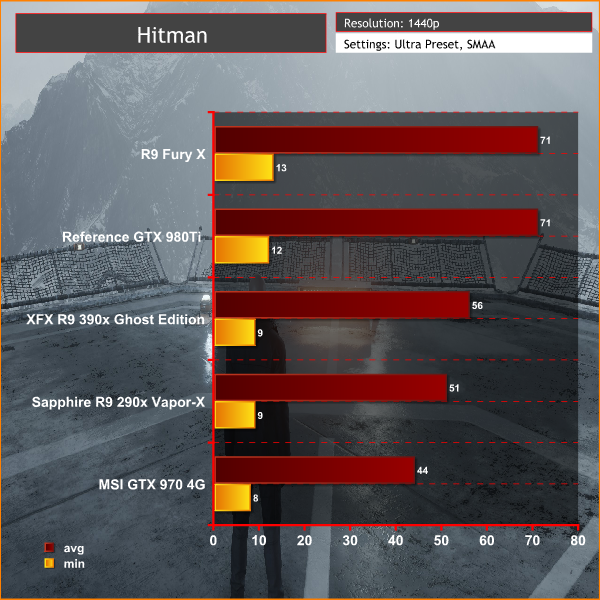 DirectX11 performance is fairly solid across the board while the GTX 980Ti remains king in our 1080p tests, the Fury X wasn't too far behind and closed the gap at 1440p. The R9 390x and R9 290x also pull in excellent performance numbers across the board, pushing the GTX 970 right down to the bottom of our charts.
I would disregard the minimum frame rates displayed from the benchmark tool. As you can see, all of the cards were brought down to 12 or 13 frames per second, with some falling into the single digits, it definitely seems like a bug with the benchmark itself and it is not the only one I came across.
You may have noticed at this point that there is no graph for DirectX 12 performance. Believe me, I'm just as disappointed as you are, unfortunately, I ran into complications with the DirectX 12 version of the game. For starters, it was capped at 60 frames per second for some of our GPUs and then uncapped for others despite not changing any settings.
On top of that, I faced some freezing and crashing issues while attempting to benchmark DirectX 12 with Nvidia GPUs. However, the experience was a bit smoother on the AMD side of things.
While the benchmark's minimum frame rates may be a bit over exaggerated, I can tell you that this game does suffer from random frame rate dips into the 40's and 30's at times in both DirectX 11 and 12. This tends to happen in more crowded zones and it seems to affect both Nvidia and AMD GPUs though I will admit that AMD's side seemed to handle crowded areas better overall.
This could be down to the fact that this is an AMD 'Gaming Evolved' title but nonetheless, it was an interesting observation.
Performance issues aside, Hitman is a fairly enjoyable experience. While these slight performance problems are present they don't last long enough to truly ruin the gameplay itself, which remains fun throughout the entire first episode.
The gameplay itself is as fun as always. Levels are designed to be like a sandbox, filled with multiple ways for you to get your target and take them out. There are also challenge modes to see how many ways you can complete a mission, which adds some replay value.
That said, if you are in it for the story then the whole experience is quite short. I was done with the first episode, which contains the tutorials and the first proper level of the game in around three hours. By the time you start getting into the really good stuff the game ends, which is a shame.
There will be more content releases on a monthly basis throughout the year so there is plenty more to come. On top of that, what you can play right now is really fun but I am not entirely convinced that an episodic format really works for a game like Hitman.
KitGuru Says: While Hitman does have its share of performance issues, the gameplay is solid- it is just a shame that there isn't enough of it for the time being.