If you've been playing PlanetSide 2 recently then you may have noticed that SOE has implemented a new notification system. This new system will give free players little pop-up ads which periodically ask them if they want to upgrade to a premium membership. Many players began receiving these notifications several times in an hour, which as you can imagine, got quite annoying.
The good news is, Sony is going to tweak the notification system to make it less intrusive, the bad news is, the pop-up ads aren't going away, PlanetSide 2 Creative Director, Matthew Higby, explained in a blog post:
"Before I get into the details, the frequency of yesterday's 'pop-up' notifications was egregiously wrong and absolutely not what we had intended for the system. We're really sorry for how irritating these were. " He said, " Yesterday, we also had an issue with the servers restarting for several hours after the Game Update, which was resetting who should receive notifications, and subsequently causing players to receive them FAR more often than we'd ever want."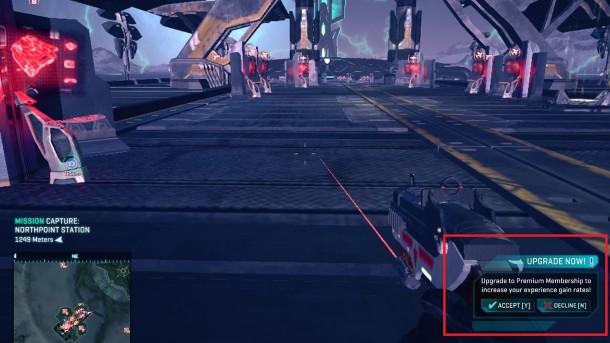 The Creative Director then went on to explain that PlanetSide 2 is not a cheap game to maintain or develop for:
"As a free-to-play game, our servers are kept running by the support of a relatively small percentage of the player-base, and initiatives like this are critical to us being able to grow the percentage of players who are helping support the game. The alternatives are to either cut back on the development resources, or add more and more items for our existing supporters to purchase to make up the difference. Compared to those options, I think you'll agree that increasing awareness of our Membership and marketplace offerings, and expanding the percentage of players who support the game is preferable as it is what keeps development going. "
The pop-ups have been disabled while the development team works out the problems that were occurring over the weekend but they will be back eventually.
KitGuru Says: PlanetSide 2 is one of the biggest free to play games, these pop-up ads probably wouldn't exist if the game had enough premium members. I don't think the little notification should be much of an issue if you only see it once every time you log on but if it starts becoming too intrusive, like it did this weekend, then SOE should expect complaints.