Last year with the launch of Wolfenstein: The New Order, Bethesda promised those who pre-ordered access to the DOOM Alpha and beta phases. Now development has progressed a bit and a closed alpha weekend event is taking place this weekend, on the PC, Xbox One and PlayStation 4. If you happened to get an invite to the closed alpha test, then you will want to know when you can start your download and play.
The closed alpha will be available worldwide, though it will only support English in the language options. The alpha kicks off today at 10PM Eastern time, so 3AM tomorrow morning here in the UK. The servers will close on Sunday the 6th of December at 11:59 PM Eastern Time, or 4:59AM here in the UK.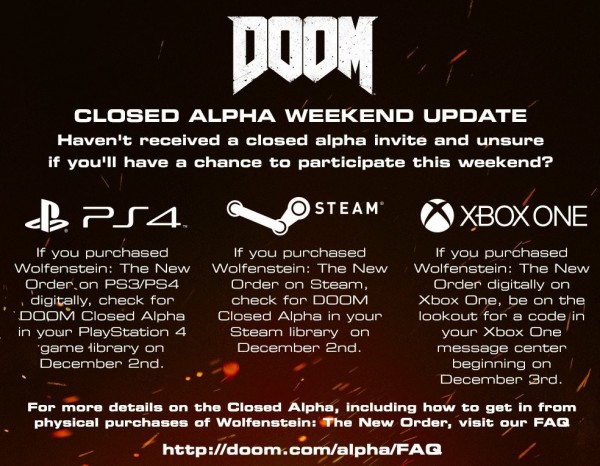 If you bought Wolfenstein: The New Order through Steam, you can head over to THIS link and connect your Steam account to check if you are eligible for access. Access for those on consoles is tied to Xbox Live or PSN accounts, so if you are using the same account you pre-ordered Wolfenstein The New Order with on the PS3 or Xbox 360, you should have access. The whole FAQ with all the details can be found, HERE. 
Discuss on our Facebook page, HERE.
KitGuru Says: Some people have been waiting quite a while for the DOOM alpha to take place, though we can expect a few more test weekends like this in the build up to next year's release date. Will any of you be checking the game out this weekend?