It turns out that Early Access title and Kickstarter success, The Stomping Land, is not dead- it's just switching to a new engine. After months of silence, the developer behind the game has finally spoke out to combat recent rumors suggesting that the game had been abandoned.
The developer behind the title is SuperCrit, which promised regular community engagement and  weekly updates on its Early Access page but until now, nobody had heard from the developer since the 30th of May and the game had not been updated on Steam since launch. The reasoning for this is that the game is currently transitioning over to Unreal Engine 4 in order to keep up to date with current graphics technologies.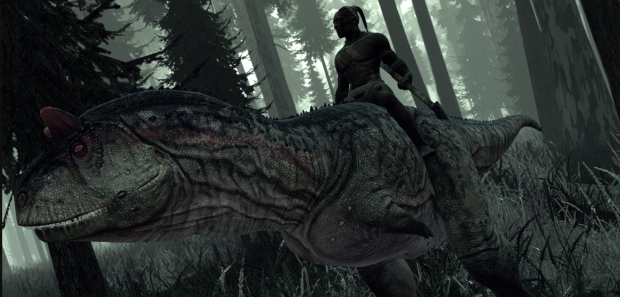 Speaking with Kotaku UK, SuperCrit founder, Alex 'Jig' Fundora, said:
"It has been quiet in The Stomping Land community but that is certainly not the case behind the scenes. The game is being moved to Unreal Engine 4 to take advantage of technical and creative opportunities, and while the game was so early in development, I didn't want to keep working for years with a game engine (UDK) that had officially lost support by Epic."
"The move has put a bit of more work on my plate, but the already discovered opportunities using UE4 are exciting, and I'm confident fans will be satisfied with the long-run decision."
Early Access is a risky business, buyers need to be able to trust the developer, which means that the team behind the game need to be transparent and regularly update the community, otherwise people freak out- as we witnessed in this situation. Hopefully SuperCrit will have learned from this experience and will make more of an effort to stay in touch with the community going forward.
Discuss on our Facebook page, HERE.
KitGuru Says: Things weren't looking too good for a while there but at least we know that The Stomping Land is back on track and both Kickstarter backers and Early Access buyers have not been ripped off. Did any of you guys buy The Stomping Land? What would it take for you to trust an Early Access developer?
I myself have brought two Early Access games, Prison Architect and Rust, both of which are being worked on by developers I know will get the job done and post regular community updates. For me it's all about communication and transparency, what about you guys?