As video games get more and more ambitious, we have seen files balloon in size, with the biggest games now taking up almost 250GB. PlayStation is trying to combat this with its Kraken compression technology. Even with that, however, the upcoming Horizon Forbidden West is looking to be a hefty size, with early details suggesting that it may be up to 97GB on PS5.
As reported by the Twitter account PlayStationSize, the upcoming PlayStation exclusive Horizon Forbidden West will take up 96.35GB on PlayStation 5 – and this is without the day-one patch. While this figure represents the size of the game on PlayStation's database, the report does stress that some games are shrunken on consoles when compared to their database counterparts, meaning that it is possible that the game may be closer to 75GB.
Even so, this represents a massive increase in size over PS4's Horizon Zero Dawn, which – including the expansion and all updates – takes up 48.16GB. Furthermore, it is worth noting that the size listed by 'PlayStationSize' is for the PS5 version, which despite being more visually demanding than the PS4 version, will most likely be taking advantage of the console's Kraken compression technology.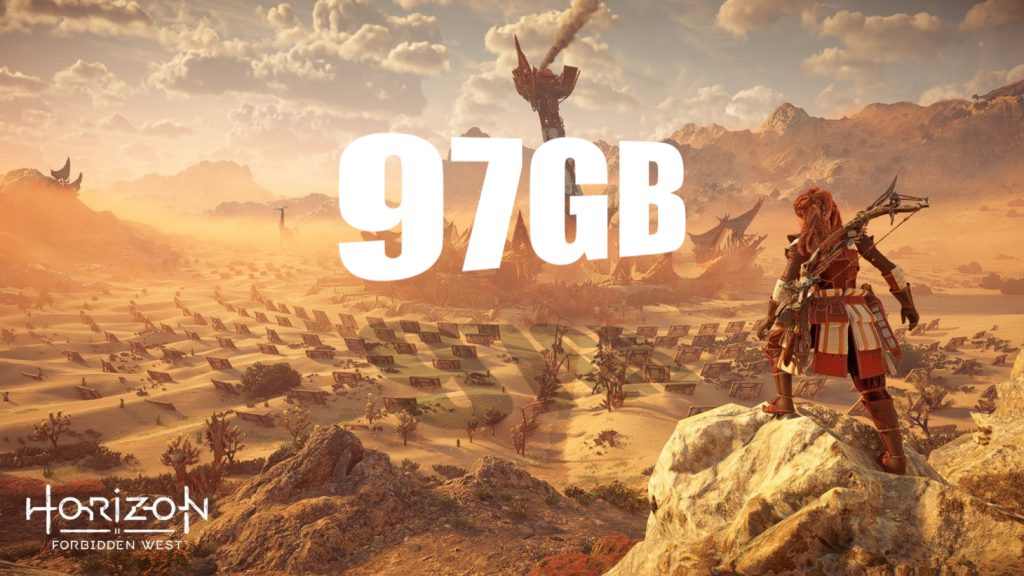 In the past, we have seen PlayStation 4 games end up with bigger file sizes than their PS5 counterparts, such as with Marvel's Guardians of the Galaxy, which took up 31GB on PS5, compared to the PS4's 60GB – and 80GB on PC.
What this means for the scope of the game is unknown, however it is safe to assume that the sequel to 2017's much-loved open-world action adventure title will be much more ambitious…hopefully.
Finally, it has been unofficially confirmed that preload for Forbidden West will go live on the 11th of February – one week out from the game's launch. Hopefully this means that we will not be seeing any last-minute delays.
Discuss on our Facebook page HERE.
KitGuru says: What do you think of the game's file size? How big are you expecting Forbidden West to be? What size do you think the game will be on PS4? Let us know down below.